TribWeek: Top Texas News for the Week of June 28, 2010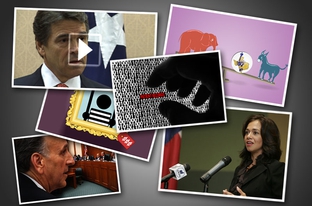 Two years after the party's hybrid primary/caucus system allowed Barack Obama to win more presidential delegates than Hillary Clinton, Texas Democrats voted at their convention in Corpus Christi to keep the controversial "Texas two-step."
Seventeen years ago, Texas turned on its last nuclear reactor, about 50 miles southwest of Fort Worth. In another decade, several more reactors could get built here — if events in Washington go the power companies' way.
A quiet ideological battle is being waged yard to yard in affluent neighborhoods of San Antonio. It began with one side declaring "No socialism" in white letters on a black background. Some didn't like that message, so they changed it to read "No selfishness."
The FBI is investigating whether a hacker broke into the state's confidential cancer database, possibly accessing personal information and medical records. State health officials say the threat may be a hoax but that if private records were compromised, they'll quickly notify the people listed in the registry.
The Libertarian Party's Katherine Glass on why more Texans should be armed, why same-sex unions should be allowed and her admittedly slim chances of dethroning Gov. Rick Perry.
Last week State Rep. Tara Rios Ybarra, D-South Padre Island, was indicted on charges she engaged in Medicaid fraud — the second House member from South Texas to be indicted in less than a year. But their colleagues insist that such corruption isn't a regional thing, no matter what the stereotype suggests.
Ted Bundy's fried hair. Sperm from college campus shooter Wayne Lo. Dirt from the crawl space where John Wayne Gacy stored 26 bodies. All are collectors' items in the macabre world of murderabilia. The more infamous the killer, the bigger the price tag — at least for now. U.S. Sen. John Cornyn, R-Texas, and a Houston city official are working to exterminate the industry they say allows murderers and rapists to make money from their crimes. Murderabilia peddlers insist they operate in good taste. "We don't push this into anyone's face," says the owner of murderauction.com.
Criminal records don't always exclude job applicants from working with the most vulnerable foster care children, according to a Texas Tribune/Houston Chronicle investigation. At Daystar Residential Inc., where workers forced developmentally disabled girls to fight each other, dozens made it through the state's background check process in the last three years despite records of arrests.
The battle over Texas' environmental regulations came to a head as the Environmental Protection Agency shot down the state's air-pollution permitting regime for large plants. It's the latest episode in a larger cultural and political fracas pitting Texas against Washington — and business against government — that continues to take center stage in the race for governor.
Physician fraud investigators inside the troubled Division of Workers' Compensation say state examiners failed to uncover serious problems there — and then recommended changes that would take key decisions away from trained physicians and give them to bureaucrats.
It's impossible to know exactly which elections will be close in November. But with Libertarian candidates in more than a dozen House races that are on the Republican and Democratic target lists, signed up for the two Texas congressional seats on the GOP's national target list, and in the statewide races, too, here's a question: Are the Libertarians giving Texas Democrats a electoral boost?
Texas Tribune donors or members may be quoted or mentioned in our stories, or may be the subject of them. For a complete list of contributors, click here.