U.S. Census Bureau Releases TX Population Estimates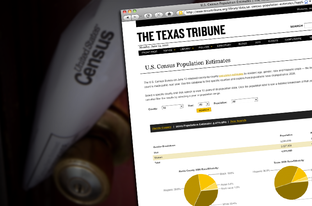 Enlarge
Bob Daemmrich, Jacob Villanueva
Texas' population increased by nearly 20 percent and grew increasingly diverse in the last decade — a trend reflected in new U.S. Census Bureau estimates released last week.
Texas now has about 24.8 million residents, an increase of 3.9 million since 2000, and trails only California in the proportion of its residents who identify themselves as Hispanic (37 percent).
"The diversification of the Texas population, particularly the growth of the Hispanic population, is unfolding very rapidly," said Steve Murdock, a sociology professor at Rice University who is a former state demographer and a former U.S. Census Bureau director.
"This is a continuation of a pattern that we've seen for some time," he said.
The latest estimates can be explored in a new database application that helps explain and visualize how Texas counties have evolved since the last Census in 2000. Hispanics, for example, are now the largest ethnic group in the state's two most-populous counties: Harris and Dallas.
Explore other counties in the database application.
The data aren't related to the 2010 census, the ongoing hard count of residents being conducted now, but rather are annual estimates compiled by the bureau from administrative records on Texas births, deaths and migration.
Among the highlights:
Texas added 480,000 new residents from 2008 to 2009, more than than any other state. Harris County added 62,000 Hispanic residents alone during that period.


Texas' border counties lead the nation in the proportion of Hispanic residents. Only 3 percent of residents in Starr County, for example, aren't Hispanic.


The state has the third-largest black and Asian populations in the country: 2.8 million and 850,000, respectively.


Texas is younger than all but two other states, with a median age of 33, and is aging more slowly than the rest of the nation. Only Utah (28.8) and Alaska (32.8) have younger populations. Webb County, which includes the city of Laredo, has the nation's second-highest proportion of residents under the age of five: 12 percent.
The bureau compiles such estimates in part so that demographers and public officials can predict future public policy needs. Communities with high proportions of children, for example, might plan to build more schools.
"The estimates allow us to track the changing population of states and smaller jurisdictions between censuses," Census Bureau Director Robert Groves said last week after the data were released.
"When an area's population ages or grows younger overall, for example, local officials can document the changes and address the possibility of special needs," he said.
Texas Tribune donors or members may be quoted or mentioned in our stories, or may be the subject of them. For a complete list of contributors, click here.