The Nativists Are Restless
Texans narrowly oppose a "pathway to citizenship" for illegal immigrants, strongly favor an end to in-state tuition for non-citizens at state colleges and universities, would support a constitutional "English-only" amendment and overwhelmingly say that businesses should verify the immigration status of their workers, according to the new UT/Texas Tribune poll.
Texans narrowly oppose a "pathway to citizenship" for illegal immigrants, strongly favor an end to in-state tuition for non-citizens, would support a constitutional "English-only" amendment and overwhelmingly say businesses should verify the immigration status of their workers, according to the new University of Texas/Texas Tribune Poll.
More than half (58 percent) say they would support an end to bilingual education in Texas public schools. Attempts to put an "English-only" amendment into the Texas Constitution have failed for years, getting bogged down in the Legislature before ever being put to a public vote, but 68 percent of the registered voters in the UT/Tribune poll favor the idea — 56 percent of them strongly.
Some of the issues serve only to stir voters but wouldn't really make a day-to-day difference in the lives of Texans, says state Rep. Jessica Farrar, D-Houston. "What does English-only mean? Does it mean that all contracts would be written in English? They already are. … But you have commercial enterprises advertising in Spanish because they're going after that market. They want to make money."
Ending bilingual education would affect a lot of people — roughly 700,000 of the 4.8 million kids in Texas public schools are in bilingual or English-as-a-second-language classes, according to the Texas Education Agency.
Texas allows the children of undocumented immigrants to attend state colleges and universities at the in-state rate — a lower tuition rate than that paid by out-of-state and documented foreign students. Asked if illegal and undocumented immigrants should be treated as in-state students, 77 percent say no (67 percent strongly approve of ending that deal) and only 17 percent say it should continue.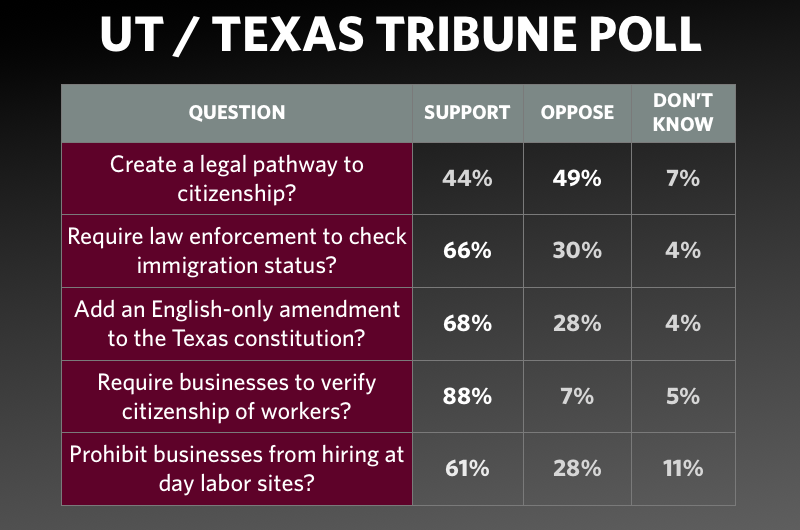 Some of the answers were partisan. Some differed by education level. Others varied by the age or race of the respondents.
Democrats are more likely to support a pathway to citizenship, for instance, than Republicans. The strongest opponents of such a pathway didn't finish high school or finished but didn't go to college. And Hispanics (65 percent) were more likely than African-Americans (63 percent) or Anglos (35 percent) to support a path to citizenship.
Ending in-state tuition for illegal or undocumented immigrants was more unpopular with Anglos than other groups — but all three of the major racial groups support that notion: Anglos (86 percent), African-Americans (66 percent) and Hispanics (54 percent).
Several lawmakers have promised to follow Arizona into a crackdown on illegal immigration, and poll numbers support that idea. State Reps. Leo Berman, R-Tyler, and Debbie Riddle, R-Tomball, have each said publicly they'll file Texas versions of the Arizona bill. Farrar expects to see legislators filing bills on that and other issues in next year's session. "I'm sure they'll try," she says. "That's why elections matter. With each election, you have more Hispanics becoming part of the political process."
In political rhetoric, some candidates substitute "border security" where others say "illegal immigration." Those two phrases top the list of the most important issues facing the state in the poll. At the same time, however, the poll shows some soft spots in what is otherwise a hard-line set of attitudes.
Texans are split on whether a federal immigration overhaul should include a "pathway to citizenship" for illegal immigrants currently living in the U.S.; 49 percent oppose that notion, while 44 percent say such a pathway should exist.
"That's the place that's making all of the politicians walk softly," says pollster Jim Henson, who runs the Texas Politics project and teaches government at UT. "Undocumented immigrants are part of the fabric of people's lives. … There are ways you can activate people's reluctance to illegal immigrants, but at a basic level, particularly in Texas, people live with immigrants, legal and illegal, in a lot of places and in a lot of roles. I think that shows up."
Some of it shows up, on the political side, in workforce questions. Some business groups preach moderation — even the conservative ones. But that doesn't necessarily show up as something top-of-mind for voters, who believe businesses should be part of the enforcement process. An overwhelming 88 percent agree that businesses should verify the immigration status of each employee and that businesses should be fined if caught intentionally employing undocumented workers. Sixty-one percent would prohibit those businesses from going to day-labor sites for workers.
"What we're hearing is the frustration across the board with Congress for failing to enact comprehensive reforms," says Bill Hammond, a former state legislator who now heads the Texas Association of Business. "The only way to solve this is to allow enough legal immigration to meet the needs of employers."
He says some verification proposals "mean businesses have to be forensics experts," because counterfeit documents are easy to obtain and because businesses could be subject to hefty fines if they get it wrong.
"I don't think a businessman should be put in the position of being a law enforcement agency," he says.
This is the third University of Texas/Texas Tribune poll (the first two are here and here). The internet survey of 800 registered voters was conducted May 14-20 and has a margin of error of +/- 3.46 percent.
Texas Tribune donors or members may be quoted or mentioned in our stories, or may be the subject of them. For a complete list of contributors, click here.
Texans need truth. Help us report it.
Our Fall Member Drive is underway, and we need your support. The Texas Tribune is a critical source of truth and information for Texans across the state and beyond — and our community of members, the readers who donate, make our work possible. Will you join as a member with a tax-deductible donation of any amount?
Yes, I'll donate today
---
Information about the authors
Explore related story topics