Primary Color: HD-78
About the only thing Jay Kleberg and Dee Margo have in common is the R next their names on the primary ballot — that and their desire to take on freshman Democratic state Rep. Joe Moody in November.
About the only thing Jay Kleberg and Dee Margo have in common is the R next to their names on the ballot. The two are competing to represent El Paso's affluent Westside and its working-class Northeast in the Texas House and reclaim a legislative seat for the GOP.
Kleberg, 32, is a young father, a corporate business recruiter and an amateur triathlete. He speaks about El Paso and the campaign — his first run for public office — with such zeal that he sometimes asks a campaign staffer if it's too much. "We need somebody with a fire in their belly," Kleberg says. Margo, 58, has two grown sons, runs an insurance company and is a former college footballer. This campaign is his third try for a seat in the Legislature, and he has the talking points down to a fine science, easily answering a reporter's questions with the most direct route to ending the interview. "I just want to take the experience I've garnered over the last 30 years … and apply it to our benefit," Margo says. A third candidate, L. Rene Diaz, a former bank branch manager, is also running in the GOP primary but is not expected to be competitive in the race.
In the Texas GOP's best chance for a legislative win on the border, Kleberg and Margo are battling for the chance to take on Democratic state Rep. Joe Moody in the November general election. Republican Pat Haggerty held the House District 78 seat from 1989 until two years ago, when Margo defeated him in an all-out brawl of a primary, but Margo lost in an upset to Moody in the general election. Now each of the Republican candidates argues he can win back the seat and bring balance to El Paso's all-Democratic legislative delegation. "It would be helpful if we had some Republican leadership from El Paso," Margo says. "It sure can't hurt."
'Effective on day one'

Margo, CEO and chairman of JDW Insurance, has been trying to bring his Republican leadership to the Capitol since 2006. That year, he ran for the Texas Senate against Democratic incumbent Eliot Shapleigh. Margo lost with 41 percent to Shapleigh's 59 percent despite a well-financed campaign subsidized, in part, with his own money. Margo attributed that loss to El Paso Democrats' propensity for straight-ticket voting.
So in 2008, Margo made a run for the city's only Republican-dominated area. HD-78 is diverse — home to pockets of wealth near the El Paso and Coronado Country Clubs, regions of intense poverty in rural Canutillo, and neighborhoods near Fort Bliss where Army veterans have settled — and has been trending more Democratic in recent years.
The 2008 Republican primary between Margo and Haggerty was a nasty campaign in which each candidate spent close to $1 million to see which could call the other a worse name. Haggerty's mother even got in on the act in a commercial spoofing Margo's then-recent move into the district with the line, "I have a carton of milk that's been in the district longer than he has." Margo won the brawl with 57 percent of the primary vote.
Though he says he's taking nothing for granted, Margo — well coiffed in a khaki jacket and red tie — seems pretty confident that this primary will go his way, too. "I don't think name recognition is an issue for us," he says, leaning back in a chair in a small conference room in his new, modern downtown El Paso office. "It's just a matter of getting our message out."
This campaign, he says, has been less about personalities than the 2008 primary. Neither candidate has launched negative television commercials. In his radio ad, Margo touts his conservatism, vowing to oppose tax increases and fight Washington mandates. Because he's already familiar to many voters, he hasn't spent a lot of time and money on new campaign materials. His small yard signs — the same ones he used two years ago — dot a few yards and small businesses, mostly in the affluent area where he lives near El Paso Country Club. His website differs little from the 2008 version, and a birthday fundraiser invitation he sent out was identical to one he used previously except for the event date. "There are only so many ways you can have voter contact," Margo says.
With his 30 years in El Paso rearing a family, running a business, raising money for charities and working with city leaders to bring jobs and military growth to the city, Margo argues that his experience dwarfs that of his young opponent. He boasts of his relationships with Republican leaders like Gov. Rick Perry and Lt. Gov. David Dewhurst. During two public forums last week, he told the audience about a call he made to GOP Comptroller Susan Combs to check in on state revenue. "I can be effective from day one in Austin," Margo says.
If he wins the primary, Margo believes he will also beat Moody in the November general election this time around. He calls Moody's 2008 victory an "anomaly" brought on by Barack Obama supporters who straight-ticket voted for all the Democrats rather than giving serious consideration to down-ballot races. "It was an unusual occurrence," Margo says. "District 78 is a Republican district."
'Promote the hell out of the city'

Kleberg calls the straight-ticket explanation an excuse. "I personally think it's an insult to voters to talk about straight-ticket voting as if they don't look at the candidates," he says as he orders an after-lunch coffee before hopping in his Chevy pickup to resume knocking on voters' doors. "My opponent certainly has experience running elections, but what I bring to the table is the ability to win an election."
It's Kleberg's first bid for public office, and he has run the race like an endurance test. He started putting up signs and knocking on doors before Christmas, keeping a steady pace that he says has led him to about 2,000 El Paso doors. His blue campaign signs, large and small, are all over the district, and he purchased a giant billboard alongside Interstate 10 near downtown. As the week before early voting drew to a close, Kleberg was getting ready to launch his final kick of the race, planning to release TV and radio commercials and amp up the door-to-door campaign. And like many endurance athletes, he was limping to the finish line, literally, on a sprained ankle he turned in an early morning basketball game. "I think we're doing everything we can," he said.
Kleberg, who grew up in South Texas on his family's famed King Ranch, moved to El Paso in 2004 after spending more than three years working for a conservation and tourism company in Brazil. He worked for Verde Realty until November, when he announced his plans to run for office. In the relatively short time he's lived in El Paso, he says, he's become smitten with the city, which is why he decided to run. "I just felt like there was so much opportunity that wasn't, in my opinion, being fully represented and promoted at the state level," he says.
If he's elected to the House, Kleberg says he will "promote the hell out of the city." He says he wants other lawmakers to invest in El Paso's future by putting dollars into local projects such as the new Texas Tech University medical school. During public forums and at voters' doors, he says his top priorities would be bolstering education, reducing property taxes and improving the quality of life in El Paso. Those goals, he says, require long-term solutions. "It's going to take another 10 to 15 years to realize the fruits of our labor, so we need young, energetic, determined, hungry leadership that's willing to get right in and work and listen," he says.
When it comes to the general election, Kleberg says he is more likely to beat Moody and give the GOP a win on the border because he appeals to a wide swath of voters, not just Republicans. "I will talk to anybody, because I want to understand what the issues are," he says. "I'm not just going off a platform that I created two years ago."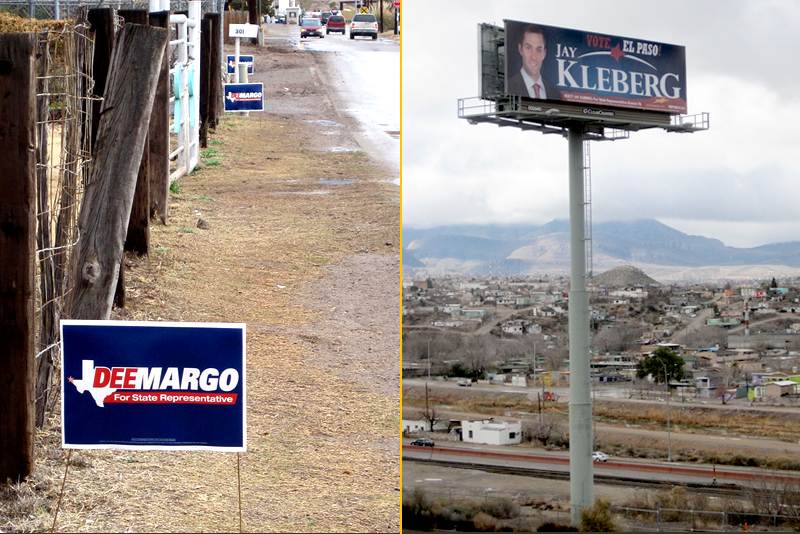 'This race is winnable'

The El Paso business community — opinion leaders in local Republican circles — seems split over the two candidates. In January, a group of influential businessmen — including Woody Hunt, the CEO of Hunt Companies and a former University of Texas regent, and Paul Foster, the CEO of Western Refining and a current UT regent — sent out a letter to other business leaders urging them to support Margo. "Before endorsing Dee, we did our due diligence and reviewed past election data to determine if the race is 'winnable,'" they wrote. "Our conclusion is, with Dee Margo on the ticket, this race is winnable."
Other Republican leaders are throwing in their lot with Kleberg, including investment adviser Ted Houghton, former beer distributor Robert Brown and mortgage company president Harold Hahn, all prominent current and former appointees of Gov. Perry — who endorsed Margo in 2008 but has stayed out of this race. Many Kleberg backers are also are former Margo supporters, though few are willing to talk on the record about their allegiances in the race; calls to several former Margo supporters, including Hahn, were not returned. Maria Teran, president of Sierra Machinery, who gave Margo $3,000 in his two previous campaigns and is on Kleberg's fundraiser host committee, says she's conflicted about the race. "This is the first time I've supported two candidates for the same office," Teran says. "I've got personal views, and I'd rather not share them."
An El Paso Times poll released last week showed Margo with a sizeable lead over Kleberg, 50.8 percent to 30.4 percent, with about 4 percent supporting the third Republican primary candidate, Diaz, who has raised only about $1,200. But political science professor Greg Rocha at the University of Texas-El Paso says Kleberg may pull out a surprise win. Margo, he says, hasn't been as visible in the community during the campaign as Kleberg has been. Kleberg has also raised a lot more money for the primary, some $100,000, compared to about $20,000 Margo has brought in. "Some people wonder, if [Margo] does this, will he really be able to challenge Moody and win," Rocha says. "I think that's causing some people … to give serious consideration to letting somebody else have a try."
Texas Tribune donors or members may be quoted or mentioned in our stories, or may be the subject of them. For a complete list of contributors, click here.
Texans need truth. Help us report it.
Our Fall Member Drive is underway, and we need your support. The Texas Tribune is a critical source of truth and information for Texans across the state and beyond — and our community of members, the readers who donate, make our work possible. Will you join as a member with a tax-deductible donation of any amount?
Yes, I'll donate today
---
Information about the authors
Explore related story topics