Shami vs. The "Democrat" Party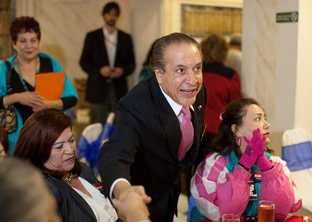 Gubernatorial candidate Farouk Shami has some bones to pick with the party whose nomination he's seeking: He doesn't think it's being fair in the tete-a-tete between him and Bill White. White's a former party chairman and knows all of its groups and subgroups; Shami's new. But he says the bias is palpable, and he's hoping to fix part of the problem in his Monday night debate with the former Houston mayor.
"People need to compare and choose the right person," Shami said Saturday after the LULAC candidate forum. "Actually, this is something I have against the Democrat Party. Clearly I don't say the Democratic Party, because they've been supporting one candidate because he's been a Democrat longer than me. That is not democratic. That's not in the Constitution. And that is not what people think. So it is not fair that the Democrat Party backs up somebody without listening to the other.
"I've been faced with this — you know, going to the Democrat chairs and interviewing with them. They give you two minutes. That is not enough time to know a candidate and the plans of the candidate. And Democrats are blinded. They don't check records or the truth. They just say, you know, 'You're a Democrat — I know you, you know me.' That is not the way to choose a governor to serve the state. It's what can I do for the country and what can I do for the state. It's not who I know. That's why I'm running for governor: to get rid of that kind. So I'm really looking forward for debates, and I'd like to have more debates."
So are they outwardly, overtly supporting White? Or are they telling him he can't win, like J. Larry Davis, the Anderson County Democratic Party chairman who recently told Shami that "rednecks" would never vote for someone with his name? "No, no, no," Shami said. "They cover up. They cover up. They're not up front. Except, you know, the chairperson of Palestine, Texas. I respect him, he was honest man. He said, 'We're rednecks. Name 'Farouk' cannot be elected in the state of Texas.' So at least he's up front. The others are sneaky."
Texas Tribune donors or members may be quoted or mentioned in our stories, or may be the subject of them. For a complete list of contributors, click here.