That's Right, He's Not From Texas
Farouk Mohammed Shami, who's running for governor as a Democrat, has a strong Middle Eastern accent and a strange name. Some of his fellow Democrats are loathe to talk about it. He's not worried. "If a president can be named Barack Hussein Obama, a governor can be named Farouk Shami," he said. "If a president can be black, a governor can be brown."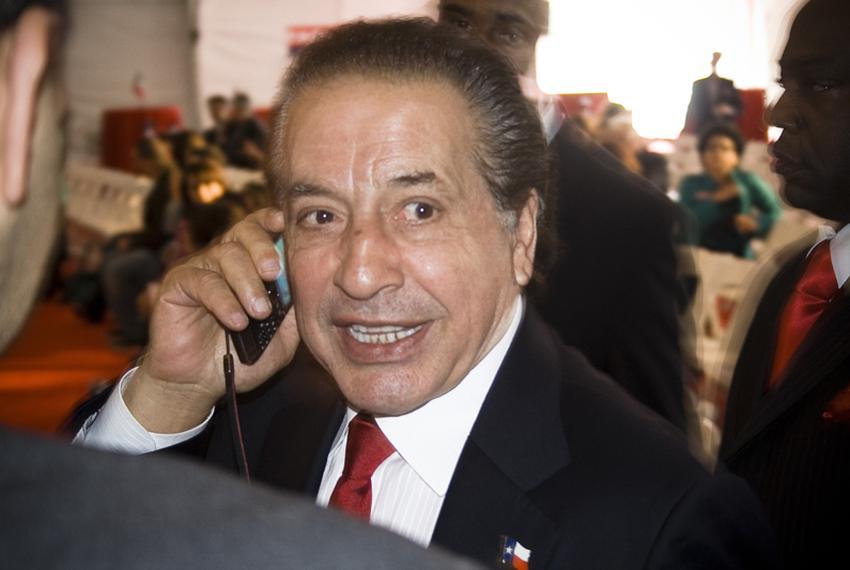 Talking funny has certainly never stopped anyone from holding public office, especially in Texas, and you can get into office — the White House, even — with a name voters find strange.
Farouk Mohammed Shami, running for governor as a Democrat, has a strong Middle Eastern accent and a strange name. Some of his fellow Democrats are apprehensive and loathe to talk about it. Shami himself is not worried. "I am a positive person and I think it's a positive, not an obstacle," he said in a December interview. "You know, we are in the state of Texas. We are in the United States of America. There is not a typical name, or a typical religion, or a typical race, or a typical color. We are all equal in front of God and the law, and that applies to me as well as everybody in the state of Texas, every citizen."
He doesn't think it will hinder his political chances? "I don't see it. If a president can be named Barack Hussein Obama, a governor can be named Farouk Shami," he said. "If a president can be black, a governor can be brown."
Not everybody thinks that's right. In a frank email to the candidate himself — shared by Shami's campaign with the Fort Worth Star-Telegram — Anderson County Democratic Party Chair J. Larry Davis questioned the candidate's electability. "You are wasting your time and your money in this absurd run for Texas Governor," he wrote. "In today's paranoid political climate, nobody is going to vote for anyone named Farouk for any elected office. That is just a fact of post 9/11 life."
Davis told the paper he was simply describing the situation in East Texas to one of his party's candidates. Shami has said he'll spend up to $10 million "or whatever it takes" to win the party's nomination. There are seven candidates in that primary, but he and former Houston Mayor Bill White are considered the frontrunners and are the only ones with serious money for the campaign. They'll meet in their first and perhaps only debate of the primary on Monday in Fort Worth.
Robert Jara, a Houston political consultant working for Shami's campaign, admits, "When you see 'Farouk' on a sign, it's kinda weird-looking." But he says something like this has been going on forever. "When I started, it was unusual to have Hispanic candidates running, you know, countywide and things like that. There are always trailblazers, women candidates, and then there are hard names."
Jara remembers how jarring Dale Gorczynski's name first appeared; Gorczynski was initially a city council member and has been a Harris County Justice of the Peace since 1992. "They're challenges and opportunities. They're just facts you have to deal with," he says. In the current campaign, the signs say "Farouk for Governor."
"That's easier for people to say and remember than 'Shami,' and so we decided to run with it," Jara says. "That's part of the uniqueness of him that people remember. It's definitely the elephant in the room ... but I think voters will see this as a great American story." Shami does have an ideal bio for politics: He came to the U.S. with $71, became a hairdresser, found he was allergic to the ammonia in hair care products, devised a line of dyes that didn't use ammonia, and started Farouk Systems, a company he says is worth $1 billion, based on purchase offers he's received.
What you're used to hearing
Not long ago, names that are now ballot regulars were politically charged, and some are accepted by voters in some areas but not yet in others. Hispanics were winning elections in border towns, counties, and districts before they were winning elsewhere. Two Hispanics hold statewide office now, and look at the ballot: Latino names are everywhere, including in a half-dozen statewide contests and in legislative races in districts far from the Texas-Mexico border.
Women weren't regularly winning statewide elections in Texas when Ann Richards became state treasurer in 1982. She became governor in 1990 — the year Kay Bailey Hutchison became state treasurer. Nobody even notes it anymore: there are women in the races for governor, lieutenant governor, attorney general, comptroller, half the races for the state's two high courts, and dozens of federal and state legislative races.
Asians are the newest group to edge into elected office. Their electoral numbers are growing, their political communities are coming into their own, and they're getting people into office. Martha Wong served in the Legislature as a Houston Republican. Hubert Vo, D-Houston, was considered a long-shot when he first ran for the House, partly because his name was unusual and mostly because he was running against the then-chairman of House Appropriations, Houston Rep. Talmadge Heflin. Last year, Angie Chen Button, a Republican, won election to the House from Richardson.
Both Vo and Button have accents that can be hard to understand. But this is largely a matter of what you're used to hearing: Ever listened to state Sens. Troy Fraser, Juan "Chuy" Hinojosa, or state Reps. Wayne Christian, Yvonne Davis, Rick Hardcastle, Edmund Kuempel, or David Swinford? That's just a start, but this can probably be said of them all: The people back home either understand them or have never heard them speak.
"None of our candidates sound as good as professional voice talent," says Allen Blakemore, a GOP consultant from Houston. "That's why we don't let them do their own ads." He says most voters will never hear Shami's voice (or most of the other gubernatorial candidates); only a small percentage will tune into the debate, he says.
Sometimes, the name thing goes badly. In 2008, Democrats swept the courthouse races in Harris County, with these exceptions: Mark Kent Ellis beat Mekisha Murray, Joseph Halbach beat Goodwille Pierre, Patricia Kerrigan beat Andres Pereira, and Sharon McCally beat Ashish Mahendru. Something else might have beat those candidates, but that's not how the legend went down: People in Harris County politics attribute it to their names. "We have a test case in Texas for running with funny names, and it was in Harris County in 2008," Blakemore says. "Those guys lost. Every other [Democrat] won. These were campaigns with no name ID, no issue differentiation."
What about Obama, the most prominent example? He won the presidency, of course. But he lost in Texas, with just 43.7 percent of the vote. That, says Blakemore, illustrates the danger: "I think you can safely say he's not from around here."
Texas Tribune donors or members may be quoted or mentioned in our stories, or may be the subject of them. For a complete list of contributors, click here.
---
Information about the authors
Quality journalism doesn't come free
Perhaps it goes without saying — but producing quality journalism isn't cheap. At a time when newsroom resources and revenue across the country are declining, The Texas Tribune remains committed to sustaining our mission: creating a more engaged and informed Texas with every story we cover, every event we convene and every newsletter we send. As a nonprofit newsroom, we rely on members to help keep our stories free and our events open to the public. Do you value our journalism? Show us with your support.
Yes, I'll donate today