2010: Following the Money
In spite of what both campaigns said last month, agriculture commission candidate Hank Gilbert got two-thirds of his money from gubernatorial candidate Farouk Shami. Gilbert reported it to the state; Shami didn't. And both Democrats say the money had nothing to do with Gilbert's decision to get out of Shami's race.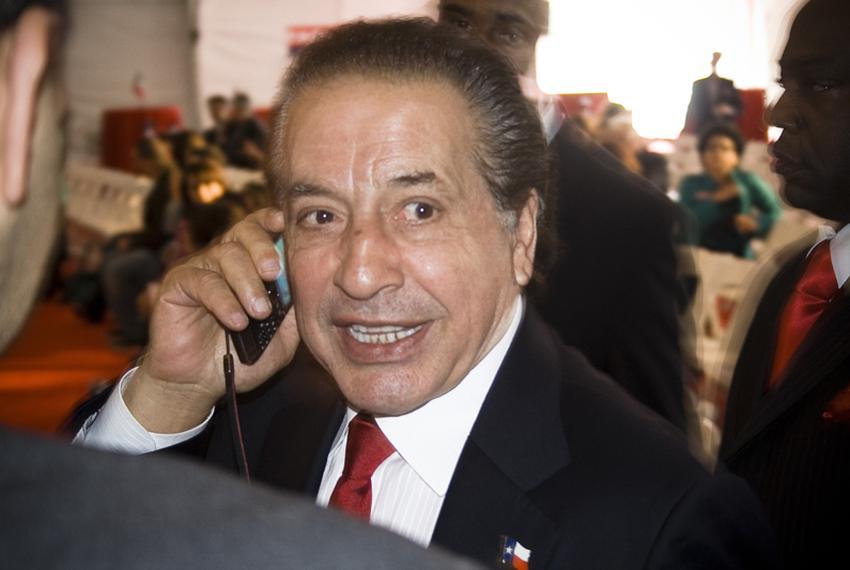 There was a rumor in December that Democratic gubernatorial candidate Farouk Shami had given a big contribution to one of his opponents — Hank Gilbert — in interesting proximity to Gilbert's decision to get out of the primary and into another race.
Farouk's folks, and Gilbert's, denied it. Loudly.
And they weren't telling the truth.
According to his campaign finance reports, Gilbert got two-thirds of his money from Shami — a total of $150,000. Here's a problem: According to Shami's reports, there wasn't a contribution at all. Expect a revision to those documents, which were filed Friday with the Texas Ethics Commission.
Shami's contributions to Gilbert should be on a "schedule G" that lists a candidate's personal spending; there's nothing in Shami's reflecting those donations.
Gilbert announced on Friday, December 4 that he was getting out of the race for governor and into the race for agriculture commissioner.
Shami donated $100,000 to Gilbert three days later — on the following Monday — according to Gilbert's report with the Texas Ethics Commission. And the Houston hair care potentate gave Gilbert another $50,000 on New Year's Eve, the last day of the year, and of the reporting period. That accounts for two-thirds of the $225,000 Gilbert raised during the last six months of 2009.
Vince Leibowitz, now Shami's campaign chief, held a similar post with Gilbert at the time. And he was busy trying to knock down two stories in the first two weeks of December.
One was about the money. "It's just bullshit," he told me at the time.
He now says he didn't know about the contributions until later. And in any case, he says, there was no connection between the contributions and Gilbert's decision to get out of the race for governor. "I was not aware that he had [given that money] when we talked in December."
Gilbert's spokesman, John Oeffinger, also says there was no connection between the money and his boss' decision to change races. "Hank got out of the race because he didn't have the money to go up against two millionaires… the writing was clearly on the wall."
Both Gilbert and Kinky Friedman moved to the agriculture race when then-Houston Mayor Bill White got into the governor's race. Tom Schieffer got out altogether, and now White and Shami and five lesser-known candidates will meet in the March 2 primary.
The other story Leibowitz was trying to knock down was about his employment status. Shami had just run out most of the campaign staff he'd hired in November, and Leibowitz said he was on loan and would return soon to the Gilbert campaign. "Farouk asked me to step in and get him a new staff… I'm going to be with Hank until November of next year. I'm nothing but Hank."
Gilbert wrote him a check for $10,000 on December 8 (for work, he says from August to that time). Shami wrote him a check for $12,500 on December 12. And on December 21, Shami's campaign announced its new staff in a press release, naming Leibowitz "Campaign Director and Senior Strategist."
Shami made a few other political contributions in the second half of the year, according to reports filed by the recipients: $1,000 to the El Paso Democratic Party; $5,000 to the Texas Democratic Woman PAC; $5,000 to the House Democratic Campaign Committee; $5,000 to state Sen. Rodney Ellis, D-Houston; $10,000 to attorney general candidate Barbara Ann Radnofsky; and $20,000 to the Texas Democratic Party.
Texas Tribune donors or members may be quoted or mentioned in our stories, or may be the subject of them. For a complete list of contributors, click here.
Texans need truth. Help us report it.
Our Fall Member Drive is underway, and we need your support. The Texas Tribune is a critical source of truth and information for Texans across the state and beyond — and our community of members, the readers who donate, make our work possible. Will you join as a member with a tax-deductible donation of any amount?
Yes, I'll donate today
---
Information about the authors
Explore related story topics