More Than One Million Caught
Next time you plan on speeding through an intersection after the signal changes to red, remember this: A camera could be watching.
Next time you consider speeding through an intersection after the signal turns red, remember this: A camera might be watching.
As many as 1.2 million motorists are nabbed by red-light cameras across Texas each year, according to the latest data collected by state transportation officials.
Cameras first popped up several years ago in Garland. Now more than 300 are trained on intersections in at least three dozen cities.
While some cities have lost money on the cameras in recent years, they've been lucrative for many others, generating, by a conservative estimate, as much as $60 million in fines. The cities share their profits — fines, less expenses — with the state, and spend the rest on traffic safety.
The Tribune did a statewide analysis and built a database application thanks to a state law, passed in 2007, that requires cities to report information about their cameras to the Texas Department of Transportation.
The agency recently published those documents on its Web site, allowing anyone to see the number of crashes and citations during a year-long period from 2008 to 2009 at each monitored intersection.
The cameras may be growing in popularity in some cities, but they also still spark controversy. Citizens recently voted to have them removed in College Station, for example, amid a grass-roots campaign claiming that they violate privacy rights and don't make motorists safer. There are plenty of critics elsewhere.
"My problem is down on a root level," said Paul Kubosh, a traffic lawyer in Houston who has fought the cameras in the courts and the Legislature. "They're lying to us. They know they're lying to us when they say the cameras make us safer."
But city officials, police agencies and the insurance industry largely support the cameras.
Duncanville Police Chief Robert Brown, whose city includes the intersection with the most tickets from July 1, 2008 to June 30, 2009, believes they make his intersections safer by raising awareness about signals.
"Obviously, there are going to be some people who are not in favor of the cameras," he said. "We made the decision to install the cameras because, at the end of the day, they make the community a safer place to travel."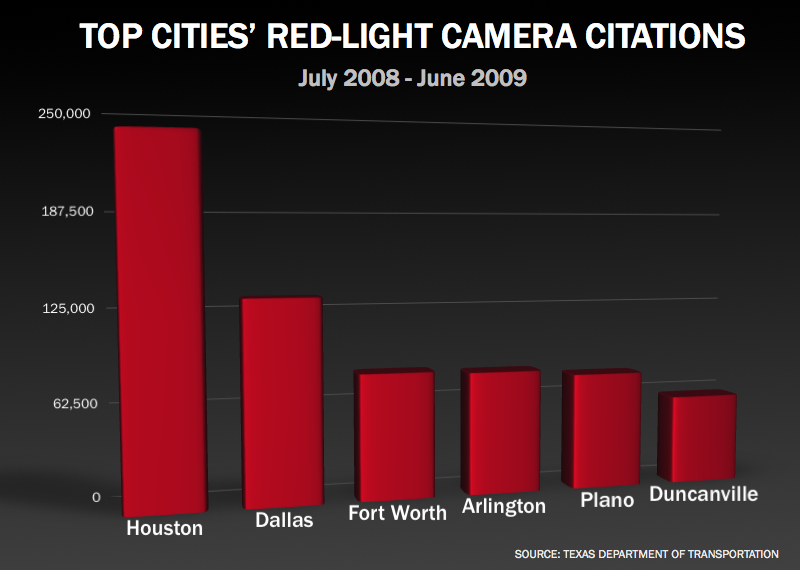 The cameras typically catch motorists who cross the white line into an intersection after a light changes from yellow to red. They are mounted on poles before an intersection, not on the signals themselves, and take pictures and video footage from behind offending vehicles. State law requires that monitored intersections display signs warning drivers as they approach.
City officials in Houston say the cameras work effectively, with only a small percentage of false positives, or instances in which motorists get cited by accident. Occasionally, motorists are even cited twice. For example, if a motorist drives through a monitored intersection and causes a serious crash, receiving a traditional — and costlier — ticket from a police officer, and then later receives a camera ticket in the mail.
Most, if not all, cities require require employees to view and approve each violation before sending citations to motorists. Those who get cited can view video and pictures of their alleged violation, and they have the right to challenge the citation before an adjudication officer and, if requested, a municipal court judge. The tickets are civil violations, not criminal cases, so they don't affect a motorist driving record — and you can't be jailed for not paying.
In Houston, which has more cameras than any other Texas city, roughly 70 percent of people pay the tickets after the three-month deadline. Some motorists believe they were wronged — even if they weren't — but they just pay up anyway.
"I could have contested it," Don Cross, who received a citation from a Southwest Houston intersection. "There was a truck in front of me. I was actually through the light before it turned red."
Others just ignore their citations. (So far the city has been unsuccessful in blocking scofflaws' vehicle registrations, as the law allows, because Harris County officials have resisted the idea).
For every critic, supporters say, there are plenty of motorists fed up with red-light infractions. They just aren't as vocal in their support, said Russ Rader, spokesman for the Insurance Institute for Highway Safety, a research group funded by auto insurance companies.
"There is this simmering controversy with red-light cameras," he said. "When you do actual public-opinion surveys, camera enforcement has a lot of support."
Texas Tribune donors or members may be quoted or mentioned in our stories, or may be the subject of them. For a complete list of contributors, click here.
Texans need truth. Help us report it.
Our Fall Member Drive is underway, and we need your support. The Texas Tribune is a critical source of truth and information for Texans across the state and beyond — and our community of members, the readers who donate, make our work possible. Will you join as a member with a tax-deductible donation of any amount?
Yes, I'll donate today
---
Information about the authors
Explore related story topics