All Those People
It took five days in 2004 to get the first 10 percent of the voters to the polls. It took three days this year. Early voting in those first three days was up 73 percent in the state's top 14 counties, according to the Texas Secretary of State.
It took five days in 2004 to get the first 10 percent of the voters to the polls. It took three days this year. Early voting in those first three days was up 73 percent in the state's top 14 counties, according to the Texas Secretary of State.
Houston was particularly energetic, with an increase of 118 percent. Turnout was up 138 percent in Fort Bend County, and nearly doubled in Bexar County.
A pollster doing work in Harris County tells us that nine in ten voters who showed up in those early days had also voted in the primaries, that half of those were from the Democratic primaries and that about 30 percent voted in the Republican primaries. Another Harris County politico from the GOP side put the Democrat-to-Republican numbers at 2.6-to-1 on the first day of voting and 2.4-to-1 on the second day.
So, with nine days of early voting left to tally, what's it mean? Are Democrats more enthusiastic and voting right away? Will the numbers even out as the days pass? Are they voting for more than just president and in what numbers? Will there be a flood of new voters? What's hype and what's not?
We looked at the primary election numbers, just for a comparison, and it's not even close: Even with the excitement over the March elections, only about three percent of Texas voters showed up in the first three days of early voting. And only 11.4 percent voted early in those two primaries. The general election numbers ought to hit that mark in the first week of voting.
And where are the patterns changing? We're watching a mess of House and Senate races in places where incumbents are supposed to be safe. Suburban Texas used to belong to Republicans, at least most of the time. Now there are hot contests in Williamson, Fort Bend, and suburban areas of Dallas, Tarrant, Harris, and Travis.
The Texas ballot still looks to be redder at the top and bluer at the bottom, but is that purple area in the middle creeping closer to the statewide races? That's a question for November 5, and for the candidates from both parties who have their eyes on 2010.
More on that in two weeks. Start with a look at the early voting in big counties (which we're updating daily as numbers come in), and at our list of hot contests ( updated weekly ).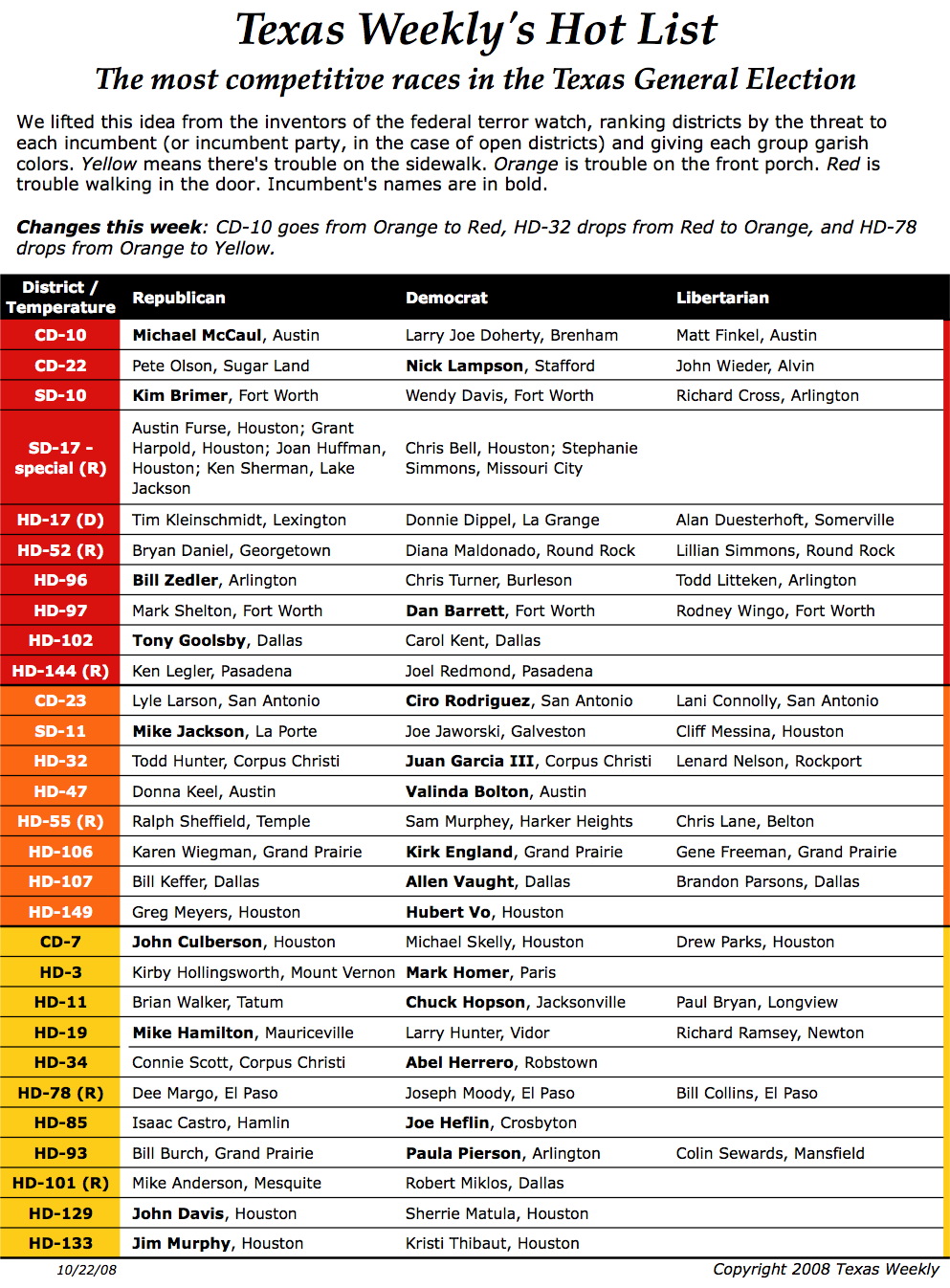 Suburban Battleground: Tarrant County
The race for HD-96 has Democrats almost ready to pull out the confetti and streamers for their candidate, Chris Turner. But the Republicans are confident that early voter turnout for incumbent Bill Zedler, R-Arlington, is giving Turner a run for his money.
"We're very confident, and I'm not just saying that," says Craig Murphy, Zedler's consultant. (Murphy says he recommended Zedler spend his time at the polls, not talking to the press, so we haven't heard back from the candidate.) "He's [Turner] on all the Democratic target lists, but if this is the quality of the Democratic target lists, they've got big problems this year."
Zedler was first elected in 2002. His last few Democratic challengers weren't well funded. Even so, Zedler won with only 52 percent of the vote to Democrat Chris Youngblood's 44 percent in 2006. This year, primary turnout for the Democrats in the district was more than double that of the Republicans. Based on those numbers, Democrats are opening their wallets for Turner. He's a first-time candidate, but isn't new to politics: Turner worked for former U.S. Rep. Martin Frost's staff and then went to work for U.S. Rep. Chet Edwards of Waco as a campaign manager and district director.
Zedler's people think Turner's all hype.
"The biggest problem for Turner is that it's a Republican district, and he's a former political consultant," Murphy says. "That's not really the background people are looking for. They want someone who has had a real job — a doctor or a teacher or a businessperson."
"I was able to work on the government side on a number of issues," says Turner of his work with Edwards. "The experience of having been involved in his office has been nothing but positive in my race."
Democratic consultant Matt Angle says he wouldn't call Turner a consultant, because he was a member of Edwards' staff (That's a fine line: The Turner Group, a political consultancy, is paid $7,000 a month by the Texas Democratic Trust, run by Angle. Lisa Turner, the principal, is the candidate's wife). Angle says he's known quite a few candidates that worked on campaigns before running for office.
"It depends on the individual," Angle says. "If you're a good candidate, that experience can be pretty valuable."
It hasn't hurt the bank. Turner raised $240,166 from January to the end of June, and $195,046 from July to the end of September. He had about $184,464 in cash at the end of September. Zedler raised $83,790 from January to June, and then $125,509 from July to Sept. He reported $134,160 cash on hand.
Turner has the Fort Worth Star-Telegram's support (they don't endorse, they recommend). And until we brought it their attention Tuesday, Zedler was claiming on his website that the paper is with him. He had it in '06, and for this year's primary. But he doesn't now, and he pulled down the reference.
Both candidates are talking about primary election turnout.
The Turner campaign has capitalized on record turnout in the primary. Democrats in HD-96 outnumbered Republicans about 2.5 to 1.
Murphy says Turner has "made a career" out of using those numbers, and he thinks it's worthless now because it only reflected the tension within the Democratic Party over the presidential candidates.
"That doesn't change the dynamics of the district," Murphy says. "He [Turner] would have had more success running in the last election, when Republican turnout was sort of depressed," says.
There's no way to know party breakdown of early voting, but the Republicans in Tarrant County seem to be confident. Murphy believes only about a third of the people who showed up for the first day of early voting were Democrats.
"We get a list everyday of who has voted, and where they voted," says Stephanie Klick, chair of the Tarrant County GOP, "and we're encouraged."
But Turner says the dynamics of the district are in his favor. Like other suburban sprawls in the state, parts of Tarrant County are filled with new subdivisions of lower-cost housing, bringing younger and more racially diverse families, which Turner says makes for a more competitive district.
The candidates have faced off in two forums, and taxes were the subject both emphasized. Turner says Zedler wants to increase the sales tax to 13 percent and use the money to replace property taxes.
"That's why Turner's losing this race," says Murphy, who contends a Democrat could never win a political debate about taxes.
Zedler's campaign has been all over Turner on taxes and is trying to link him with presidential candidate Barack Obama in mail pieces. One says Turner supports Obama's plan to increase taxes, because "Turner's boss, Democrat Chet Edwards, was considered a Vice Presidential Pick for Barak Obama." Angle calls Zedler campaign mailers "blatantly false" and "clumsily cited."
"This is one of the Democrats best opportunities to win," says Angle, "and Zedler is in a full-blown panic. He's done nothing but put out attack pieces. "
Murphy says Zedler's got no reason to panic: "This is a year that Republicans are going to come out and vote."
—by Karie Meltzer
Suburban Battleground: Harris County
Voters in HD-144 have been getting something in their mailboxes resembling a Halloween party invitation. No, wait, it's mailer attacking Democratic candidate Joel Redmond as a liberal.
But the piece from the Empower Texans PAC, which is supporting Republican candidate Ken Legler, has caused a stir. Democrats say the mailer, which makes its point by surrounding Redmond, who's white, with photos of minority Democrats under a canopy of blackbirds. The authors say the Democrats are the problem.
"It's sickening there are folks who want to make something racist out of something that isn't," says Empower Texans President Michael Quinn Sullivan. "This is Texas in the 21st century. Texans are not racist. Being racist doesn't make you win elections. Racists don't win elections. Call me naïve, but I think voters are much more interested in issues."
Redmond won't directly comment. "We've had a well laid-out plan from the beginning, and I'd rather not get sidetracked," he says.
Robert Talton, R-Pasadena, decided not to seek reelection in the district. In 2006, Talton won with 56.3 percent to Democrat Janette Padilla Sexton's 40.6 percent. Democrats say the demographics — and the profiles of this year's candidates — put the district in reach. Republicans agree the race is competitive, but think it'll remain red on Election Day.
Legler is way behind in the money game, raising $78,085 from July through September to Redmond's $240,859. Homebuilder Bob Perry contributed $25,000 to Legler's campaign, and another $50,000 to Empower Texans in the last Texas Ethics Commission reporting cycle. Texans for Public Justice, taking Redmond's side, is pointing fingers at Perry for the mailer.
Sullivan says he wasn't able to give the piece final approval and never saw the finished product until it was out the door. The PAC has always done its mailers in house, but this time handed that chore to Legler's Houston consultant, Allen Blakemore.
"We made an exception, and we're not going to do that anymore," Sullivan says. "But, the words are correct. The message is right."
Sullivan says he doesn't see anything racially charged about the ad, and contends, "some people could see a Coca Cola bottle on a green background and say it's racist."
His problem is that the piece lacks the actual voting records of the depicted elected officials, and he would have liked to see a few more pictures. "But I can see how that would have crowded the page," Sullivan says.
Redmond is the son of a prominent Baptist minister, Dr. Charles Redmond. Not the typical profile for a Democrat, but in a conservative suburb like Pasadena, where most HD-144 voters live, that's not a bad thing. Redmond consultant Dan McClung says his client's religious ties position him as centrist candidate. That, in turn, forces Legler to prove he's the real conservative.
Blakemore says that dynamic has made it extra challenging.
"Pasadena is not like the rest of the world. It's a cliquish, small town that is no longer a small town," says Blakemore. "It's not the same place that Bud and Sissy and Urban Cowboy lived. You've got Ken Legler, who was born and raised in the district, involved in the chambers and local businesses and kids sports, against the son of a pastor of the megachurch. It's an interesting contest."
When Pres. George Bush was governor, he appointed Legler to the Texas Commission for Environmental Quality Advisory Board For Small Businesses. Gov. Rick Perry reappointed him. Even with that in his bio, Legler admits his opponent's father is actually one of his biggest challenges.
"I have to let them know I'm the conservative, the true conservative," he says. "I'm not running against his father."
But Dr. Redmond isn't the only one involved with the church. His son the candidate, a partner with Legend Home Lending, founded Peace by Believing Ministries, a group that works in state prisons and with the homeless.
Mortgages? Ding ding ding! Legler and Blakemore say Legend Home Lending used to advertise sub-prime mortgages on its website. They chastised Redmond's connection to mortgages and the national economic mess in a press release, and Empower Texans PAC chipped in with an Internet ad . Legend took references to its sub-prime offerings off its website.
"I'm not saying that was the only business Redmond did," Blakemore says, "but he advertised the fact that he wanted to do that kind of business."
McClung defended his client, emphasizing that sub-prime loans have only accounted for about 1 percent of Legend Home Lending's mortgages. Redmond called the attacks "ludicrous," and didn't want to bother talking about it.
"I'll let them pay for their own publicity," he says.
Redmond's people are talking about dependents. A friend of Redmond's, Johnnie Roundtree, filed an ethics complaint with the Texas Ethics Commission accusing Legler of hiring his own daughter, a dependent, to work on his campaign. That would violate state election laws.
Legler says his 22-year-old daughter, Krystina Legler, is not listed as a dependent on his tax forms. He did, however, list her as a dependent when he filled out his TEC paperwork.
"She lives in her own apartment and pays for her own gas and food," Legler says, "but she is on my health insurance, and I do help her out, so I guess I just did that out of habit."
—by Karie Meltzer
Fill 'er Up
Democratic statehouse candidates will have at least one significant source of late money this cycle, courtesy of trial lawyer and one-time U.S. Senate candidate Mikal Watts.
Reports on file with the Texas Ethics Commission show that Watts donated $400,000 to a moribund Democratic political action committee based in San Antonio called Vote Texas. The PAC's one-page Web site said it is pushing for ethics reform, accountability and "lean, efficient government."
The Ethics Commission report also showed that the PAC gave Democratic House candidates Diana Maldonado of Round Rock and Donnie Dippel of La Grange $25,000 and $30,000, respectively, and incumbent Rep. Juan Garcia of Corpus Christi $10,000.
Dippel and Maldonado are running for open seats and Garcia is seeking his second term against former Rep. Todd Hunter. All three races are considered razor close.
Vote Texas' consultant Jim Dow — who also heads the 20/20 PAC — declined to discuss how the $355,000 remaining in the PAC's account at the beginning of the month might be divvied up. Campaign representatives of the Republican candidates in the races targeted so far by Vote Texas did not return calls Friday.
Vote Texas has been a registered PAC since 1993, Ethics Commission records show, but has never had access to the amount of cash dropped last month by Watts.
— by John Moritz
Shoot What Moves, Claim What Falls
The state's campaign finance cops will tell you that complaints against candidates rise in the early spring and the late fall — when primary and general elections are held.
The October flurries are underway. And we can say this, based on experience: You won't have a definitive answer (unless someone confesses) about any of these until well after the elections are over. They're not usually being filed to make the world a more ethical place — they're being filed to make political opponents less attractive to voters.
Still, some turn out to be substantive in addition to being politically effective. Time will tell.
The latest spate issued from the campaign of Sen. Kim Brimer, R-Fort Worth, and is directed at Democrat Wendy Davis and, in one case, at the people providing air cover for her campaign.
Davis held a press conference Friday afternoon in Fort Worth to knock down Brimer's complaints and to accuse him of filing them to generate news he can use to sustain his political attacks on her. "Kim Brimer has filed complaint after complaint after complaint, and he's not doing it with legitimate concerns," she said. "He is making a blatant attempt to use the media to advance falsehoods, and he is doing it to hide his own record."
Item : Brimer, referring to Davis' campaign finance reports, says she's getting an in-kind contribution of office space from Peter Lyden of Fort Worth, to the tune of $2,300 per month. But Brimer's researchers found that the building in question is owned by a Nevada corporation, Leo E. Wanta & Associates, Inc. And that, they say, makes the contribution of office space an illegal contribution from a corporation to a candidate for the Texas Legislature. He announced that by saying he'd filed a complaint on the issue with the Texas Ethics Commission. Davis says the contributions are legal, but her aides are still putting together their defense of that charge.
Item : Brimer says two Democratic political action committees are operating on Davis' behalf without properly disclosing their assistance to the state. They filed ethics complaints against the Lone Star Fund PAC and the Texas Values in Action PAC. And they filed a complaint against WFAA-TV in Dallas with the Federal Elections Commission over a news story that didn't disclose that someone working for the Texas Values in Action PAC is also employed as a campaign aide to Davis. Matt Angle, the Washington, D.C., consultant who runs the Lone Star Fund, says "all of the paperwork that's supposed to be filed has been filed, and lawyers have been over everything to make sure it's in order." Brimer's also accused those PACs of working in coordination with Davis. Eight minutes before her press conference began, the Lone Star Project — part of Angle's effort on behalf of Texas Democrats — sent reporters an email detailing "The Brimer Strategy" and making the same points Davis made minutes later.
Item : Brimer filed a complaint with state insurance regulators accusing Republic Title of paying Davis "for steering title insurance business" to the company. The arrangement, according to the complaint, was part of a divorce settlement between Davis and her husband, who owned the company at the time. That complaint accuses her of "unauthorized practice of insurance." At her press conference, Davis said she's never accepted commissions or incentive payments from the firm, and produced a contract saying so, along with a letter from Fort Worth's city attorney, who blessed the contract when she joined the city council.
Brimer has been the loudest complainer this month, but he's not alone in Texas politics.
Item : Texans for Public Justice filed a complaint against 3rd Court of Appeals Judge Alan Waldrop with the State Commission on Judicial Conduct after he declined to recuse himself from a case involving a former client. He's not on the ballot this year, but the issue now involves that court's top judge, Ken Law, who is up for election next month.
Item : Sherrie Matula, the Democrat in the HD-129 race, filed a complaint against Rep. John Davis, R-Houston, for a mailer attributed to "Friends of John Davis," a PAC that doesn't exist. Davis' consultant said the mailer should've said "Texans for John Davis," which does exist.
The Going Gets Weird
The former Republican senator from SD-17 called bull on a PAC he funded that is supporting the candidate he has endorsed. That PAC's director, and that candidate, apologized for a nasty mailer they sent out. And then they launched another attack. And then a bigger PAC endorsed the opponent. And then a party official in the district endorsed the opponent.
Somewhere, the Democrats are laughing.
Start here: Houston political consultant Allen Blakemore apologized for a mailer accusing former Judge Joan Huffman of taking excessive time off from her court ( the full apology is here ). But the mailer that made the charges is in the hands of voters, and it's not clear the apology will have that same reach. They followed their apology by saying they weren't going to send correcting mailers, and by attacking Huffman for being "soft on crime" for accepting plea agreements from prosecutors in several child molestation cases.
Huffman's camp put the blame on Austen Furse, a Republican rival for the SD-17 seat whose campaign — like that of the Best for Texas PAC — is being run by Blakemore. Furse, according to Huffman, asked to meet "under a streetlight across from the Southside Police station" to apologize. Huffman wants him to apologize to each of the 55,000 people they say got that mailer.
Next, Huffman got the endorsement of Texans for Lawsuit Reform, which had said earlier it would stay out of the first round of the race to replace Kyle Janek. TLR had given money to Stephanie Simmons — one of the two Democrats in the contest— but had left the four Republicans to their own devices.
Now, with the factually challenged attacks from Blakemore and Furse, the group decided to openly back Huffman. The tort PAC said in its endorsement that it would be happy with either Simmons or Huffman in the Senate. They contributed $2,500 to Simmons in the last reporting period; a spokeswoman wouldn't say whether they've given to Huffman yet. The group also took a swipe at Democrat Chris Bell, the best-known candidate, as an ally of the trial lawyers TLR opposes. Bell's campaign said TLR is trying to squeeze their guy into a runoff with Huffman.
And to cap it all off, Yvonne Dewey, the GOP Chairman in Brazoria County, is endorsing Huffman in that race and says, like TLR, that she's throwing in because of the nasty stuff other Republicans are throwing at the former judge. And she's urging other Republicans to call the Best for Texas PAC and give them an earful.
Meanwhile Furse hit email boxes with a list of endorsements in his bid for the SD-17 seat that includes former President George H. W. Bush, Harris County Tax Assessor-Collector Paul Bettencourt, former Harris County Judge Robert Eckels and others.
Janek weighed in, too.Janek's name has been invoked, since he gave his money to the Best for Texas PAC, which is in turn using that money to attack Huffman, first with the bogus vacation story and now with the "soft on crime" bit about child molesters. Blakemore worked for Janek and now runs both the Best PAC and the Furse campaign. Asked about the skirmishes, Janek responded with a written reply:
"While I have not seen the ads or emails being discussed, I have been getting calls about them and I have heard the rumors.
"I know three things. The first is that any assertion that Judge Joan Huffman was soft on criminals, especially based on plea recommendations from the Harris County D.A.'s office, strikes me as ridiculous. The second is that Austen Furse (whom I have endorsed) and Joan Huffman are both very good people whom I respect and to whom I could entrust my kids. The third is that Allen Blakemore works to help Republicans, not Democrats – always has, always will.
"Actually, there is one more thing I know: hyperventilation is bad for the brain – it literally constricts the blood vessels that feed the grey matter. (Go ahead – Google it.)
"I wish that everyone would stand down on this nonsense."
Things to Worry About on November 5
The honchos at Texans for Lawsuit Reform met with Reps. Jim Keffer of Eastland and Byron Cook of Corsicana a few days ago, but say that meet-up was regular business and had nothing to do with the race for speaker of the Texas House.
Just dinner. No hanky panky.
"It would be a mistake to read anything into it about the Speakers' race," said Dick Trabulsi, through a spokeswoman. The meeting was attended by Trabulsi, Dick Weekley, Leo Linbeck, Hugh Rice Kelly, and Bob Perry.
Keffer and Cook are rivals of House Speaker Tom Craddick, part of a small group of House Republicans who, like the majority of House Democrats, want to elect a new speaker. That politicking has been going on at a relatively quiet level since the end of the last legislative session. That was the session that featured bookend challenges to Craddick: He won reelection after a dramatic opening fight at the beginning of the session, and staved off a challenge by refusing to officially recognize his opponents at the end.
TLR has friends on all sides and doesn't want to play, according to spokeswoman Sherry Sylvester. "We see the speaker's race as something the members decide — we always have.
"It's very unlikely that an opponent of lawsuit reform could be elected speaker," she added.
Keffer's name is among those most often mentioned as potential Republican challengers to Craddick, along with (recently) Reps. Edmund Kuempel of Seguin and Charlie Geren of Fort Worth. Should the election flip five or more seats to the Democrats, giving them a majority, the most-mentioned names right now are Reps. Allen Ritter of Nederland, Craig Eiland of Galveston, and Pete Gallego of Alpine.
Democrats' hope for a majority has dampened talk of a challenge to Craddick. With that possibility open, Democrats won't commit to a Republican challenger. And without a Democratic commitment, none of the challengers can put together a majority.
Who Won?
The Texas Association of Business plead guilty to making an illegal direct corporate campaign contribution, paid a $10,000 fine, and ended a six-year criminal case that started with TAB's work to get a herd of Republicans elected to the Texas House in 2002.
The group followed its court appearance — which included an apology — with a defiant letter blasting the lame-duck district attorney who's been after them for all these years. "Six years of political persecution by Ronnie Earle has come to an end with a misdemeanor over a bookkeeping error. Hundreds of thousands of taxpayer dollars that could have been used to protect our streets have been wasted. The bottom line is that the free speech rights of corporations and associations to inform the public on how their elected officials represent them are completely upheld."
The case started when TAB's political action committee, with corporate donations, sent out a flood of "educational" mailers about the candidates in nearly two dozen House races. Travis County prosecutors said the mailers — and the activities of TAB president Bill Hammond and lobbyist Jack Campbell — amounted to illegal corporate participation in state elections. The two sides have been battling over the details of that accusation for six years.
"The law in Texas is clear," Earle said. "Texas citizens, the people of Texas, are entitled to a voice in democracy; corporations are not, just as they are not entitled to vote."
Indictments related to the mailers were dismissed earlier. This settlement closes the last remaining indictment in the case. Earle, who didn't seek reelection, leaves office in January.
Hammond was more contrite in his court-ordered statement after pleading guilty: "I now recognize that while working as a salaried employee of the Texas Association of Business, it was a violation of the law to expressly advocate for the election of these candidates."
A related case involving the Texans for a Republican Majority political action committee, or TRMPAC, is ongoing.
Earle's statement on the agreement includes a list of things corporations can and cannot do in Texas, and a promise that his office will keep reading the law this way. That caught the notice of the Professional Advocacy Association of Texas — the "lobby lobby" — which sent a memo to members suggesting they look note the prosecutor's reading of the law.
Quoting from the prosecutor's press release:
• "There is no exception in Texas law for corporate employees or resources to be used to benefit campaigns for public office other than communications to a corporation's own restricted class.
• "Under the law in Texas, there is no exception for de minimus activity funded by corporate resources. Any use of corporate resources of any nature to benefit a campaign for public office is a violation of the corporate prohibition, including the use of corporate facilities, corporate property, corporate employees or corporate expense reimbursement.
• "Any use of corporate resources to benefit a political action committee, other than for expenditures for the formation, administration or permissible class solicitation allowed by Chapter 253.100 of the Texas Election Code is prohibited.
• "Any corporate employee that wishes to donate his or her personal services to a candidate or political action committee must do so on his or her own personal time, which should be noted in advance and clearly documented in corporate records.
• "A corporation may not reimburse the expenses of a corporate employee who has taken personal time to engage in campaign activities."
Flotsam & Jetsam
The 30-day (state) and quarterly (federal) reports are all on file now, so we've updated our charts , filling in the blanks where finance reports were missing. Some summary info is in order: In the four congressional races we're watching, Democrats have outraised Republicans $7.8 million to $5.3 million and held a $1.1 million advantage in cash-on-hand at the end of the reporting period. In three Senate races on the radar, Democrats have outraised Republicans, but the number to watch is cash-on-hand, where Republicans held a $2.8 million advantage at the end of September. And in the Texas House, Democrats outraised Republicans from July to September, pulling in $2.9 million to the Republican candidates' $1.8 million. The advantage in cash-on-hand? The Democrats, with about $1 million more than their opponents.
• U.S. Sen. John Cornyn leads Democrat Rick Noriega by 15 percentage points in the latest poll from Rasmussen Reports. That outfit had Cornyn at 55 percent and Noriega at 40 percent in a poll of 500 "likely voters" done on October 21. Their margin of error: +/- 4.5 percent. Rasmussen had the two candidates only seven points apart at the end of September. Earlier monthly surveys showed a wider split. Cornyn is viewed favorably by 59 percent of voters and unfavorably by 32 percent. The corresponding numbers for Noriega: 43 favorable, 42 unfavorable. And they say Cornyn leads 54 percent to 32 percent among the remaining undecided voters.
• The same pollsters have Republican John McCain ahead of Democrat Barack Obama in Texas, 54 percent to 44 percent. Just one percent of voters said they haven't decided on a candidate. That's about where the candidates have been since mid-summer, when a series of monthly polls showed them steady at nine points apart. The favorable/unfavorable breaks on the candidates for president among Texas voters: 66/33 for McCain, and 47/52 for Obama.
• Noriega's campaign is touting a poll done for the Daily Kos — a prominent Democratic website — that has Cornyn at 50 percent and Noriega at 44 percent.
• Texas Democrats are worried about straight-ticket voters making a mistake and "de-selecting" their preference for presidential candidate Barack Obama or anyone else, and they're worried because of a string of emails telling people to "make sure" of their votes by voting straight ticket and then voting again for Obama. If you vote a straight ticket, then vote for a particular candidate in that party, the second vote is recorded as an exception — that is, a vote for everyone on the ticket except for that one. State Democrats were alarmed by emails that circulated and instructed people to "be sure" of their vote by voting straight and then voting for Obama. That would, in fact, delete their vote.
They didn't say this, but we'll add it: If you want to vote a straight ticket for, say, the Democrats, but want to vote for one Republican on the ballot, you vote straight Democrat and then pull the lever (punch the chad, fill in the oval, click the switch) for the Republican you like.
• The unemployment rate in Texas last month rose to 5.1 percent, compared with 4.3 percent in the same month of 2007. The change from August to September was slight. And according to the Texas Workforce Commission, one major reason for the rise was Hurricane Ike, and that effect is expected to be even more pronounced in the October numbers.
Political People and Their Moves
Jody Richardson moves to Brown McCarroll after 17 years at Akin Gump Strauss Hauer & Feld, joining the lobby shop of that Austin law firm.
Leonard Olson, director of government affairs at the Texas Commission on Environmental Quality, is leaving government for the private sector; he'll open a consulting and lobby shop.
Robert Elder, who's kept an eye on state pension funds and investments as a reporter at the Austin American-Statesman, is leaving the press corps for an inside job: He's taking a job with Commissioner Denise Voigt Crawford at the State Securities Board, starting in November.
Gov. Rick Perry appointed Ada Brown of Dallas and John Thomas Steen Jr. of San Antonio to the Texas Public Safety Commission. Brown is an attorney and former criminal judge. Steen is an attorney and former chairman of the Texas Alcoholic Beverage Commission.
Quotes of the Week
John McCain, spoofing at the Al Smith Dinner, a benefit for underprivileged children, quoted by Politico.com: "I'm the underdog, but there are signs of hope. I can't shake the feeling that some people here are pulling for me. I am delighted to see you here tonight, Hillary."
U.S. Rep. Michele Bachman, R-Minnesota, on MSNBC's Hardball: "I wish the American media would take a great look at the views of the people in Congress and find out, are they pro-America or anti-America? I think people would be — would love to see an expose like that."
House Appropriations Chairman Warren Chisum, R-Pampa, after walking the Texas Taxpayers & Research Association through a list of obligations offsetting the state's balances: "We're eating at the surplus... This session will be business as usual: We'll live within our means and try to get out of here."
Rep. Pat Haggerty, R-El Paso, telling The Newspaper Tree that he'll be lobbying next session and explaining the difference between his elected job and that one: "Number one, you don't get as good of a parking place, and number two, you don't get to vote."
Joe "The Plumber" Wurzelbacher, quoted by the Associated Press on his instant fame: "I'm kind of like Britney Spears having a headache. Everybody wants to know about it."
---
Texas Weekly: Volume 25, Issue 41, 27 September 2008. Ross Ramsey, Editor. Copyright 2008 by Printing Production Systems, Inc. All Rights Reserved. Reproduction in whole or in part without written permission from the publisher is prohibited. One-year online subscription: $250. For information about your subscription, call (512) 302-5703 or email biz@texasweekly.com. For news, email ramsey@texasweekly.com, or call (512) 288-6598.
Texas Tribune donors or members may be quoted or mentioned in our stories, or may be the subject of them. For a complete list of contributors, click here.
Texans need truth. Help us report it.
Independent Texas reporting needs your support. The Texas Tribune delivers fact-based journalism for Texans, by Texans — and our community of members, the readers who donate, make our work possible. Help us bring you and millions of others in-depth news and information. Will you support our nonprofit newsroom with a donation of any amount?
Yes, I'll donate today
---
Information about the authors
Explore related story topics