Hot Races
If we listen only to Republican consultants, they'll sweep the statewide seats, hold off Democratic challengers in two congressional seats, knock off one and maybe two Democrats in Congress, hold onto all three contested state Senate seats, and gain a net of four seats in the House, ensuring another two years with the GOP in control of all statewide offices, the congressional delegation and both chambers in the statehouse.
If we listen only to Republican consultants, they'll sweep the statewide seats, hold off Democratic challengers in two congressional seats, knock off one and maybe two Democrats in Congress, hold onto all three contested state Senate seats, and gain a net of four seats in the House, ensuring another two years with the GOP in control of all statewide offices, the congressional delegation and both chambers in the statehouse.
The Democrats have a different take. It's difficult to find any takers on most of the statewide seats, but they're optimistic about a couple of judges there. The congressional assessment is a straight flip, with the Democrats thinking they'll hold off the challengers in two races and maybe knock off the Republicans in two more. They remain optimistic about two of the three hot Senate races, and they think they might pick up enough seats in the House — it would take a net of five — to regain the control they lost after redistricting in the 2002 elections.
Write these starting numbers at the top of your scorecard. After the 2006 elections the Republicans had 19 members of the 32-member congressional delegation, 20 of the state's 31 senators, and 81 of the state's 150 House members. Since then, the Democrats picked up two House seats, from a special election a year ago and from a party switcher who got fed up during his first legislative session last year and left the GOP for the Democrats. In less than a month, you can record the changes.
And in the meantime, here's our ranking of the most competitive races for those three bodies. We lifted this idea from the inventors of the federal terror watch, ranking districts by the threat each incumbent (or incumbent party, in the case of open seats) faces, and giving it a garish color. Yellow means there's trouble on the sidewalk. Orange is trouble on the front porch. Red is trouble walking in the door.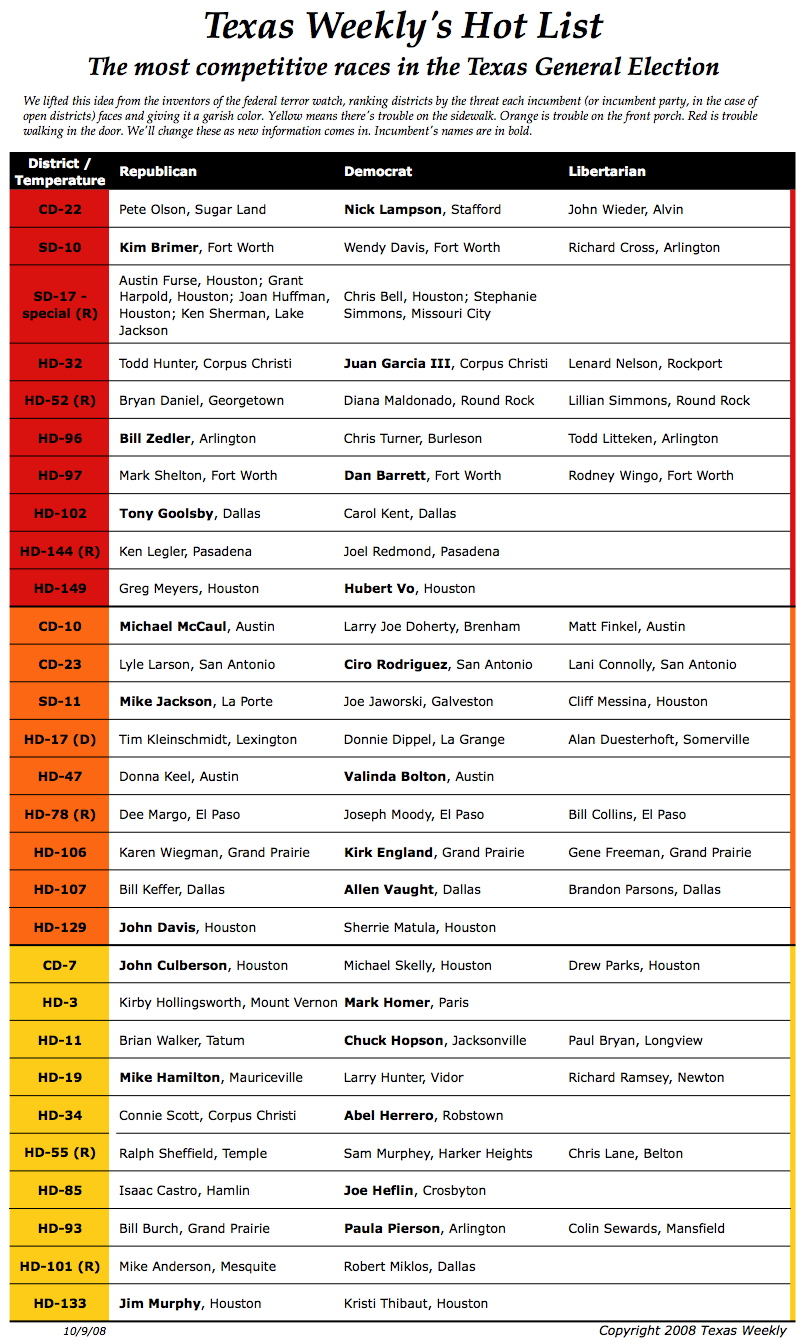 Money in Key Races
Campaign finance results from the 30-day reports in top Texas contests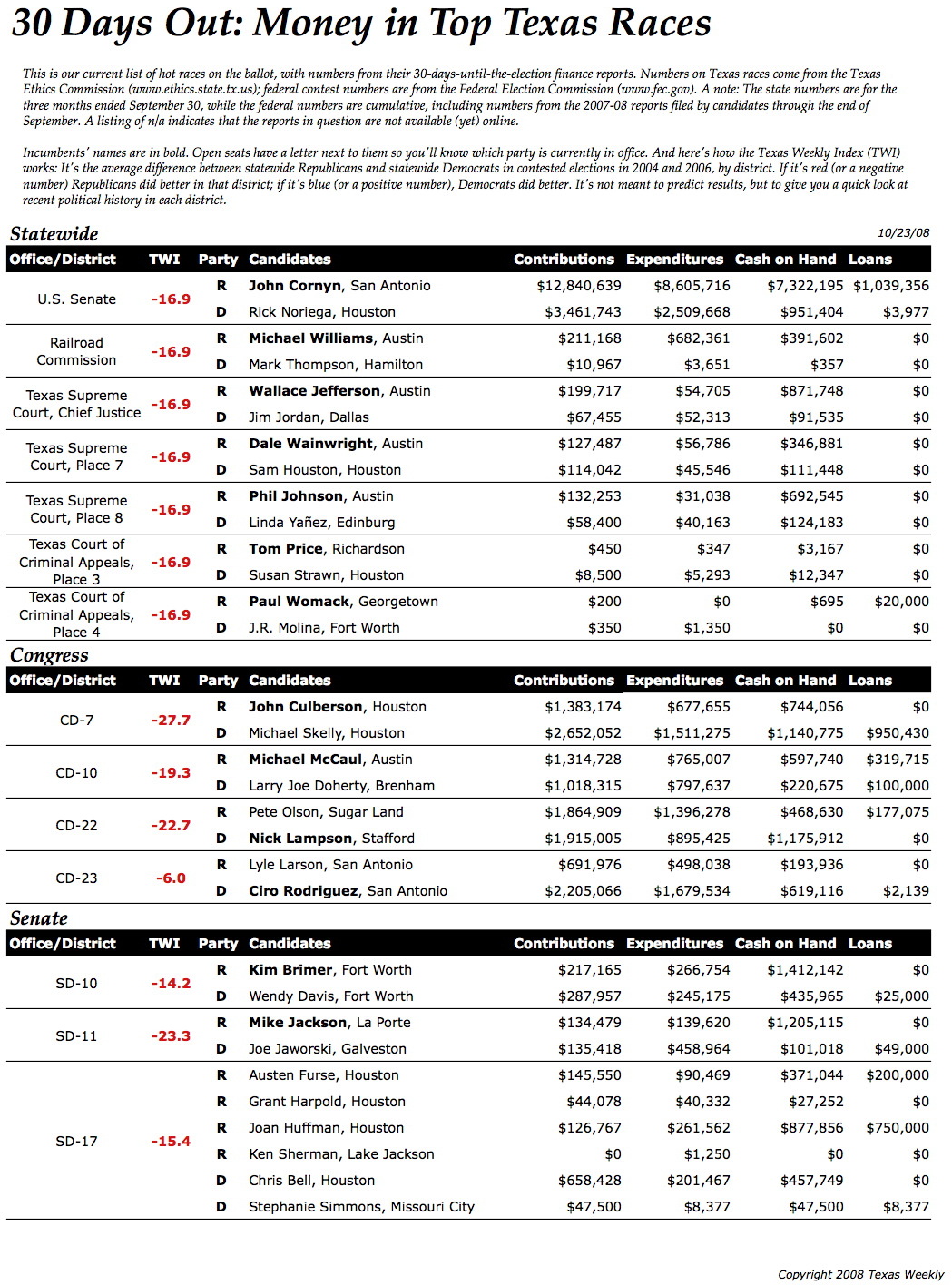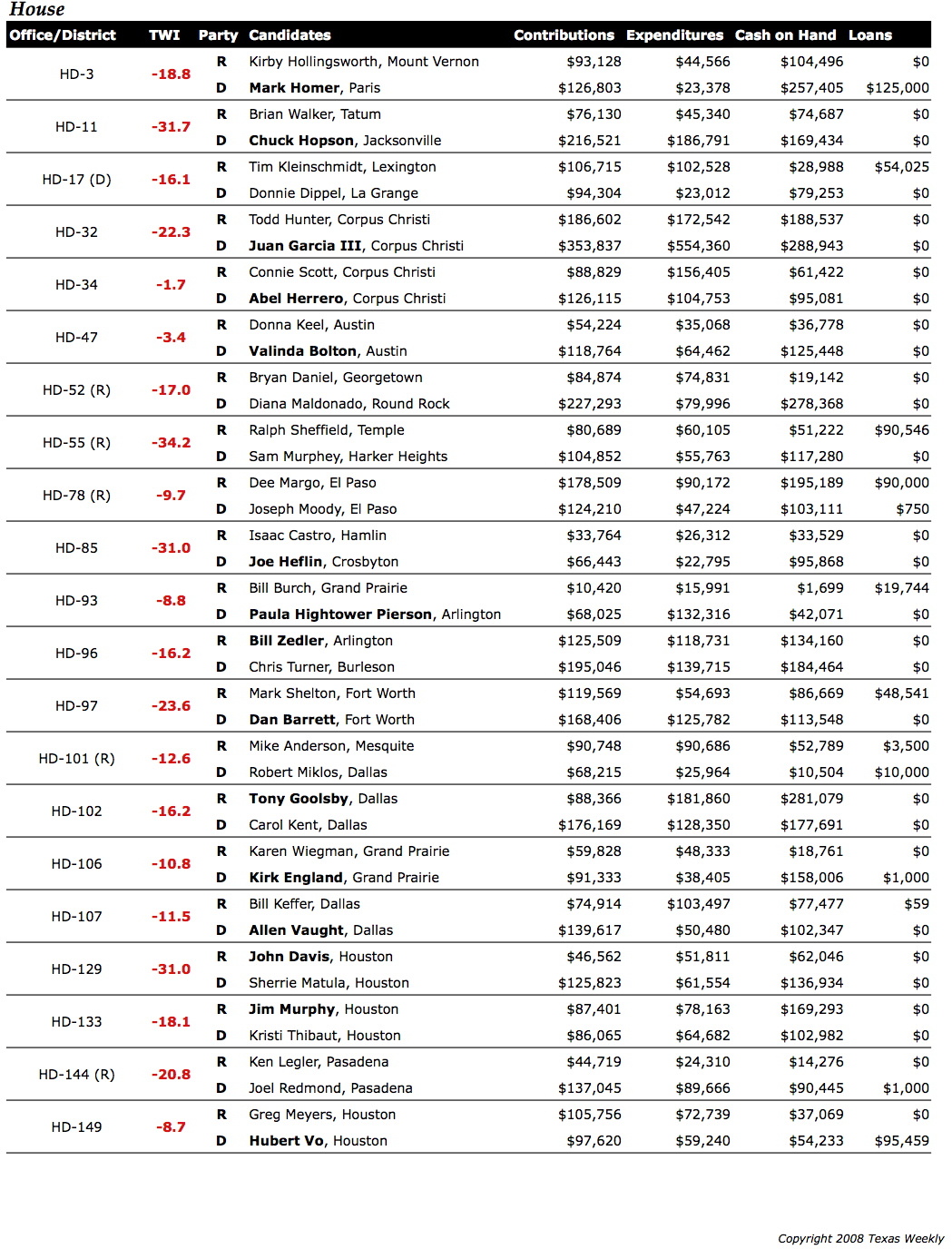 Absentee Voter
Ready for a little voter registration road trip?
Democrats say Republican Pete Olson broke the law by voting in one state while he was registered to vote in another. Olson aides say the Democrats have their facts mixed up and that their guy was only voting in one state. Olson is challenging U.S. Rep. Nick Lampson, D-Stafford, in this year's election.
The Lone Star Project — run by a Washington, D.C. consultant to bolster Texas Democrats — says Olson, registered to vote in Newton, Connecticut, which is in Fairfield County, in 1996 and voted absentee there from through 1997. In 1998, he changed his address and registered to vote in Fairfax County, Virginia.
According to their research, Olson voted seven times in Virginia between 1998 and 2003 — but voted in the 2003 special election in Connecticut. And they contend he kept his voter registrations in both states. In 2005, he signed a form to verify he wasn't living in Newton anymore. He remained in Virginia until last year, when he moved to Fort Bend County. He changed his address and has voted in Texas ever since.
The Olson campaign says that's a tall tale designed to hurt their guy. The candidate opted out of this interview — his spokesperson, Amy Goldstein, took the wheel.
"I believe that the story is the desperation of the Democrats to make this stuff up, trying to cast Pete Olson in a certain light," says Goldstein. "This is purely a media issue."
In '96 and '97, Olson was serving in the Navy and stationed at the Pentagon. Goldstein says Olson had to list a permanent address to get an absentee ballot, so he listed his parents' home in Connecticut. He never owned property there, she says. In '98, Olson got out of the Navy, cancelled his Connecticut registration, and registered in Virginia.
As for the 2003 double-vote, Goldstein says that voters in Newton don't have to show a photo ID to register — just something with a printed name and either a photo, a signature or an address. Olson thinks someone else voted in his name.
Goldstein characterizes the issue as a waste of time. The candidate hasn't gotten any curious calls from voters, so they're hoping to leave it alone.
"There is so much that's not true about this," Goldstein says.
Still, they aren't offering anything to back up their story, other than saying whoever voted that day didn't have to show a picture ID. Goldstein says at first, Olson and his wife Nancy Olson recalled being on vacation with her parents during that 2003 election. But after piecing it together, he realized he was at work in D.C. that day.
"I am sure that somewhere in the Senate offices there is a record of him being at work that day," Goldstein says. "He's quite upset by the charge and really wants to get to the bottom of it... but half his stuff is in storage from the move, and taking days out of the campaign to find one date book isn't worth it right now."
Up in Connecticut, officials are scrunching their eyebrows. Av Harris, spokesman for the Secretary of State, says if someone committed voter fraud by impersonation, the SOS's office would probably know about it — and they haven't heard of anything in the last 10 years.
"We heard a couple of months ago, and contacted the Registrar of Voters to find out an explanation," Goldstein says when asked Olson made any protest. "They are aware of the issue, but I don't think we filed an official complaint — even though Pete is very disconcerted by this. We just didn't think of it. Thanks for the idea."
LaReine Frampton, Newton's registrar of voters, says she can't imagine why anyone would have impersonated another voter in that 2003 special election, which the city called to decide the fate of developing a recently purchased psychiatric hospital.
"Why would they?" Frampton says. "It was a small turnout, maybe 2,300 of 14,000 registered voters came out. I don't know if it was him [Olson] or not, all I know is his name was checked off the way we code it, as having been in person."
Frampton says she's tired of the whole mess.
"If he could show where he was on that day, this would not be an issue and it would go away," Frampton says. "He should show his proof so we can all get on with our lives."
— by Karie Meltzer
Higher Stakes
A political action committee funded largely by the racetrack and slot machine industries (that mostly placed safe bets during the 2006 election cycle) is upping the ante considerably this year.
According to documents on file with the Texas Ethics Commission, Texans for Economic Development doled out nearly $850,000 in political expenditures during the first eight months of 2008 for TV commercials, legal expenses and direct donations to state House and Senate candidates from both parties.
That puts the group at No. 5 in expenditures among all non-candidate PACs so far this cycle and is well over five times what the organization spent on politics in '06, when most of its candidate contributions came in increments of $1,000 and $2,500 that arrived in the days and weeks after the November elections.
"When someone or some group suddenly shows an interest in putting up that kind of money, it tells me that they're planning to make a pretty big push for their issues in the upcoming legislative session," said longtime lobbyist and consultant Bill Miller, who's not affiliated with the group that goes by the nickname TED. "They want to be seen as players."
Their issue is passing legislation that would allow pari-mutuel tracks — and perhaps other venues — to install Vegas-style slot machines often called video lottery terminals, or VLTs. The machines would generate much-needed revenue to boost the profitability of the tracks and the horse industry as a whole while pumping a fresh infusion of cash into the state treasury.
Andrew Wheat of the follow-the-money watchdog group Texans for Public Justice said that even though TED may be raising its profile with its cash contributions this cycle, the players behind the group have been in the game for quite some time.
Among TED's large contributors are LaMantia family of South Texas, which owns interest in an under-construction track in Hidalgo County; Maxxam Inc., which owns Sam Houston Race Park and Valley Race Park; and Tillman Fertitta, the owner of the Landry's restaurant chain who also has interests in Las Vegas casinos.
"These guys have been pushing for VLTs and other gaming session after session without a lot of success," Wheat said. "So it shouldn't surprising that they're going to try again under a fancy new name."
TED's heightened interest in statehouse politics surfaced during the primary season when it put out TV ads in three high-profile races involving incumbent Republicans. The move cost them, both on the political and public relations side.
Two of the three incumbents —Phil King of Weatherford and Betty Brown of Terrell — beat back the challenges of the TED-back challengers. Doug Miller, who had the support of TED against New Braunfels Republican Nathan Macias, won a razor-thin victory in the primary.
The internecine dust-up in the primaries also prompted veteran GOP consultant Reggie Bashur to end his association with the Texas Horseman's Project, which had been a member of TED. The two groups have since parted ways altogether. The spinoff helped form Texas HORSE — a group with gaming ambitions of its own, covered here last month.
In several other primary races, TED's involvement was more subtle and came mostly in the form of cash contributions. The results show a split decision. Democratic Reps. Kevin Bailey of Houston and Juan Escobar of Kingsville received $30,000 and $25,000 respectively from TED and went down to defeat.
Democratic Reps. Kino Flores of Mission and Aaron Peña of Edinburg, and Republican Charlie Geren of Fort Worth, each received $20,000 from the group and defeated their challengers.
So far in the general election campaign, TED's reported contributions have been mostly in the "safe bet" category. Democratic Sens. Eddie Lucio of Brownsville, Juan Hinojosa of McAllen, Leticia Van de Putte of San Antonio and Judith Zaffirini of Laredo have each received $10,000. So have Republicans Chris Harris of Arlington and Kel Seliger of Amarillo.
All are heavily favored to win re-election in November.
— by John Moritz
Self-Administered Campaign Diagnostics
If you take a look at the memo that the Austin American-Statesman scrounged out of John Cornyn's U.S. Senate reelection campaign, you'll find the pollsters there think the presidential race in Texas has a 23-point spread.
Contrast that result — John McCain, 55 percent, Barack Obama, 32 percent — with the results of a recent Rasmussen poll that had the Republican at 52 and the Democrat nine points behind. That earlier poll had Cornyn seven points ahead of Democrat Rick Noriega, a result that — according to the Cornyn camp — is statistically impossible unless your poll sample has too many Democrats to represent the actual population in Texas. By Cornyn's count, which was included in a memo that somehow got left out where the media could find it (we are shocked, really), he's at 50 percent and Noriega's at 32 percent. Real numbers will be available in less than a month.
Save It for Later
The Kim Brimer-Wendy Davis court fight is over for the moment, with a Dallas appeals court deciding to leave Davis on the November ballot.
It might not be over for good, though. The court decided the case is moot, since the voters already have their mitts on the contest and courts are loathe to tamper with elections. But the judges on the 5th Court of Appeals in Dallas didn't make a decision on Davis' eligibility for the state Senate.
The Democrat is challenging Sen. Brimer, R-Fort Worth, but he sued, saying she didn't get off the Fort Worth City Council in time to be eligible to run. A state district judge in Fort Worth ruled in Davis' favor. Brimer appealed, the case ended up in the Dallas court, and the judges there decided not to decide the issue.
"The law is clear that a challenge to the candidacy of an individual becomes moot 'when any right which might be determined by the judicial tribunal could not be effectuated in the manner provided by law.'... If a challenge to a candidate's eligibility 'cannot be tried and a final decree entered in time for compliance with pre-election statutes by officials charged with the duty of preparing for the holding of the election,' we must dismiss the challenge as moot."
Since the election's underway, they're not gonna get involved. It's too late to take Davis off the ballot — if that would be the ruling — so the court doesn't seen any point in issuing a ruling.
"Even if Davis is ineligible to hold office — an issue we do not reach in this appeal — her name will be included on the November 4, 2008 general election ballot in opposition to Brimer. We cannot, at this point, change that outcome and, therefore, this appeal is moot."
Brimer's camp will leave things be for now, but can still press a challenge after the November 4 election and before the votes are officially canvassed in the days that follow. If Davis wins, she could also be challenged when the Senate meets: The members can refuse to seat elected candidates they decide are ineligible or unable to serve. If Brimer wins, it's academic.
If Brimer loses his reelection bid, the Texas Senate might be asked to decide whether he lost to a legal candidate, and whether or not she should be given a spot in the Senate. Brimer will wait for the election results before taking his next legal step. If he loses, his campaign sees three options:
• An administrative action taken by the State of Texas (after the polls close but before the vote is canvassed [Texas Election Code 145.003(d)];
• A vote of the members of the Texas State Senate to refuse to seat an ineligible candidate [Texas Constitution Art III, Section 8]; or
• A judicial Quo Warranto action taken by the Texas Attorney General or other appropriate State Official.
Even if the courts or the AG made a ruling, it's ultimately up to the Senate itself to decide who gets sworn in. One quirk: Someone other than Brimer would have to bring it up; if he were defeated, he likely wouldn't be in office on the first day of the session and thus wouldn't be able to make his own complaint.
Flotsam & Jetsam
Scratch U.S. Minority Leader John Boehner of Ohio from the fundraising team at a weekend event for Republican Pete Olson. He got tangled up in the bailout talks and votes and all, and won't be there. Olson is running against U.S. Rep. Nick Lampson, D-Stafford, in CD-22.
• U.S. Sen. John Cornyn raised $1.9 million during the last three months and entered the last month of the campaign with $7.2 million on hand. That's from a press release; reports will be filed with the Federal Election Committee next week. Cornyn is running for reelection against Democrat Rick Noriega, a state representative making his first statewide run.
• Grant Harpold, one of four Republicans (and six candidates in all) running to replace Kyle Janek in SD-17, has a radio spot that blasts special interests. Called "Strike Back," it starts by slamming the federal government's "trillion dollar bailout" of Wall Street, and then moves on to lobby interests in Austin. "I remain the only candidate who is not funded by these lobbyists," he says in the spot.
• What a difference a debate makes. Veep candidate Sarah Palin is scheduled to headline a fundraiser in San Antonio this weekend, and state Rep. candidate Todd Hunter of Corpus Christi is going. And he'll meet her. And he put out a press release telling us about it.
• This is what happens to people who work in gubernatorial press offices after those glory days are over. Ted Royer, who moved to sunny California after working for Gov. Rick Perry, is now working with movie people. And instead of spinning for politicians, he's spinning for political movies. He's trying to get us to write about a conservative spoof called An American Carol that opened in Texas this week. We're not gonna.
Santa's Little Helpers
Former President Bill Clinton will headline a fundraiser in Houston for state Senate candidate Chris Bell next week. Bell, a former city councilman and congressman, is one of six candidates trying to win a special election to replace Republican Kyle Janek, a Republican who resigned earlier this year.
Austen Furse, one of the four Republicans in that race, won the endorsement of former President George H. W. Bush, who said the state Senate candidate did a good job as the White House Director of Policy Planning.
• Louisiana Gov. Bobby Jindal is on his way to Texas for a Pete Olson fundraiser next week. Olson is running against U.S. Rep. Nick Lampson, D-Stafford, in CD-22.
• Republican Bryan Daniel, running for an open state House seat in Williamson County, is getting fundraising help from U.S. Sen. Kay Bailey Hutchison. That's at the end of next week, and is one of several stops the state's senior senator is making for statehouse candidates this season. She's also appearing (or has already appeared) on behalf of Republicans Ken Legler in Pasadena and Ralph Sheffield in Temple.
• The Texas Parent PAC likes Democrat Sherrie Matula in HD-129 race against Rep. John Davis, R-Houston. That group's key issue is vouchers ­— they're against them — and Davis has spoken in favor of using public money for private school tuition.
• Madeleine Praino, the mayor of Vinton, endorsed Republican Dee Margo in the HD-78 race. Vinton's a small outpost in the northwest corner of El Paso County.
• The International Association of Fire Fighters endorsed Democrat Larry Joe Doherty of Houston over U.S. Rep. Michael McCaul, R-Austin.
• Republican Tim Kleinschmidt won the endorsement of the Texas wing of the National Federation of Independent Business. He's the Republican in the open seat HD-17 contest to replace Rep. Robby Cook, D-Eagle Lake. And he's promising that, if he's elected, he'll use "some of the project $10 billion state budget surplus to lower local property taxes and exempt more small businesses from the state business tax." You'll find some argument in Austin about those numbers, but the NFIB apparently likes the sentiment.
• Former U.S. Sen. Alan Simpson, R-Wyoming, is apparently an old friend of Bill Dingus' and endorsed the Midland Democrat's challenge to House Speaker Tom Craddick. Dingus has a Simpson video up on his website.
Business Investments
Willie Sutton, asked why he robbed banks, uttered the famous line, "Because that's where the money is." Guess who donates to candidates for judicial office?
The six people running as major-party candidates for the Texas Supreme Court got two-thirds of their contributions, through June, from lawyers and litigants with business before that court, according to a study by Texans for Public Justice. The three Republican incumbents raised $1.6 million between January 2007 and June of this year, with 65 percent coming from people with interest before the court. Their Democratic challengers raised $722,167 during the same time frame, with 69 percent coming from those particularly interested parties. Eighteen of the 20 biggest givers were law firms (on both sides of the bar); the other two were USAA, an insurance company, and Texans for Lawsuit Reform.
Border(line) Radio
Attorney General Greg Abbott opines, officially, that a person with an amateur radio license is, for purposes of the state's open information laws, a radio station.
That means that exceptions for radio stations (and newspapers) in the law would also be available to holders of federal radio licenses, including amateurs, get the exception. For instance: Government bodies and agencies are allowed to charge fees of people who make frequent open record requests and for requests that take a particularly long time to fulfill. But radio stations and newspapers are exceptions. The state's open information laws don't define radio stations, and the courts haven't, and Abbott says the amateurs do have the Federal Communication Commission permits described in the law. That's that.
A Little Less Resistant
Texans in Congress voted 15-17 on the bailout the second time around, after voting 9-23 the first time. If there's an asterisk next to a name, that's a member who changed sides from the first vote early in the week to the second on Friday.
Democrats — 9-4
Aye: *Henry Cuellar of Laredo, Chet Edwards of Waco, Charlie Gonzalez of San Antonio, *Al Green of Houston, Ruben Hinojosa of Mercedes, *Sheila Jackson-Lee of Houston, Eddie Bernice Johnson of Dallas, *Solomon Ortiz of Corpus Christi, and Silvestre Reyes of El Paso.
Nay: Lloyd Doggett of Austin, Gene Green of Houston, Nick Lampson of Stafford, and Ciro Rodriguez of San Antonio.
Republicans — 6-13
Aye: Kevin Brady of The Woodlands, *Michael Conaway of Midland, Kay Granger of Fort Worth, Pete Sessions of Dallas, Lamar Smith of San Antonio, and *Mac Thornberry of Clarendon.
Nay: Joe Barton of Ennis, Michael Burgess of Flower Mound, John Carter of Georgetown, John Culberson of Houston, Louis Gohmert of Tyler, Ralph Hall of Rockwall, Jeb Hensarling of Dallas, Sam Johnson of Plano, Kenny Marchant of Coppell, Michael McCaul of Austin, Randy Neugebauer of Lubbock, Ron Paul of Lake Jackson, Ted Poe of Humble.
Political People and Their Moves
House Speaker Tom Craddick created a committee to look at the state's hurricane response and to figure out what lawmakers should do to improve it next time. The House Select Committee on Hurricane Ike Storm Devastation to the Texas Gulf Coast includes Reps. Sylvester Turner, D-Houston, chairman, John Davis, R-Houston, vice chair, and Reps. Dennis Bonnen, R-Angleton, Joe Deshotel, D-Beaumont, Harold Dutton, D-Houston, Craig Eiland, D-Galveston, Mike Hamilton, R-Mauriceville, Patricia Harless, R-Spring, Dora Olivo, D-Rosenberg, Debbie Riddle, R-Tomball, Wayne Smith, R-Baytown, and Larry Taylor, R-Friendswood. In addition, there will be one public member, former state Sen. A.R. "Babe" Schwartz, who represented Galveston and now lives in Austin.
James Stark is the new assistant administrator for Gulf Coast Recovery for the Federal Emergency Management Agency. Stark, based in New Orleans, is in charge of recovery operations in Texas, Louisiana, Mississippi and Alabama for Hurricanes Ike, Gustav, Rita, and Katrina. He was a Coast Guard officer before signing on with FEMA two years ago.
Mary Ann Williamson is Gov. Rick Perry's latest pick for the Texas Lottery Commission. She's the widow of former legislator and state highway commissioner Ric Williamson, is a CPA and owner of MSK Natural Gas Co. in Weatherford. She's replacing Fernando Reyes of San Antonio.
New inductees to the Texas Women's Hall of Fame, named by the Governor's Commission on Women: Louise Hopkins Underwood of Lubbock, for her contributions to the arts; Elsa Murano of College Station, president of Texas A&M University, for her work in higher education; former U.S. Supreme Court Justice Sandra Day O'Connor, for her leadership; Carolyn Peterson of San Antonio, for her work in historical preservation; and Dr. Huda Zoghbi of Houston, a professor at Baylor College of Medicine, for her work in health research.
Gaye Polan, after five years at the head of the State Preservation Board, joins the attorney general's office as director of public information and assistance. She'll run their correspondence and website operations.
Quotes of the Week
Democratic consultant Chris Lehane, in The New York Times: "At the end of the day, campaigns are campaigns. In the last five days, it always comes down to a knife fight in a telephone booth."
Republican veep candidate Sarah Palin, quoted in the Washington Post from an appearance in Florida: "For me, the heels are on, the gloves are off."
Texas House candidate Joe Moody, D-El Paso, writing on a blog in 2007: "It's hard for me to decide which is worse... the military or the banks. One recruits you to get killed immediately... while the other will suck the life out of you for years to come." And explaining it now, in the El Paso Times: "Obviously, it was a joke. It was a poorly worded joke at that. I have nothing but respect for the military and military service."
Rep. Pat Haggerty, R-El Paso, telling the El Paso Times he's not ready to get behind either Moody or Republican Dee Margo, who defeated him in March: "I'm still not getting involved this week, but that doesn't mean there won't be something down the road."
Rep. Craig Eiland, D-Galveston, telling the Houston Chronicle he'd be interested in running for Speaker if Democrats win a House majority but isn't ready to jump: "Before we start to cut up the pie, we need to make sure the pie is there on Election Night."
Senate Finance Chairman Steve Ogden, R-Bryan, quoted in the Galveston County Daily News after intervening to postpone layoffs at UT-Medical Branch in Galveston: "It seems unfair to tell people on pretty short notice that in addition to all the losses they suffered, by the way, you lost your job."
---
Texas Weekly: Volume 25, Issue 39, 13 October 2008. Ross Ramsey, Editor. Copyright 2008 by Printing Production Systems, Inc. All Rights Reserved. Reproduction in whole or in part without written permission from the publisher is prohibited. One-year online subscription: $250. For information about your subscription, call (512) 302-5703 or email biz@texasweekly.com. For news, email ramsey@texasweekly.com, or call (512) 288-6598.
Texas Tribune donors or members may be quoted or mentioned in our stories, or may be the subject of them. For a complete list of contributors, click here.
---
Information about the authors
Quality journalism doesn't come free
Perhaps it goes without saying — but producing quality journalism isn't cheap. At a time when newsroom resources and revenue across the country are declining, The Texas Tribune remains committed to sustaining our mission: creating a more engaged and informed Texas with every story we cover, every event we convene and every newsletter we send. As a nonprofit newsroom, we rely on members to help keep our stories free and our events open to the public. Do you value our journalism? Show us with your support.
Yes, I'll donate today