Putting It Back Together Again
The state's politicians are forced to regroup four weeks before voting begins.
The state's politicians are forced to regroup four weeks before voting begins.
The post-Ike damage report according to Gov. Rick Perry's office, as of Thursday — a week after hundreds of thousands of Texans evacuated their homes on and near the Gulf Coast: 21,941 refugees were still housed in 211 shelters statewide; 1.6 million customers were waiting for power to return, with 9,500 people working on that particular problem and electric companies saying it will be next week before most of those people get their power back. You can look at all the particulars, if you need them or are just curious, on the governor's website.
Those are improvements, and the political world is slowly pulling itself together along with the communities that got smacked by the hurricane. The political winners, so far, are the same folks who did this right last time: Perry, Houston Mayor Bill White, Harris County Judge Ed Emmett, and a gazillion people who threw in and helped. Ike doesn't yet have a goat — at least not on the scale of Katrina or Rita, when the federal government stepped in that role.
The cleanup will take a while. The political questions are pretty simple:
• What does each campaign do with the time left?
• Are voters displaced, and does one candidate or another benefit from that and is there any way to work around it?
• Did the storm give anybody new issues to run with?
Early voting is just a month away (October 20) and voters displaced by Hurricane Ike (or by anything else) have until October 28 to get a mail-in ballot to take care of their election business. Voter registration is open until October 6. In areas slow to recover, those votes could be critical. But they are, by definition, hard to reach; how's a candidate to know where voters have burrowed while their homes are being repaired or replaced?
Expect the parties to aggressively promote that voting alternative. And expect it especially from the Democrats. It looks like the areas hardest hit by Ike tend to be more Democratic than Republicans (and in some cases, "tend" isn't strong enough). Senate candidates like Chris Bell and Joe Jaworski and congressional Democrat Nick Lampson will be pushing to replace or encourage voters who won't be home to vote on November 4. Half of Galveston Island is in SD-17, where Bell and five others are vying to replace Republican Kyle Janek. The other half is in Sen. Mike Jackson's SD-11. Jaworski is trying to knock off the La Porte Republican and most political folk who've looked say the Democrat's base was probably hit harder than the incumbent's (though both were hit politically and in the case of their own homes, personally).
The displacement isn't just about voting. Candidates like to communicate with voters and it's hard to do when the TV set is floating in the backyard and the mailbox has blown into the next county. That's especially a problem for lesser-known candidates who were hoping to use these last weeks to make an impression on voters.
Some candidates have restarted the ads they pulled when the hurricane's direction wasn't clear. The game's not back on in Galveston or Houston yet, but it is in Corpus Christi. And candidates — even from those areas — are resuming their fundraising, particularly if they were set to raise money in Austin, which completely avoided the weather.
How this will affect voting isn't clear at all. Hope Andrade, the new Texas Secretary of State, is talking to local election officials, but hasn't yet formulated a public plan to let displaced voters cast ballots or to run elections in areas that are still getting themselves back together. Mail ballots to overseas voters go out this weekend and are available to voters in the state. But it's not like going door to door to get out their votes, and candidates are still figuring this out.
The Annotated Ballot
Who's got trouble, and who's got an open road? Forty House members have no contests left and 79 are either unopposed or have only minor party opponents. That's true for eight state senators, eight members of the congressional delegation, and one statewide incumbent. Meanwhile, a couple of dozen contests look — at the moment — very competitive.
[click image to download a copy]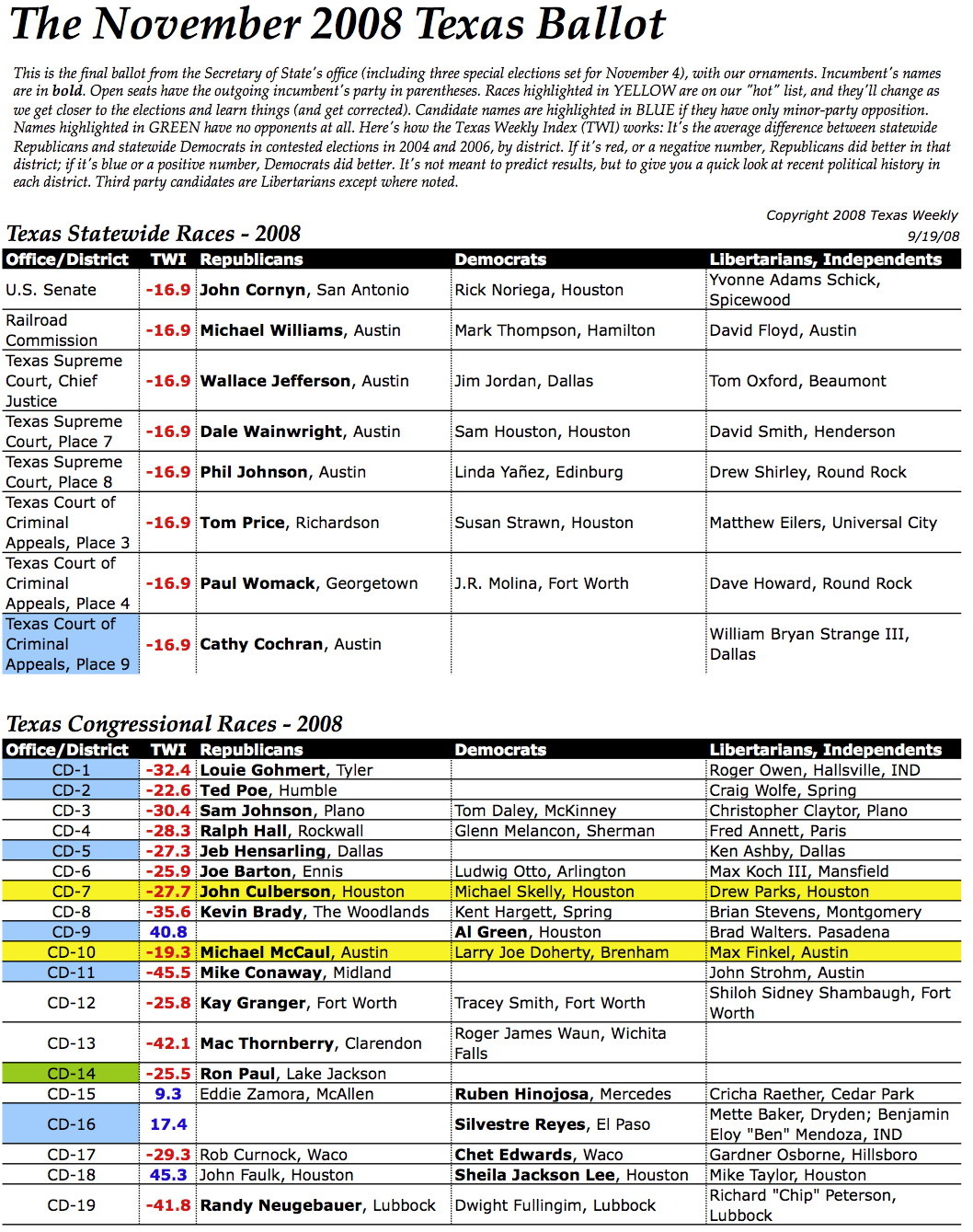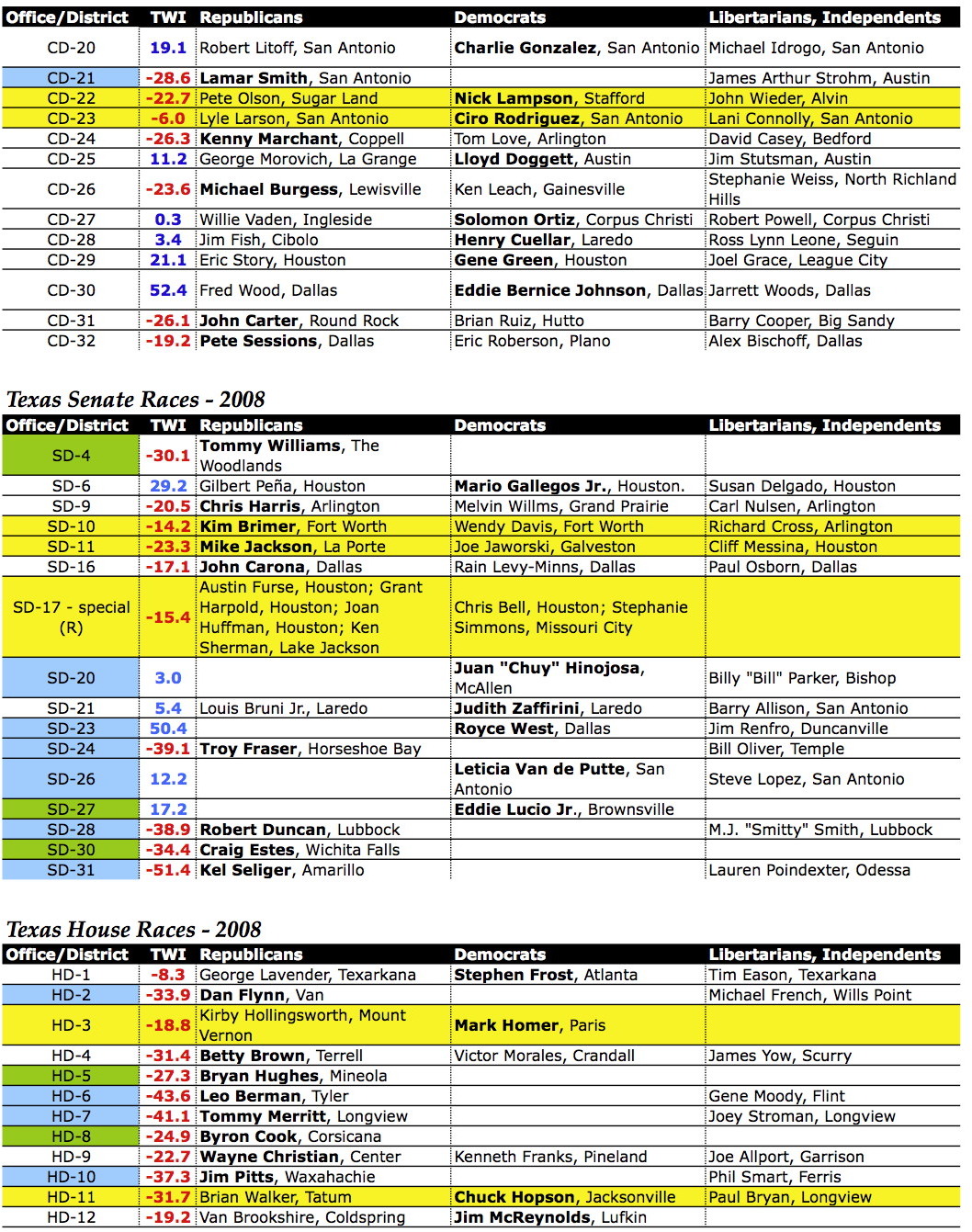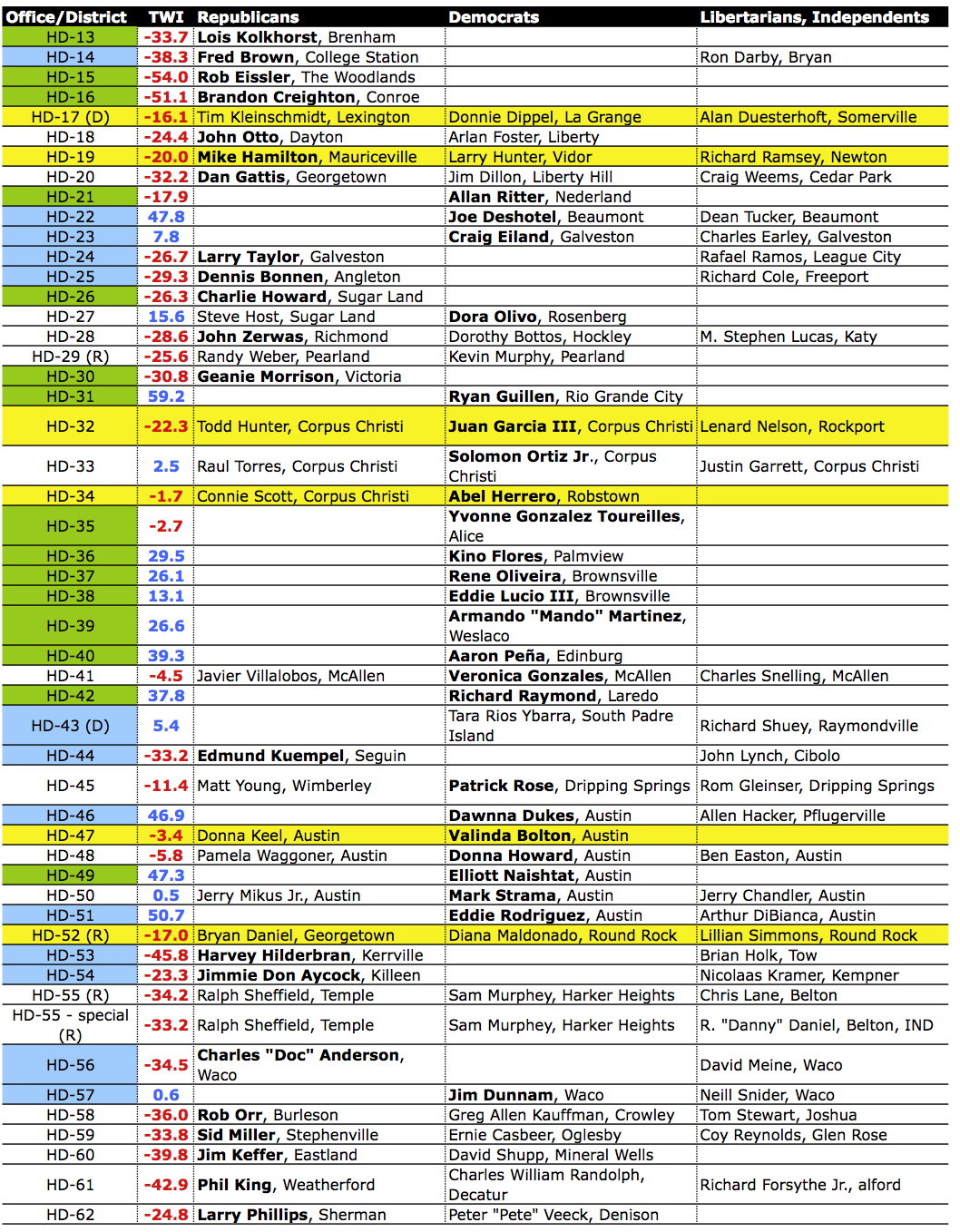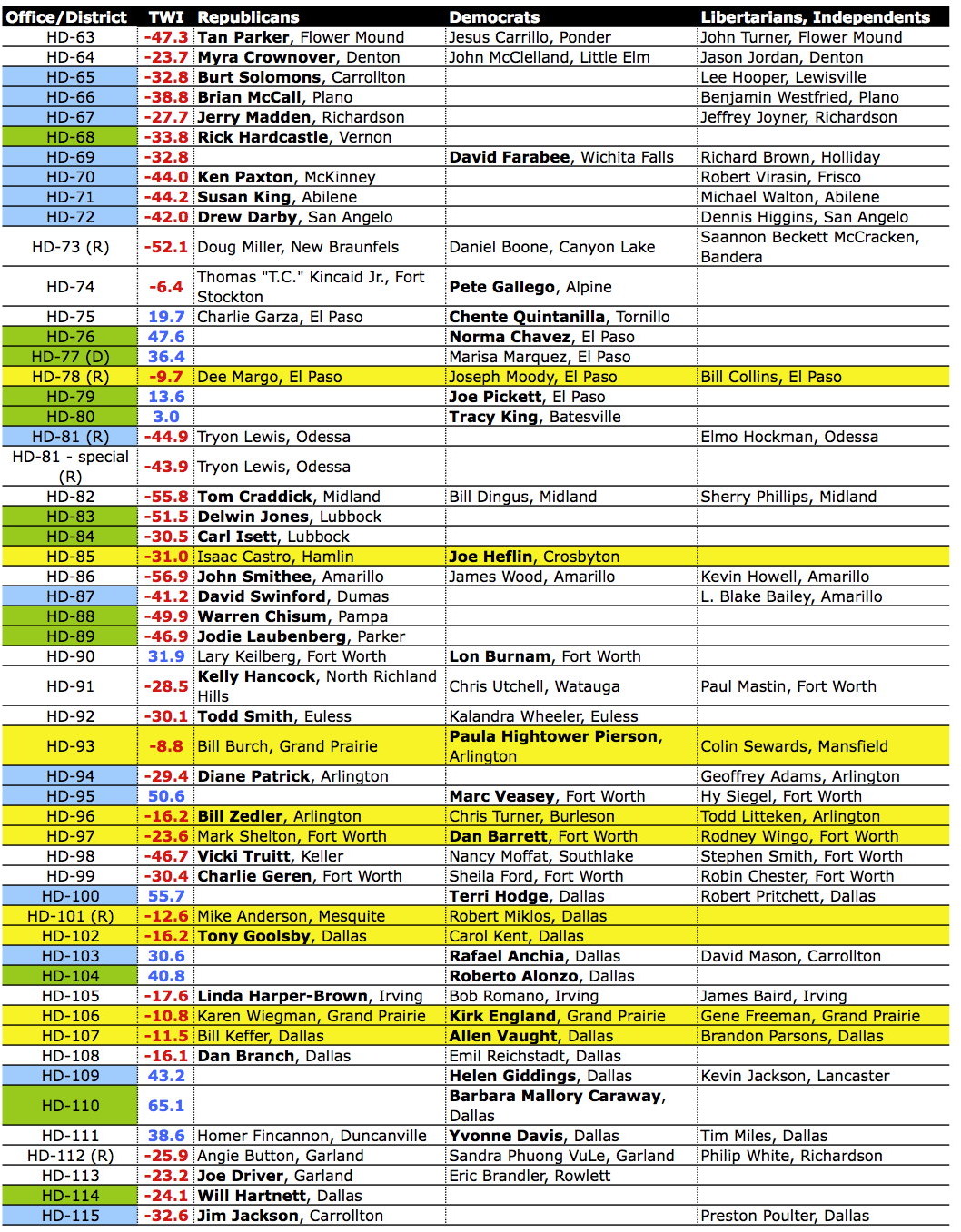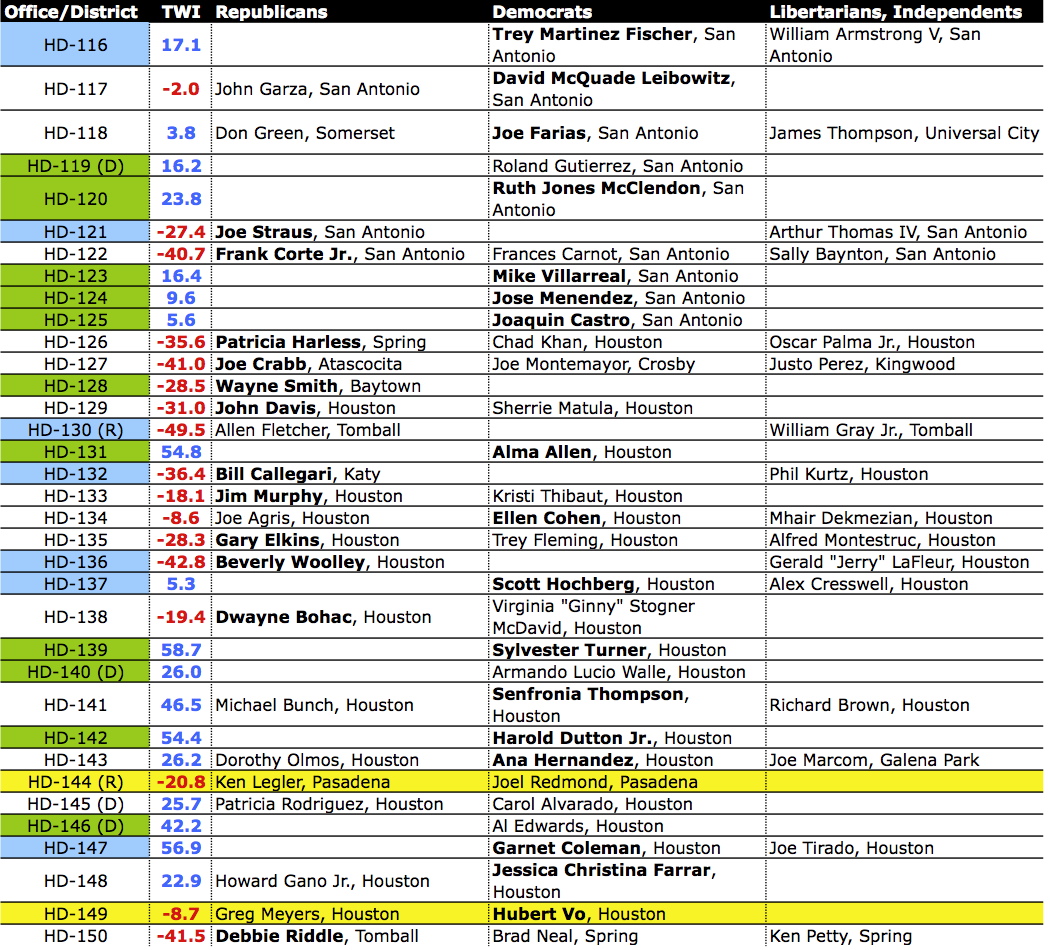 Barring the Ballot
John McCain and Barack Obama won't be on the Texas ballot if the courts agree with Libertarian candidate Bob Barr, who's filed a lawsuit saying the two major parties missed the deadline for getting their top-of-the-ticket candidates listed.
His contention — discounted by the Texas Secretary of State, who's on the other end of the lawsuit — is that state law doesn't allow election officials to wait until the Democratic and Republican conventions are over and that neither of the national parties named their nominees in time to make the statutory deadline in Texas. When this first arose a couple of weeks ago, SOS officials said the parties had done what they needed to do in time, and still had room to amend their candidate lists to include the presidential and vice presidential nominees.
Another law comes into play here: It's too late to remove candidates from the Texas ballots (though Barr's lawsuit asks the state to reprint the ballots after it strikes Obama and Biden, McCain and Palin from the list of certified candidates). And the ballots being mailed out for overseas military personnel and others are going out right about now. The Court denied Barr's request to stop the mail and asked both sides for briefs. It's still possible for the courts to prevent the state from counting the votes for candidates deemed illegal.
The state's lawyers gigged the former congressman for trying to stop those ballots; it turns out he co-sponsored the federal legislation that requires states to sent military ballots at least 45 days before an election. In this case, that's Saturday, September 20.
• Don't like any of the presidential candidates on the ballot? Texas also counts votes for certified write-in candidates, and there are seven pairs of them from all over the country. Take your pick: Jonathan Allen and Jeffrey Stath, Chuck Baldwin and Darrell Castle, Thaddaus Hill and Gordon Bail, Alan Keyes and Marvin Sprouse Jr., Cynthia McKinney and Rosa Clements, Brian Moore and Stewart Alexander, and Ralph Nader and Matt Gonzalez.
Party Lines, Breached
Republican Sen. Kim Brimer picked up endorsements from all 19 mayors in the Senate district, including Fort Worth's Mike Moncrief, a Democrat and a former state senator.
That's a stinker for the Wendy Davis campaign; the Democratic challenger is from Moncrief's party, and served on the city council with him until quitting to make this race.
Moncrief and the other mayors who came out for Brimer are elected in nonpartisan contests; Moncrief's party bona fides are well known, though, because he served in Democratic shoes as Tarrant County Judge and in the Legislature. The full list, according to the Brimer campaign:
Dorothy Aderholt, Pantego; Bob Cluck, Arlington; David Cook, Mansfield; Billy Davis, Crowley; Jerry Dittrich, Benbrook; James Gosey, Forest Hill; David Kelly, Colleyville; Bryan Lankhorst, Kennedale; Pat McGrail, Keller; Mike Moncrief, Fort Worth; Mary Lib Saleh, Euless; Ken Shetter, Burleson; Jim Stephenson, Everman; Jim Story, Bedford; Chuck Talbot, Edgecliff Village; Michael Tedder, Dalworthington Gardens; Oscar Trevino, North Richland Hills; Andy Wambsganss, Southlake; and Richard Ward, Hurst.
He picked up some former mayors, too, including Bob Bolen, Kay Granger, and Jewel Woods of Fort Worth, and Harold Patterson and Tom Vandergriff of Arlington.
Moncrief's party wasn't happy. A spokesman for the Texas Democratic Party blasted the mayor for folding up after Senate redistricting drew his residence outside his Senate district and forced him to choose. Hector Nieto said the endorsement " is nothing short of ironic given that Moncrief allowed Brimer and his Republican cronies to push him out of his own Senate seat 6 years ago. If Mike Moncrief truly cared about the people of Senate District 10, he would have run for re-election. Instead, he chose to be bullied by Republican politicians and is once again bending at their will."
Moncrief didn't return calls seeking comment about the endorsement or the towel-snapping.
There's more of that coming. Davis has a fundraiser coming up at Dallas attorney Fred Baron's house that'll surely draw Republican fire for a) being in Dallas, and b) being at the home of the Democratic financier who helped former presidential candidate John Edwards untangle himself from an extramarital affair. Baron paid to move Edwards' paramour to a new home. Baron's money hasn't been a real issue in a Texas race, but not for lack of GOP effort.
Jamie Fontaine — Davis' new campaign manager — answered back with this pop: "We'll be having an event at Fred Baron's house raise the funds we need to communicate with voters, and we can guarantee that none of that money will be used to purchase Wendy Davis a luxury condo in Austin, like Mr. Brimer did with campaign funds in 1996."
That's a reference to Brimer's use of campaign funds — sanctioned by the Texas Ethics Commission — to pay rent on an Austin condo that was owned by his wife.
Other Side of the Trinity
Now there's another reason for Wendy Davis to go to Dallas. The Fort Worth appeals court deciding on her eligibility for the race against Sen. Kim Brimer, R-Fort Worth, punted to Dallas. That delayed hearings set for this week and that, in turn, will delay a verdict.
Score it as sort of a win for Davis. Brimer went to court to knock her off the ballot, and any delays that push the courts closer to Election Day probably benefit her side, at least in terms of keeping her on the ballot. His team argues that the delay keeps questions of her eligibility in the public mind. A lower court judge ruled against Brimer, setting up this appeal.
The Fort Worth court got the case last month and set a hearing for this week. But two days before they were supposed to get busy, they asked the state's highest civil court to move it from their plate to the 5th Court of Appeals in Dallas.
In their letter asking the Texas Supreme Court to move the case to Dallas, the judges on the Fort Worth court were cryptic: "Subsequent to scheduling the case for submission, however, circumstances have arisen which warrant that the case be transferred to another court." They didn't say whether they had conflicts, got scared of what might happen come reelection time, or just wanted to go to the movies instead. And they don't have to give a public reason.
The Dallas court has not yet set a hearing date.
Flotsam & Jetsam
Chris Turner, the Democrat challenging Rep. Bill Zedler, R-Arlington, in HD-96, got the Texas Parent PAC's endorsement. They're unhappy with the incumbent for votes to cut school funding, textbook funding and for co-authoring a private school voucher bill.
• Bryan Daniel, the Republican running in the open HD-52 seat, claims the endorsements of "all the major agriculture groups" in the state. His list includes the Texas Farm Bureau, the Texas and Southwestern Cattle Raisers Association, the Texas Agricultural Cooperative Council, the Texas Cattle Feeders Association, the Texas Poultry Federation, the Texas Pork Producers Association, the Texas Association of Dairymen, and the Texas Nursery and Landscape Association. That's a partly rural but mostly suburban district.
• Want to know how much money the state had at the end of its fiscal year almost three weeks ago? Fuggetaboutit. Officials with the comptroller's office, which also serves as the state treasury, say they won't let those numbers loose until they publish the cash balance numbers, including the amount of money in the state's general revenue account at the end of the fiscal year. That number is the best overall measure of how the state's actual spending matches up with its budget. It'll be out soon, they say.
• The Texas Lottery has its year end numbers: The games put $983 million into the state treasury during the last fiscal year. That's after six years in a row of contributions over $1 billion.
• With the collapse of Lehman Brothers, Texas Comptroller Susan Combs ended their contract with the state's TexPool and subbed in Federated Investors to run that operation. TexPool is a state fund that lends money to local governments to meet cash flow needs. Lehman wasn't the investment manager, but handled marketing and client services. The two companies had a joint contract, collecting fees from the local governments whose money they were investing. Federated, which is the investment manager, will keep its current duties and take over for Lehman. And Combs says the Lehman bankruptcy had no financial impact on TexPool's operations.
• Attorney General Greg Abbott opened his database to storm shelters, offering them the chance to run names to make sure they identified any sex offenders among their refugees. Through mid-week, Operation Safe Shelter had done 5,555 checks and found 18 registered sex offenders.
• The Texas Supreme Court extended deadlines for court pleadings (where it could — some of this is set in law and not by rule) so the storms wouldn't lose anyone their legal battles. Short form: If the courthouse isn't open, those papers are not due. And the justices say Louisiana lawyers displaced by storms can do their Louisiana work from Texas without breaking the law.
• Three business groups have formed the Texas R&D Alliance to promote tax incentives they say will make the state competitive with other states in attracting and promoting bioscience and electronics research. That new outfit includes the Texas Association of Business, the American Electronics Association, and the Texas Healthcare and Bioscience Institute.
• The Texas Lyceum is sponsoring a statewide public conference on transportation in Houston on October 3, featuring legislators, business people and think-tankers who'll talk about the state's infrastructure and what it needs and how to pay for it, among other things. Details are available on that group's website, at www.texaslyceum.org.
Political People and Their Moves
Esperanza "Hope" Andrade of San Antonio is formally the Texas Secretary of State after a public swearing-in ceremony in the Texas House chamber. She was named and sworn in by Gov. Rick Perry a few weeks ago, replacing Phil Wilson, but now she's done the ceremonial thing. Just in time: There are under 50 days left until the general election.
Former Rep. Dianne White Delisi, R-Temple, has been appointed to be a civilian aide to the Secretary of the Army, a posting that makes her an Army liaison to the state Legislature and other groups in the state. That's a non-paying gig.
Luke Bellsnyder, who's been a political consultant, legislative aide (state and federal) and lobbyist, will be the new executive director of the Texas Association of Manufacturers. He's probably best known for the time he spent working for Sen. Florence Shapiro, R-Plano; he was most recently with the Polan-Culley lobby firm.
Add Randall Dillard to Andrade's media office. He was a spokesman for the Texas Department of Transportation before moving to SOS.
Dave Montgomery, who reported on Austin before leaving almost three decades ago for Washington, D.C., is on his way back. He'll move from the Fort Worth Star-Telegram's office in the nation's capital back to Texas, taking a spot in a bureau that's currently unpopulated.
Recovering: Former U.S. Rep. Kika de la Garza and his wife, Lucille de la Garza, after a traffic accident in McAllen.
Deaths: International Boundary and Water Commissioner Carlos Marin of El Paso and Rio Grande COG director and former Presidio County Judge Jake Brisbin Jr., in a plane crash while inspecting flooding along the border. Two others, including the pilot, and Marin's Mexican counterpart — Arturo Herrera — also died. The conditions they were inspecting have worsened. Add Presidio County to the official state disaster list. A levy breach along the Rio Grande River there poses a flood threat and the state sent helicopters to help with sandbags and supplies.
Quotes of the Week
Michael Ray Kujawa, the owner of a lioness named Shackle, telling the Austin American-Statesman how she behaved around a group of Hurricane Ike refugees in a church during that storm: "They worked pretty well together, actually. When you have to swim, the lion doesn't care about eating nobody."
Galveston County medical examiner Stephen Pustilniks, quoted by the Associated Press on the relatively small death toll from Hurricane Ike: "We don't know what's out there in the wilds. Searchers weren't looking for bodies; they were looking for survivors."
Rep. John Smithee, R-Amarillo, quoted in the Houston Chronicle on the condition of the Texas Windstorm Insurance Association, where claims are expected to outrun reserves by a two-to-one ratio: "TWIA is wiped out. It's naked."
Karla Randel, a resident whose house was damaged when Ike knocked over some large trees, in the Nacogdoches Daily Sentinel: "I wanted to redo the bathroom anyway."
Democratic consultant Dan McClung, telling the Houston Chronicle how the Hurricane might affect the elections: "I just always presume that the Republicans have the higher ground because it's the most expensive."
Cyclist Lance Armstrong, talking about his political future in Men's Journal: "You could argue that you're far more effective as a Texas governor than a senator. Plus I don't want to be in DC half the year because of my kids. I don't know what's going to happen with all this, I reckon I really don't. I do have a hunch."
Clay Hodges, general manager of Cash Special Utility District, explaining to WFAA-TV how a Rockwall County home burned down because the fire hydrants had been turned off since just after 9/11: "These hydrants need to be cut off in a way to prevent vandalism or any kind of terrorist activity, including something in the water lines."
---
Texas Weekly: Volume 25, Issue 36, 22 September 2008. Ross Ramsey, Editor. Copyright 2008 by Printing Production Systems, Inc. All Rights Reserved. Reproduction in whole or in part without written permission from the publisher is prohibited. One-year online subscription: $250. For information about your subscription, call (512) 302-5703 or email biz@texasweekly.com. For news, email ramsey@texasweekly.com, or call (512) 288-6598.
Texas Tribune donors or members may be quoted or mentioned in our stories, or may be the subject of them. For a complete list of contributors, click here.
Quality journalism doesn't come free
Perhaps it goes without saying — but producing quality journalism isn't cheap. At a time when newsroom resources and revenue across the country are declining, The Texas Tribune remains committed to sustaining our mission: creating a more engaged and informed Texas with every story we cover, every event we convene and every newsletter we send. As a nonprofit newsroom, we rely on members to help keep our stories free and our events open to the public. Do you value our journalism? Show us with your support.
Yes, I'll donate today
---
Information about the authors