Soldier, Legislator, Lobbyist, Candidate
Come March, Democratic primary voters will likely know all about U.S. Senate hopeful Rick Noriega's ties to utility companies. What voters will make of it is still anybody's guess.
Come March, Democratic primary voters will likely know all about U.S. Senate hopeful Rick Noriega's ties to utility companies. What voters will make of it is still anybody's guess.
Noriega's personal narrative — a state rep and lieutenant colonel in the National Guard with liberal leanings on social issues and service in Afghanistan and here in the wake of Hurricane Katrina — has made him a favorite of progressive Democrats. But he is also strongly connected with a favorite populist punching bag: utility companies. Noriega was a lobbyist with Houston Lighting and Power in 1994-1997, and is currently on leave as from his job as a marketing manager with one of HL&P's offspring: Houston-based CenterPoint Energy.
Noriega has also routinely given small contributions to various utility PACs which have, in turn, spread their wealth widely, including to some Republicans who are unlikely to get Christmas cards from Democratic primary voters, like Gov. Rick Perry, House Speaker Tom Craddick, R-Midland, and to Noriega's possible opponent, Sen. John Cornyn.
Some political watchers say this link to utility companies could become ammunition for trial lawyer and multimillionaire Mikal Watts, who'll face Noriega for the Democratic Party's nomination in March.
"It will certainly become an issue in the primary," says GOP consultant Todd Smith, who doesn't have a candidate in the race. "The traditional Democratic activist is not usually found on the same side as the major utility companies."
University of Houston political scientist Richard Murray says the political importance of the utility issue depends largely on the well-funded Watts' campaign decision on which "bullets to fire."
Kim Devlin, Watts' spokeswoman, won't discuss campaign strategy but did say that there's "no doubt" voters would have a greater understanding of both candidates' past by the March election. "That's just the very nature of campaigns," she says. 
Smith, a Republican, says Watts should highlight Noriega's ties to a large utility company while portraying his own success as a trial lawyer as proof of his commitment to individual consumers.
"It's the most compelling difference between the two," Smith says.
But other political observers say Noriega's employment history is no big deal and his public service record will "very much overshadow" his time as a lobbyist.
"He's got a great story to tell," says former Dallas Mayor Ron Kirk, a Democrat who lost to Cornyn in 2002. Kirk is now a very well paid utility lobbyist himself. Kirk adds that lobbyists-turned-lawmakers are often more adept at dealing with the legislative minutia necessary to get laws passed. "It does give you a more well-rounded picture," he says.
Noriega spokesman James Aldrete also sees his candidate's past as a plus, saying that most voters won't be turned off by Noriega's jobs, but will identify with him.
"The fact is, when you come from a middle-class family you have to have a real job," Aldrete says.
As for the contributions to utility PACs that give to Republicans, Aldrete says Noriega was just being a "team player" by contributing to his industry's PACs and wasn't intending his money to go any individual candidate. Aldrete says Noriega did deliver HL&P PAC checks to different candidates and gave reports on how different races were shaping up, but never had the authority to say who got money and how much.
Noriega recently took some flak from Watts' camp from receiving money from Republican benefactor Bob Perry (a major funder of the "swift boat" campaign against John Kerry in 2004). Noriega's camp fires back, saying taking a small amount of money from Perry pales in comparison to Watts' large donations to numerous Republicans.
Tom "Smitty" Smith, director of Public Citizen's Texas office, says voters should question Noriega's policy towards utility companies but shouldn't be concerned that his past jobs have corrupted his judgment. From Smith's vantage point, Noriega has been a model lawmaker in terms of being "keenly aware" of potential conflict of interests and recusing himself from votes that may affect his past or current employer.
"We wish that more people would do what Rick does," Smith says. "He's got real good sense of ethics and responsibilities."
— Alan Suderman
The Rules of the Game
Terry Keel and Ron Wilson — the two guys who gave House Speaker Tom Craddick his "absolute power" reading of House rules last session — told a room full of lobbyists and lawyers they expect a debate over the rules, but not much change, when the Legislature returns in 2009.
The two appeared before the Professional Advocacy Association of Texas — the "lobby lobby" — explaining their reading of the current rules and guessing at the key points of the coming debate.
Keel, who was named full time House Parliamentarian after the session, said he doesn't expect much change to follow the discussion.
"I'll bet you that everybody here predicting that there's going to be radical changes [in the rules] are going to be wrong... it cuts both ways when you start messing with them too much...
"I might be wrong," he said. "They might be changing all kinds of stuff. But if they do, it's going to be a real interesting show."
Wilson said the rules are made for tricksters — he was one as a House member — but only if most members don't take the time to bone up on the details. Most members, he said, didn't start looking at the rules until the crises started to pile up in May, at the end of the session: "We had to bring them up to speed on what the rules that they voted for actually said."
He put some distance between the parliamentarians and the people they work for, and said Craddick wasn't the first speaker to deny members attempts to be recognized.
"The speakers are the ones that rule. The parliamentarians advise... The speaker says, "I'm gonna go left, and the parliamentarian has to go back and figure out how to go left."
"Terry and I didn't change the rules when we came on board. Pete Laney refused Sylvester Turner the right to put an article in the Journal... Paul Moreno — the 'conscience of the body' — went to the back mic [for a motion to adjourn] and Laney told him to get a glass of water and come back tomorrow." [It's not clear that last bit actually happened, but it got a laugh.]
Keel echoed the bit about members not paying attention and suggested they'll probably heed his regular advice — "Why don't you go actually read these rules?" — before they return in January 2009.
He also said the comments of two state reps frame the main question about a speaker's power to recognize — or ignore — a member seeking to make a motion.
In a brief filed with Attorney General Greg Abbott for an opinion that's still pending, Rep. Jim Pitts, R-Waxahachie, wrote that the House rules weren't intended to create a "divine speakership" and that the speaker's powers don't include "absolute authority to determine whether a member will be recognized on any matter, including a question of privilege."
On the other side, he quoted from a brief by Rep. Warren Chisum, R-Pampa, who wrote that the power to recognize has to be in place to keep order in the House: "If it didn't exist, any member could raise a privileged motion and successfully circumvent whatever business the House is conducting at that time..."
Two other briefs, he said, frame the question about whether the House can oust a speaker in mid-term. From Rep. Brian McCall, R-Plano: "I believe that the choice would have been an easy one for our forefathers who would have preferred to listen an participate in the loud cacophony of the 150." And from Rep. Jodie Laubenberg, R-Parker, who referred to last session's talk of changing speakers as "a political fight instigated by members admitting to aspirations for the speakership and prioritizing politics over real work."
"This," Keel said, "is exactly what you're going to hear when the rules are debated."
Taking away a speaker's power of recognition would allow members to stop the business of the House, Keel said, in effect giving them the power to filibuster. One proposed workaround is to require a large number of members to mount a challenge. The theory is that that's less likely to happen every day, and less likely to disrupt legislative business. It'll get debated, he said.
Keel and Wilson expect one rule to change, or at least get debated. That's the interpretation of what constitutes a mistake in the bill analyses attached to legislation that comes to the floor. It's a constant source of the "points of order" used to knock legislation out of consideration, and Craddick's rules wizards think it's time to loosen up.
"No matter who the next speaker of the House is," Keel said, "I would expect a change to a more liberal view of the sufficiency of the bill analysis and a less technical interpretation of what's in the rules."
Red to Blue, or Violet
The dual exits of two Dallas-area Republicans (Grand Prairie State Rep. Kirk England and Dallas Criminal Court Judge John Creuzot) to the Democratic Party raise a question: Is Texas still a red state?
Top Republican strategist Bryan Eppstein says yes. Top Democratic strategist Kelly Fero says yes, too. They also both see the possibility of Democrats making gains in the Texas House in 2008.
And that's where their stories diverge.
According to Fero, Texas "is a changing state, like the country is," though Texas is transitioning a little more slowly than everyone else. But don't think of Violet Beauregarde from Charlie and the Chocolate Factory (who changed color when she chewed the wrong gum) — Texas isn't turning blue, nor is the United States. Rather, Fero says, "We are in a transitional period looking for other identifiers for candidates other than party ID."
Voters, he says, are "disgusted and frustrated" with the two-party system in general, and are becoming less and less likely to vote for candidates based solely on the 'R' or 'D' that follow their names on the ballot. Fero sees third-party candidates and independents becoming major factors some time around when his grandchildren can vote. For now, he says Democrats will be competitive in two statewide races next year, one of those being the U.S. Senate contest between incumbent John Cornyn, a Republican, and a Democratic challenger, either Mikal Watts or Rick Noriega (He's also got the Supreme Court on his list, and maybe more).
On the other side of the aisle, Eppstein points to redistricting as the underlying cause of recent Democratic gains. "Aggressive" redistricting in 2002 secured 16 additional House seats for Republicans, which with the passage of time are now "melting away," as Texas, statistically, moves toward equilibrium.
The same is true nationwide, Eppstein says, and it's a cycle he says happens each decade: The majority party shores up its numbers during redistricting, then bleeds seats until it's time to redraw the lines again. (That's not obvious in our graph of the party affiliations of Texas state senators and representatives).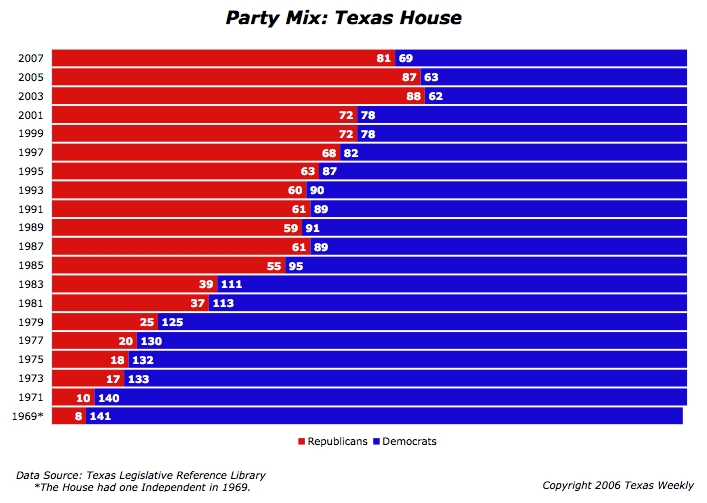 Eppstein deemphasizes the clout of the burgeoning, presumably blue-leaning, Hispanic population, saying that's "a changing demographic that's not voting." What would really hurt Republicans, he says, is continuation of the personal scandals now rocking the national party. Eppstein doesn't think Democrats will break the GOP's monopoly on statewide offices in Texas, noting that no one even came close in 2006, aside from the Governor's race, where four candidates — including Republicans Rick Perry and Carole Keeton Strayhorn — scattered voter loyalties.
— Patrick Brendel
Checking the Inventory
Challengers are lining up, and so are the rumor-spreaders, but the solid turnover numbers in the state Legislature and the Texas congressional delegation are confined to the Texas House.
And only a half-dozen members have opened their parachutes. As of this moment, these people won't be in their seats when the Texas House reconvenes:
• Dianne White Delisi, R-Temple, HD-55, won't seek reelection.
• Fred Hill, R-Richardson, HD-112, won't seek reelection.
• Anna Mowery, R-Fort Worth, HD-97, resigned last month.
• Rick Noriega, D-Houston, HD-145, running for U.S. Senate.
• Mike O'Day, R-Pearland, HD-29, won't seek reelection.
• Robert Talton, HD-144, R-Pasadena, running for U.S. House.
So far, nobody in the state Senate or in the state's congressional delegation has made any official noises about not coming back for more.
Political Notes
U.S. Senate candidate Rick Noriega won an online poll over his Democratic primary opponent, Mikal Watts, getting 78.4 percent of the votes cast. The sponsor, Democracy for Texas, used that as the basis for its endorsement. That group's with Noriega. Both candidates filled out the group's questionnaire — those results are online. And we should mention that the group's steering committee includes Glen Maxey, a former legislator who's also working for Noriega.
Separately, Noriega got the endorsement of VoteVets.org, which bills itself as the biggest organization of Iraq and Afghanistan vets
• File away for later: Former Comptroller John Sharp gave us a "no comment" when we asked about his political future. The rumors we were chasing? That he's planning to leave Ryan & Co., the tax consulting firm where he works, to run for office in 2008 or 2010. For now, he's concentrating his political efforts on passage of $3 billion in cancer research bonds in November.
• The $3 billion in proposed cancer research bonds on the November ballot got an endorsement from the Texas AFL-CIO. Labor was quiet on most of the amendments, but signed off on that one and five more: bonds for student loans, new rules for home equity loans, additional homestead exemptions for disabled veterans, recorded final votes in the Legislature and denial of bonds to people who violate certain family violence orders. In bondese, that would be Props 2, 8, 9, 11, 13, and 15.
• Back, after two years: Norm Newton signs on with Quico Canseco's congressional campaign. Canseco hopes to knock off U.S. Rep. Ciro Rodriguez, D-San Antonio. Newton's an old hand in Republican politics and was one of the originators of Associated Republicans of Texas.
• If you stay in office for a while, the number of people who want to serve just piles up. Apparently. Look at the number of people getting mentioned for Rep. Dianne White Delisi's seat in the Texas Lege: Republicans Martha Tyroch, who's on Temple's City Council; Jim Covington, the Mayor of Belton; John Alaniz, president of a property management firm in Temple; Ann Utley, former chairman of what was then the Texas Department of Mental Health and Mental Retardation, who splits time between Dallas and a ranch in the district; and Sam Murphy, an aide to U.S. Rep. Chet Edwards, D-Waco.
• In, officially: Sandra Rodriguez, a former teacher and probation officer, who'll challenge Rep. Kino Flores, D-Palmview, in HD-36... Rep. Doro Olivo, D-Rosenberg, will seek reelection in HD-27.
• Eddie Saenz — who's challenging Rep. Aaron Peña, D-Edinburg, in HD-40, won an endorsement from Edinburg Mayor Joe Ochoa. Peña countered with endorsements from five former Edinburg mayors: Al Ramirez, Ronald Case, Richard Alamia, Rudy de la Viña, and Richard Garcia.
• State elections in 2006 cost a total of $157.6 million, according to a new analysis of Texas campaigns by Texans for Public Justice. That outfit says $87.1 million of that went into all of the House and Senate races that year, a little more than the $70.5 million it cost to choose seven people for executive branch agencies. The most expensive of those — the race for governor — came in at $42.5 million, according to TPJ's report.
They dissected the numbers every which way. Two thirds of the total amount — $105.4 million — was spent by winning candidates. Republican candidates spent $103.2 million; Democrats spent $39 million. Incumbents spent $88.9 million; challengers spent almost $37 million. Here's an odd number: In 14 open-seat races for the Texas House, the winners spent $4.3 million, while the losers spent $5.9 million.
The report is online: www.tpj.org/reports/politex2006/index06.html.
• Department of Corrections: We spelled Wade Gent's name right last week, but put him in the wrong column. Gent, who's challenging Rep. Betty Brown, R-Terrell, is a Republican. They'll meet in March, in a rematch of their 2006 primary battle. Brown won that with 52.5 percent of the votes, to Gent's 47.5 percent. Sorry, sorry, sorry.
New Clear Fishin'
Texas Railroad Commissioner Michael Williams is online with a video promoting nuclear power.
And if you scratch around a little, you'll find he's building a library of videos on YouTube. Williams, chairman of the RRC this year, will be seeking reelection in 2008. He touted the video while announcing he'll emcee a "Solutions Day" event at the invitation of former U.S. House Speaker Newt Gingrich, R-Georgia, and also doing a seminar (it'll be online at AmericanSolutions.com) on nuclear and coal power generation. Here's the nuke video:
People Get Ready
A local Austin candidate hits the web with a commercial filled with images from the civil rights battles of the 1950s and 1960s.
Travis County Tax Collector-Assessor Nelda Wells Spears, facing a challenge from former state Rep. Glen Maxey, has a two minute spot on her website, and on YouTube, that starts with a series of black-and-white photos of Rosa Parks, Blacks sitting in at lunch counters, marches, cops with dogs, the Selma march, LBJ signing civil rights legislation, Martin Luther King voting, and John and Bobby Kennedy.
It switches to color shots of former Austin lawmaker Wilhelmina Delco and Ann Richards, and then of voting signs and voting booths. Curtis Mayfield's "People Get Ready" plays over it all, and there's no announcer.
Toward the end, when the voting photos come up, words appear on screen: "Different times, same struggle" and "steady leadership through changing times."
Democratic consultant Kelly Fero, who's working for Spears, says the message is really about "new-fangled assaults on voting rights" and says frankly that it's aimed at white liberals and minorities, who they think will decide that Democratic primary election.
It's also a jab at Maxey's fame as the first and so far the only openly gay member of the Texas Legislature. Spears is trying to claim the civil rights ground dear to those liberals before he can.
Her office mainly collects taxes — they brag they've got the highest collection rate among the state's urban counties — but also registers voters. And he says the ads were partly inspired by her own history. The first time she visited the tax office she now runs, Fero says, was with her grandmother, who took her along in the early 1950s to pay her poll taxes. Spears' website is here. Maxey's website is here. And here's the commercial:
It Pays to Call Ahead
Lt. Gov. David Dewhurst got a cranky letter from his last political opponent after listing Democrat John Sharp among his supporters on a fundraising letter. The text of the letter:
The Honorable David Dewhurst
Lieutenant Governor of the State of Texas
The Capitol Second Floor East
Austin, TX 78711
Dear Governor Dewhurst:
You are having a fundraiser at a gentleman named Rusty Parker's house on October 18th of this year. In the invitation of that fundraiser you have me listed as a platinum fundraiser and a contributor. I am listed along with Brint Ryan. As you know, I am not a supporter of yours politically, and I wanted to call this mistake to your attention if you are not already aware of it. As you know, I am not a supporter, I am not a contributor; that was a Ryan & Company contribution procured by Brint Ryan and had absolutely nothing to do with me, including even my knowledge. I would appreciate it if you would remove me from any association with this or any other fundraiser where my name might "inadvertently" be included.
Respectfully yours,
John Sharp
Says a Dewhurst spokesman: "The campaign is removing Mr. Sharp's name and honoring that request."
New Digs
Gov. Rick Perry and his family are moving out of the Mansion for repairs, and moving into new digs near Austin's Barton Creek Country Club.
According to a lease released by the governor's office, the rental home is owned by J. Campbell Murrell of Austin. Its value is listed as $1 million on the Travis County tax rolls, and the Perry's can move in any time after October 1. A spokeswoman says they'll likely move early next month. The Mansion, as we've already reported, needs fixing. The Perrys will make their home in West Austin until the work's done.
The rent on the new place? $9,900 per month. State officials said earlier they think the renovations will take around 18 months. The costs of the rental — and of whatever the Department of Public Safety does to make it secure — will be borne by the state. The Mansion sprucing is supposed to cost up to $10 million, and these costs are included in that total.
The state found the property through a Realtor — Melinda Grace of Austin — who is also a Perry contributor. She and her husband, Guy Grace, gave Perry two contributions totaling $3,500 in 2006.
Just Read It
Willacy County Judge Eliseo Barnhart was indicted for perjury earlier this month, accused of lying about a very personal condition.
The charges are related to an investigation that started with allegations of inappropriate sex and now include charges that the family of the girl involved tried to force Barnhart — who's also a coach and teacher — to quit his job or to pay them his salary.
The charge against Barnhart — which got him suspended, with pay, from his county job — alleges aggravated perjury. See for yourself.
Political People and Their Moves
Amadeo Saenz is the new executive director at the Texas Department of Transportation. He's a 51-year-old engineer and the first Hispanic to lead that agency. Saenz was most recently TXDOT's assistant executive director for engineering operations.
Coby Shorter III is your new Deputy Texas Secretary of State, named to that post by SOS Phil Wilson. Shorter had been deputy in the governor's appointments office and worked for then-Gov. George W. Bush and U.S. Sen. Phil Gramm before that.
And now, a mess of appointments made by Gov. Rick Perry over the last couple of weeks:
• Billye Proctor Shaw as presiding officer of the Texas Commission on the Arts. She's the president of Big Tex Solutions in Abilene.
• H.L. Bert Mijares Jr. of El Paso as chairman of the Public Finance Authority. He's an architect, and had been vice chairman.
• Donald Wall, a Paris consultant, to be presiding officer of the Sulphur River Mobility Authority.
• Robert Kelly Shepard (a reappointment) of Weatherford to the North Texas Tollway Authority Board of Directors. He's a captain with American Airlines.
• Joseph "Jody" Gonzalez of Krugerville to the Texas Fire Protection Commission. He's the chief and director of the Denton County Department of Emergency Services.
• Charlie Amato of San Antonio, Ron Blatchley of Bryan, and Michael Truncale of Beaumont to the board of regents at the Texas State University System. Amato is co-owner and chairman of Southwest Business Corp. Blatchley is the co-owner of BMB Homes. Truncale is a senior partner with Orgain Bell and Tucker, a law firm.
• John Sylvester of Houston as presiding officer of the Texas Workforce Investment Council. He's an executive with Linbeck Construction Inc.
• To the Texas Historical Commission: Mario Castillo of San Angelo, president of the Aegis Group; John Crain of Dallas, president and CEO of Summerlee Foundation; David Gravelle of Dallas, a branding and marketing consultant; John Hansen of El Paso, president of an eponymous investment firm; Lisa Hembry of Dallas, president of Dallas iMedia Network; Gilbert Peterson of Alpine, an exec at West Texas National Bank; and Steve Tomka, director of the Department of Anthropology Center for Archaeological Research at The University of Texas at San Antonio.
• To the Texas Board of Occupational Therapy Examiners: Judith Ann Chambers of Austin, a retired counselor and teacher; Stephanie Johnston of Houston, a professor at Tomball College; Pamela Nelon, a Fort Worth Realtor; and James Vasquez, regional director of rehabilitation for Cantex Senior Communities.
• And to the Texas Physician Assistants Board: Teralea Davis Jones of Beeville, rural health clinic coordinator of Beeville Family Practice; Felix Koo of McAllen, clinical coordinator of the Physician Assistant Studies Program at UT-Pan American; Dr. Michael Mitchell of Henrietta, a partner at the Clinics of North Texas; and Abelino "Abel" Reyna of Waco, a partner with Reyna and Reed LLP.
Take a break. Read a book. R.A. "Jake" Dyer, who usually scribbles for the Fort Worth Star-Telegram's Austin bureau, has a second book on pool hitting the stands. It's called The Hustler and the Champ: Willie Mosconi, Minnesota Fats, and the Rivalry that Defined Pool. Go to a store, or get it from Amazon: Support your local press.
Quotes of the Week
House Speaker Tom Craddick, at a joint meeting of Fort Worth area Republican clubs, quoted in The Dallas Morning News: "A divided Republican Party is a Democratic win."
Craddick, talking about the new Castle Doctrine law in that same speech, reported by the Fort Worth Star-Telegram: "We should have had that years ago. That's the Texas way. They come on your land, you shoot 'em."
Former Rep. Suzanna Hupp, on (incorrect) rumors that she'll go to work for Craddick: "My first reaction is that Tom Craddick doesn't have enough money to get me to take that job. Then I thought, 'Well, yeah, he probably does.'"
Webb County Medical Examiner Corinne Stern, in a Houston Chronicle story on the remains of unidentified people who die on the border every year: "Of course, we'd like to get everyone ID'd. We try to be as respectful as possible. What else can we do? Who wants to think that their loved one would spend eternity on a gurney in a cooler?"
House Parliamentarian Terry Keel, asked if the House sound system will be fixed so that "the ventriloquist effect" when he's talking to Craddick on the dais will go away: "I hope so."
---
Texas Weekly: Volume 24, Issue 15, 1 October 2007. Ross Ramsey, Editor. Copyright 2007 by Printing Production Systems, Inc. All Rights Reserved. Reproduction in whole or in part without written permission from the publisher is prohibited. One-year online subscription: $250. For information about your subscription, call (512) 302-5703 or email biz@texasweekly.com. For news, email ramsey@texasweekly.com, or call (512) 288-6598.
Texas Tribune donors or members may be quoted or mentioned in our stories, or may be the subject of them. For a complete list of contributors, click here.
---
Information about the authors
Quality journalism doesn't come free
Perhaps it goes without saying — but producing quality journalism isn't cheap. At a time when newsroom resources and revenue across the country are declining, The Texas Tribune remains committed to sustaining our mission: creating a more engaged and informed Texas with every story we cover, every event we convene and every newsletter we send. As a nonprofit newsroom, we rely on members to help keep our stories free and our events open to the public. Do you value our journalism? Show us with your support.
Yes, I'll donate today