TWU all-female team wins big in space challenge
By Texas Woman's University
As non-engineers competing in a NASA-sponsored engineering design challenge, an all-female team of Texas Woman's University kinesiology seniors knew they'd be heavy underdogs. But they defied conventional wisdom and won.
The team, appropriately named The Oneiroi, an homage to the gods of dreams in Greek mythology, beat out 16 other teams from Texas colleges and universities tasked with fabricating devices that could solve real-world space challenges.
Specifically, the TWU team came up with a solution to the vexing problem of sleep disruption in astronauts, what scientists call circadian desynchronization, earning the top prize in the Texas Space Grant Consortium Design Challenge held on Nov. 16-17.
The Oneiroi team, the only one in the competition comprised entirely of women, took four of the five awards, including best overall team. The other awards were for best poster, best peer review and best video. It marked the second time in four years a Texas Woman's team took home the top prize in the contest.
"We knew we were the underdogs," said Natalie Wilkinson, the team's leader. "Going into an engineering competition as non-engineers and having to learn how to engineer a device with basically no training whatsoever — and learn how to put this together from scratch — was insane."
The team spent hundreds of hours during the fall 2021 semester perfecting a visor-like device worn over the eyes that emits a therapeutic blue light to help recalibrate sleep cycles in astronauts. Frequently, astronauts experience sleeplessness because they encounter multiple sunrises and sunsets in a 24-hour period while they are in space.
For obvious reasons, such sleep disruption can negatively impact mental acuity and alertness, both of which are critical to astronauts in space.
The TWU team researched journals, sought counsel from mentors and watched YouTube videos to come up with a plan for designing a prototype for its invention.
"We had to learn as we went and kind of build off of that foundation," explained Casey Rice, a team member who oversaw the research and design of the appliance.
Effectively, it was a crash course in engineering and fabrication for the team.
"I had to teach myself how to use a design program called Solidworks and other engineering and graphic design aspects," recalled Andrea Martinez, another team member. "There were constant changes and setbacks, but despite these challenges, I was successful. Overall, this experience was one of a kind."
Eventually, the group designed and fabricated an apparatus that looks akin to eyewear one might see in a futuristic sci-fi movie.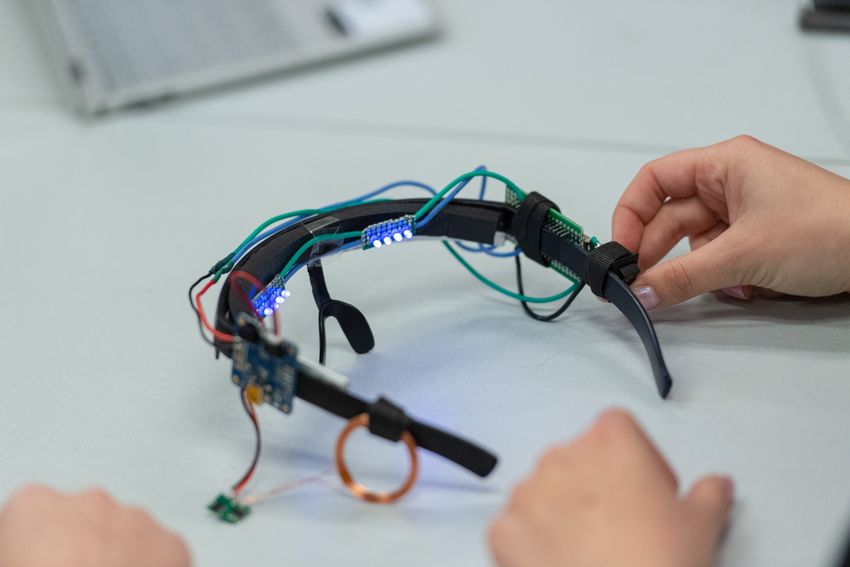 The cushioned device allows the wearer to perform daily tasks without discomfort while on the International Space Station. Additionally, the device is rechargeable and requires less power than existing light systems on board the space station.
"The amount of knowledge required to be gained to complete this project was quite a bit," said Rhett Rigby, a Texas Woman's associate professor in kinesiology and the faculty advisor for the design team. "Advanced concepts of physiology, engineering, physics and computer science were applied by each group member at various times this semester."
Just getting an invitation to be on the design team is a big deal in itself, as prospective members are evaluated on their academic performance, involvement in the program and their talent, Rigby said. Those invited to the team are committed to the project for the entire semester.
It could be that one day, after some fine tuning by NASA, the device will become commonplace on the International Space Station, a prospect that essentially is icing on the cake for members of the design team.
Winning the competition also was a defining moment in their college experience. It couldn't have come at a better time: The five graduate this month.