Texas Tribune Student Fellowships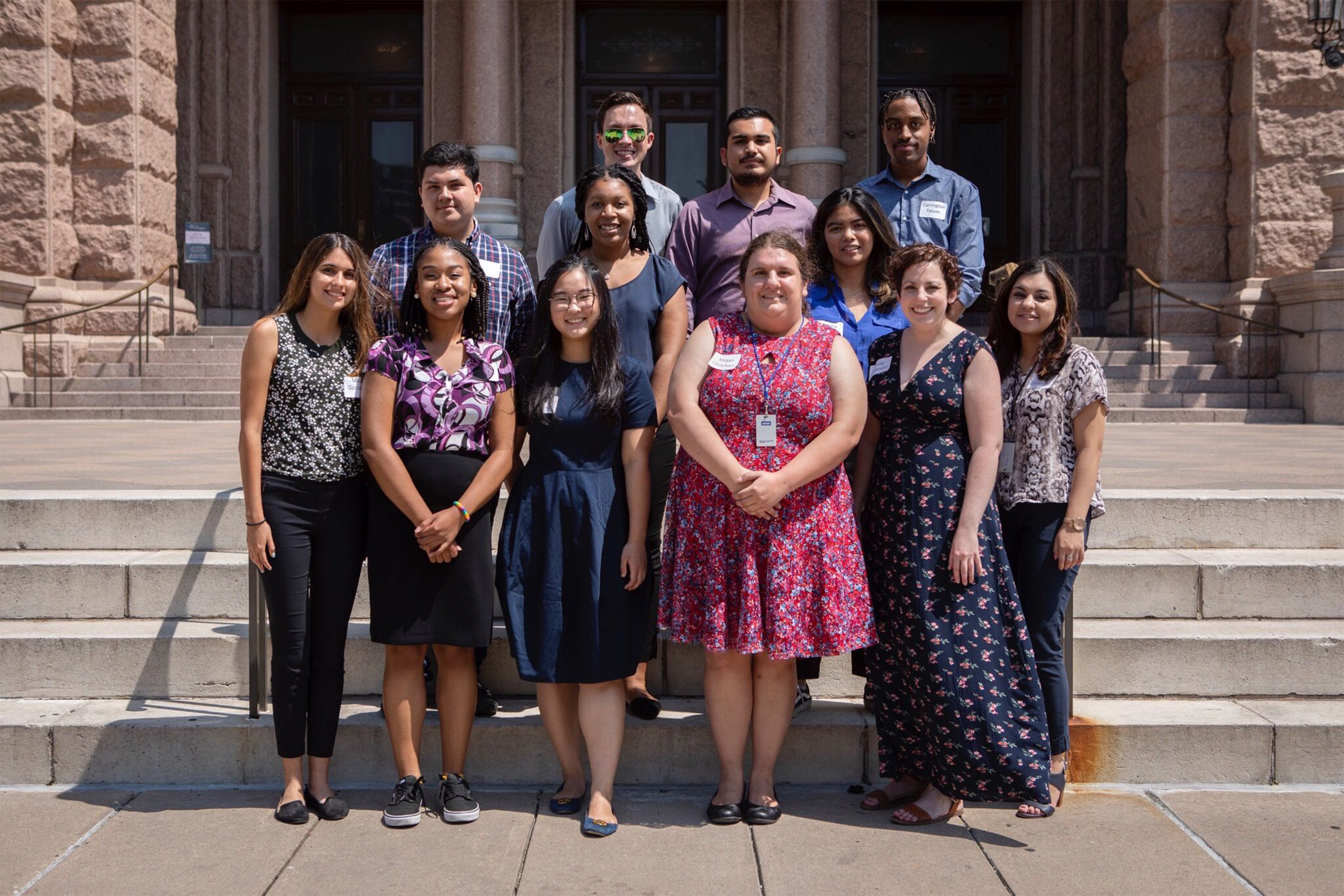 The Texas Tribune — a nonprofit, nonpartisan digital news organization that reports on and for Texas and Texans — offers paid fellowships to college students. Fellows play key roles in the most important work of The Texas Tribune, covering everything from the biennial legislative sessions to elections to the impact of the coronavirus on the state. See recent work by Texas Tribune fellows here.
The following positions are available for 2021: data visuals, engagement, engineering, events, marketing and communications, multimedia, photography, reporting (Austin) and reporting (Washington, D.C.)
The positions are part time in the spring and fall, and full time in the summer. They are typically based in our Austin newsroom, except for the Washington, D.C., reporting fellowship. All our teams are currently working remotely; we do not yet know whether fellowships in 2021 will be remote.
Recent graduates are eligible for the summer program, but spring and fall fellows must be enrolled undergraduate or graduate students while they work at the Tribune. You may apply for more than one position.
The deadlines to apply for the spring and summer 2021 programs have passed. We will accept applications for fall 2021 in April; check this page then for instructions on how to apply.
For general questions about the fellowship program, please contact Managing Editor Corrie MacLaggan, cmaclaggan@texastribune.org. We do not accept applications by email. See below for information about each fellowship.
---
Data Visuals Fellowship
The Tribune's award-winning data visuals department is a hybrid news applications and graphics team. We are journalists who work closely with reporters and editors to generate ideas, request public records and comb through the results. Then, we use what we find to tell data-driven, visual stories.
We're looking for creative journalists who can use code and graphics to help us tell stories with data. Fellows are important members of our team — in the past, they've had the opportunity to not only contribute to high-profile projects but to take the lead on them.
Ideal candidates demonstrate experience creating graphics with HTML, CSS and JavaScript and/or Adobe Illustrator. We're also interested in applicants with experience analyzing data or building news applications with Python and Django. They are passionate about web standards, willing to discuss and show their code, and deeply interested in politics, policy and open government.
Questions? Contact Data Visuals Developer Chris Essig, datavisualsfellowship@texastribune.org.
---
Engagement Fellowship
We're hiring fellows to help engage audiences in our politics and policy coverage across platforms. This may include packaging Tribune stories for Facebook, Twitter and Instagram; contributing to our daily newsletters; helping produce live discussions for our readers; and pitching and editing short-form videos or other original content for social readers.
Ideal candidates should have:
Solid news judgement and experience reporting/writing on deadline
Sharp social copywriting skills and experience using social networks for newsgathering
Experience editing visual stories (including social graphics, audio, video and/or other multimedia) is not required, but is highly valued
Questions? Contact Assistant Director for Audience Bobby Blanchard, bblanchard@texastribune.org.
---
Engineering Fellowship
The Tribune's engineering team supports technology efforts across the organization, including the core website and content management system, membership services, platform integrations, and analytics products. We're looking for a fellow to help expand on and integrate these tools and systems; the ideal candidate would have experience with JavaScript or Python, as well as a mix of experience with Git, web technologies/standards (HTML+CSS) and data processing/analysis.
Specific projects will be informed by the skills and interests of the fellow, but themes might include work with automated testing and Continuous Integration, ETL processing, and site performance and accessibility standards. Fellows will participate in bi-weekly sprints, work directly with engineers, and collaborate with departments including editorial, art, membership and sponsorship.
(Note: This is not an editorial role or a data visuals position.)
Questions? Contact Senior Software Engineer Ty Brockhoeft, tbrockhoeft@texastribune.org.
---
Events Fellowship
We're looking for a fellow to join our events team to help coordinate, promote and execute some of the Tribune's 60+ annual events, including the annual Texas Tribune Festival. The fellow will be responsible for crafting event listings, devising and executing an event promotional strategy, and managing event production tasks. We're looking for a creative self-starter who is reliable, quick on their feet and comfortable managing multiple projects at once.
Questions? Contact Director of Events & Programming Jessica Weaver, jweaver@texastribune.org.
---
Marketing and Communications Fellowship
We're looking for a fellow to help strategize and coordinate media relations and partnerships for news, enterprise projects and events at The Texas Tribune. The fellow will be responsible for building relationships with Texas and national media, devising a plan for distributing Tribune content, and managing editorial partnerships and in-kind Texas Tribune Festival partnerships. The fellow will also write media materials including releases, pitches and promotional copy for investigations and projects. We're looking for a strong writer who is reliable, quick on their feet and wants to have a big impact on an innovative newsroom in a fast-paced setting.
Questions? Contact Natalie Choate, director of marketing and communications, nchoate@texastribune.org.
---
Multimedia Fellowship
Help bring stories to life through a fellowship with The Texas Tribune's growing multimedia team. Do everything from creating zippy social media shorts to livestreaming breaking news to assisting with long-form documentaries. Pitch, shoot and edit exciting Texas news stories for an engaged online audience. Work closely with the multimedia team and reporters to expand the Tribune's growing online multimedia presence. Familiarity and experience with multimedia journalism is preferred. Working knowledge of audio/video equipment and editing software like Adobe Premiere is a big plus.
Questions? Contact Video Managing Producer Todd Wiseman, twiseman@texastribune.org.
---
Photography Fellowship
We're seeking aspiring photojournalists to shoot photos for The Texas Tribune in Central Texas and beyond. Assignments may range from a portrait of a political candidate to a protest at the state Capitol to a farm that's affected by state policy. The ideal candidate is equally comfortable with breaking news and feature photography and is ready to quickly switch gears from a Capitol hearing to a college classroom.
Questions? Contact Photographer/Photo Editor Miguel Gutierrez, mgutierrez@texastribune.org.
---
Reporting Fellowship — Austin
The Texas Tribune reporting fellowship provides aspiring journalists the opportunity to hone their reporting skills and learn a host of new ones that will prepare them for the 21st century newsroom.
We are looking for fellows who are anxious to dive into daily news and enterprise coverage — including reporting on elections and Texas' biennial legislative sessions — alongside our seasoned reporting staff. Ideal candidates will have experience reporting and writing on deadline and an interest in covering state policy topics like health, education, immigration, criminal justice and the environment, as well as the state's changing demographics. Previous fellows have written about everything from the isolation of nursing homes during the coronavirus pandemic to South Asian American voters.
Questions? Contact Managing Editor Corrie MacLaggan, cmaclaggan@texastribune.org.
---
Reporting Fellowship — Washington, D.C.
The Washington, D.C., reporting fellow works alongside Bureau Chief Abby Livingston to cover the 38-member Texas congressional delegation, the U.S. House and Senate elections, and the biggest Texas news in the nation's capital.
A must: experience reporting and writing on deadline. Nice to have: an obsession with politics or Texas (or both).
Questions? Contact Managing Editor Corrie MacLaggan, cmaclaggan@texastribune.org.