Health Care: What's Next?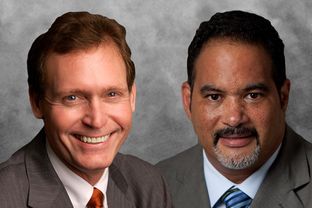 With the 84th legislative session on the horizon, The Texas Tribune is pleased to present, in partnership with Blue Cross Blue Shield of Texas, another event in its series of conversations about where the state is headed on the crucial topic of health care reform. Evan Smith, the Tribune's CEO and editor-in-chief, will lead a discussion with two of the Legislature's most knowledgeable and respected thinkers on health care: state Reps. Garnet Coleman and John Zerwas.
Coleman, D-Houston, was first elected in 1992 to represent District 147 in the Texas House. He now serves as the chairman of the County Affairs Committee and sits on the Public Health Committee. Coleman is the president and CEO of Apartments for America, a nonprofit affordable housing corporation.
Zerwas, R-Richmond, has represented District 28 in the Texas House since 2007. He serves as chairman of the General Investigating and Ethics Committee, chairman of the Appropriations Article II Subcommittee and a member of the Appropriations and Human Services committees. Zerwas is a physician and a co-founder of U.S. Anesthesia Partners.
This event will be held at the Blue Cross Blue Shield of Texas headquarters in Richardson. Free parking will be available in the BCBS parking garage via the southwest entrance. The event is free and open to the public and includes a complimentary lunch. Please note that an RSVP is required for this event, and participants must show a valid photo ID to gain entry.
ABOUT THIS EVENT
This series of conversations on health care reform is generously sponsored by Blue Cross Blue Shield of Texas. Tribune events are also supported through contributions from our founding investors and members. We invite you to subscribe to The Brief, our free daily news summary, which includes announcements of future events.
Disclosure: though donors and corporate sponsors underwrite our events, they play no role in determining the content, panelists or line of questioning.