A Conversation With Steve Patterson, UT Men's Athletic Director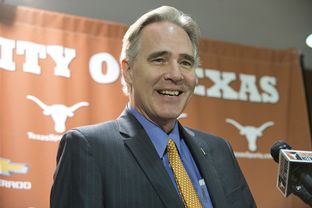 The Texas Tribune invites you to join us for coffee and conversation with Steve Patterson, the newly appointed men's athletic director at the University of Texas at Austin.
Patterson previously served as athletic director at Arizona State University, and he succeeds DeLoss Dodds, who served as UT-Austin's men's athletics director from 1981 to 2013. Before his time with the Sun Devils, Patterson worked for more than two decades in professional sports as an executive with the Houston Texans, the Houston Rockets, the Portland Trail Blazers and the Houston Aeros. He also served as president of Pro Sports Consulting.
ABOUT THIS EVENT
Our Conversation Series features in-depth discussions with prominent elected officials and newsmakers moderated by Evan Smith, CEO and editor-in-chief, and other expert journalists from The Texas Tribune. Each free event at the historic Austin Club in downtown Austin features coffee, networking and audience question-and-answer time. We also invite you to subscribe to Trib+Edu, our free public education newsletter.
This event is sponsored by St. David's HealthCare and this series of conversations is generously sponsored by AT&T, BP and Christus Health. Tribune events are also supported through contributions from our founding investors and members.
Disclosure: though donors and corporate sponsors underwrite our events, they play no role in determining the content, panelists or line of questioning.