On the Road: A Symposium on STEM Education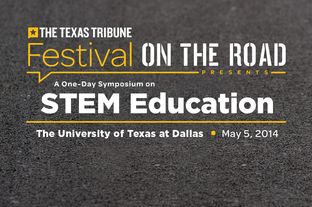 The Texas Tribune is pleased to present a daylong symposium, in partnership with The University of Texas at Dallas, on major issues in science, technology, engineering and mathematics (STEM) fields in Texas. Topics of discussion will include teacher training, workforce development, changes to the state's curriculum and graduation requirements, and innovations in classroom technology.
8:30 AM: Welcome and Building Tomorrow's Workforce


JOHN CHANDLER, director of the T-STEM Center at Texas Tech University; PATRICK MCCRANE

, director of tax development for Intuit;

REAGAN MILLER, director of the Workforce Development Division at the Texas Workforce Commission; TRICIA BERRY, director of the Women in Engineering Program at The University of Texas at Austin; and state Rep. JEFF LEACH, R-Plano


9:45 AM: Teacher Training, Preparation & Recruitment


STEVEN ZIPKES, principal of the Manor New Technology High School; MARY URQUHART, co-director of UTeach at The University of Texas at Dallas; and JENN WHITFIELD, program director of AggieTEACH at Texas A&M University; and WENDY HENDRY, teacher at Bransford Elementary in the Grapevine-Colleyville ISD and 2013 finalist for the Presidential Awards for Excellence in Mathematics and Science Teaching (PAEMST)


11 AM:
Innovations in Educational Technology


IAN TEMPLE, education consultant at Cisco Systems; PETER BALYTA, president of Texas Instruments Education Technology; and DOUGLAS MOORE, executive director of science instruction for Amplify Learning
12:30 PM: A Conversation With Evan Smith and DAVID DANIEL, president of UT Dallas


1:30 PM: Life After HB 5


State Rep. JIMMIE DON AYCOCK, R-Killeen, chairman of the House Public Education Committee; state Rep. DIANE PATRICK, R-Arlington, vice chairwoman of the House Higher Education Committee; MICHAEL MARDER, executive director of the UTeach Science Program at The University of Texas at Austin; RAVAE SHAEFFER, coordinator for curriculum support for college and career readiness at the Education Service Center Region 20 and project co-director for Transformation Central Texas TSTEM Center with ESC-13 and ESC-20; and LIZZETTE GONZÁLEZ REYNOLDS, chief deputy commissioner of the Texas Education Agency

ABOUT THIS EVENT
The symposium will be held in the Clark Center at UT Dallas in Richardson. Parking will be available in Lots I and H adjacent to the Clark Center in "green" or "orange" spots (see campus map). A light breakfast and lunch will be provided. The event is free and open to the public.
The Tribune's On the Road symposia are modeled on the celebrated Texas Tribune Festival. These one day, one topic events bring together experts to present and generate productive conversation on major issues on the topic of the day. Get more on education by subscribing to Trib+Edu, our free public education newsletter.
This event is generously sponsored by UT Dallas, Generation Ready, Verizon, The University of Texas at Austin, Educate Texas, The College Board, Texas A&M University, Harmony Public Schools, The College Board, Texas Instruments and SureScore.
Disclosure: though donors and corporate sponsors underwrite our events, they play no role in determining the content, panelists or line of questioning.