A Conversation With Kinky Friedman, Candidate for Agricultural Commissioner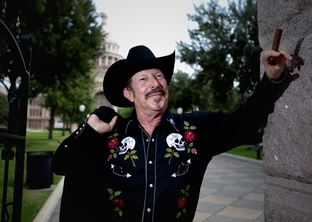 The Texas Tribune invites you to join us for coffee and conversation with Kinky Friedman, a 2014 Democratic candidate for agriculture commissioner.
Singer/songwriter, novelist, humorist and politician Richard "Kinky" Friedman was raised on a Central Texas ranch, graduated from Austin High School and received a bachelor's degree from the University of Texas at Austin. In 1986, Friedman ran unsuccessfully for justice of the peace as a Republican in Kerrville. He wouldn't run for another political office until 2006, when he made an independent run for Texas governor. Friedman placed fourth out of six candidates with 12 percent of the vote. In 2009, Friedman sought the Democratic nomination for Texas agriculture commissioner but lost to Hank Gilbert in the primary, who was then defeated by incumbent Republican Todd Staples in the general election.
Friedman is in the 2014 Democratic primary runoff for agriculture commissioner. In the primary, Friedman came in a strong second to Jim Hogan, taking in 38 percent to Hogan's 39 percent. The winner of their runoff will face the winner of the Republican runoff between former state Reps. Sid Miller of Stephenville and Tommy Merritt of Longview in the Nov. 4 general election.
ABOUT THIS EVENT
Our Conversation Series features in-depth discussions with prominent elected officials and newsmakers moderated by Evan Smith, CEO and editor-in-chief, and other expert journalists from The Texas Tribune. Each free event at the historic Austin Club in downtown Austin features coffee, networking and audience question-and-answer time. We also invite you to subscribe to Trib+Water, our free water policy newsletter.
This series of conversations is generously sponsored by AT&T, BP and Christus Health. Tribune events are also supported through contributions from our founding investors and members.
Disclosure: though donors and corporate sponsors underwrite our events, they play no role in determining the content, panelists or line of questioning.