On the Road: A Symposium on Demographic Change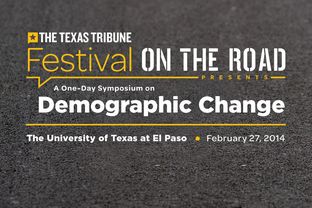 The Texas Tribune is pleased to present a daylong symposium, in partnership with The University of Texas at El Paso, on the effect of precipitous demographic change in Texas — how population shifts, current and future, will impact public policy decisions in and the political landscape of our fast-growing state.
8 AM: Complimentary breakfast
8:30 AM: Welcome and Will Boom Go Bust? Demographics is Destiny - Download Dr. Murdock's Presentation [PDF]
STEVE MURDOCK, former state demographer and former director of the U.S. Census Bureau
9:45 AM: Changing Populations, Changing Politics
State Sen. JOSÉ RODRÍGUEZ, D-El Paso; state Rep. MARY GONZÁLEZ, D-Clint; former state Rep. DEE MARGO, R-El Paso; and GEORGE ANTUNA, co-founder of Hispanic Republicans of Texas
11 AM: Health Care and the New Texas
KYLE JANEK, commissioner of Texas Health and Human Services; state Rep. MARISA MÁRQUEZ, D-El Paso; VERONICA ESCOBAR, El Paso County judge; and ERIC EVANS, CEO of the Sierra Providence Health Network
Noon: Complimentary lunch
12:30 PM: A Conversation With Evan Smith and DIANA NATALICIO, president of UTEP
1:30 PM: Education and the New Texas
MICHAEL WILLIAMS, commissioner of the Texas Education Agency; FRANCISCO CIGARROA, chancellor of the UT System; HAROLD HAHN, chairman of the Texas Higher Education Coordinating Board; and SYLVIA HOPP, superintendent of the San Elizario ISD
ABOUT THIS EVENT
This event will take place in the Tomás Rivera Conference Center in the Union Building (East 308) at UTEP in El Paso. It is free and open to the public.
The Tribune's On the Road symposia are modeled on the celebrated Texas Tribune Festival. These one day, one topic events bring together experts to present and generate productive conversation on major issues on the topic of the day. We also invite you to subscribe to The Brief, our free daily news summary.
Disclosure: though donors and corporate sponsors underwrite our events, they play no role in determining the content, panelists or line of questioning.