A Conversation With Sen. Leticia Van De Putte, Candidate for Lieutenant Governor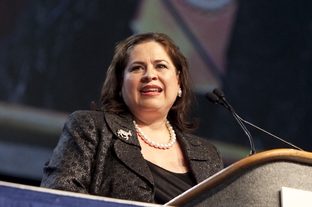 The Texas Tribune invites you to join us for coffee and conversation with state Sen. Leticia Van de Putte, a Democratic candidate for lieutenant governor in 2014.
Van de Putte is a San Antonio-based pharmacist first elected to represent Senate District 26 in 1999. She previously served in the Texas House from 1990 to 1999. She serves as chairwoman of the Veteran Affairs and Military Installations Committee and as a member of the Senate Education, State Affairs, and Business and Commerce committees. From 2003 to 2011, she served as chairwoman of the Senate Democratic Caucus, and she was unanimously elected by her colleagues to serve as president pro tempore of the Texas Senate's 83rd legislative session.
ABOUT THIS EVENT
Our conversation series features in-depth discussions with prominent elected officials and newsmakers moderated by Evan Smith, CEO and editor in chief, and other expert journalists from The Texas Tribune. Each free event at the historic Austin Club in downtown Austin features coffee, networking, and audience question-and-answer time. We also invite you to subscribe to The Brief, our free daily news summary.
This series of conversations is generously sponsored by AT&T, BP and Christus Health. Tribune events are also supported through contributions from our founding investors and members.
Disclosure: though donors and corporate sponsors underwrite our events, they play no role in determining the content, panelists or line of questioning.