An Evening With Mark Halperin and John Heilemann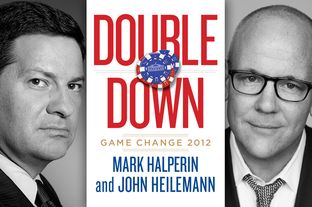 ** We are no longer taking RSVPs for this event but there will be a stand-by line at the auditorium for unclaimed seats 5 minutes prior to showtime.
The Texas Tribune and the LBJ Presidential Library present a conversation with best-selling authors and veteran journalists Mark Halperin and John Heilemann, returning to Austin with Double Down: Game Change 2012, their account of the 2012 presidential election. Double Down follows their best-selling book on the 2008 presidential race, Game Change, which was turned into an HBO film by the same name and won five Emmy awards. The Tribune's CEO and editor-in-chief, Evan Smith, will moderate the conversation.
Mark Halperin, editor-at-large and a senior political analyst for Time, covers politics, elections and government for the magazine and time.com. He is also a senior political analyst for MSNBC. John Heilemann is the national political correspondent and columnist for New York magazine. He is a former staff writer for The New Yorker, Wired and The Economist.
ABOUT THIS EVENT
The event is free to attend, but an RSVP is required. The Store at LBJ will host a signing of Double Down in the upper Auditorium lobby from 5 to 5:45 p.m. Book sales (not included in registration) will begin at 4:45 p.m.
The LBJ Auditorium is located on the lower level of the LBJ complex at 2313 Red River St. Access to the auditorium will be through the lobby of the LBJ School of Public Affairs. Free parking is available in the library visitors' lot (No. 38) and lots No. 37 and 39 after 5 p.m. Overflow parking will be available in Manor Garage on a self-pay, space-available basis (view map of the area).
Disclosure: though donors and corporate sponsors underwrite our events, they play no role in determining the content, panelists or line of questioning.