On The Road: A Symposium on Transportation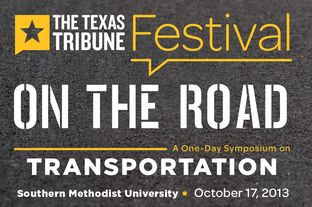 The Texas Tribune is pleased to present a daylong symposium, in partnership with SMU, on transportation policy in Texas. Topics will include how the issue played out in the 83rd legislative session, planning and funding at the state and regional levels, and the most creative ideas for the future of transportation.
9 AM: Complimentary breakfast
9:30 AM: Welcome
9:45 AM: Transportation and the 83rd Legislature
House Transportation Committee members state Rep. LARRY PHILLIPS, R-Sherman, chairman; state Rep. LINDA HARPER-BROWN, R-Irving; state Rep. JOE PICKETT, D-El Paso; and state Rep. CINDY BURKETT, R-Sunnyvale
11 AM: All Transportation Is Local
CHARLIE GONZALEZ, former U.S. representative and chief of public engagement for VIA Metropolitan Transit; Dallas County Judge CLAY JENKINS; Tarrant County Commissioner GARY FICKES; and JOHN LANGMORE, vice chairman of Austin's Capital Metropolitan Transportation Authority board
Noon: Complimentary lunch
12:30 PM: A Conversation With EVAN SMITH and R. GERALD TURNER, president of SMU
1:45 PM: Talking to TxDOT
PHIL WILSON, executive director of the Texas Department of Transportation, and TED HOUGHTON, chairman of the Texas Transportation Commission
3 PM: White-Boarding the Future
PEER CHACKO, assistant director of strategic planning for the City of Dallas' Department of Sustainable Development and Design; LINDA DUPRIEST, associate with Alta Planning + Design; GINGER GOODIN, senior research engineer at the Texas A&M Transportation Institute; and moderated by KATE CANALES, director of design and innovation programs at SMU's Lyle School of Engineering
This event will take place at the Umphrey Lee Center's The Martha Proctor Mack Grand Ballroom at SMU in Dallas (map). It is free and open to the public. A complimentary light breakfast and lunch will be served. A limited amount of free parking will be available.
Disclosure: though donors and corporate sponsors underwrite our events, they play no role in determining the content, panelists or line of questioning.