A Conversation with Ken Starr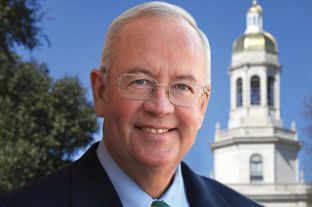 Join us for coffee and conversation with Ken Starr, president of Baylor University.
Starr became the 14th president of Baylor University in June 2010. Before coming to Waco, he was the dean and a professor of law at Pepperdine University, where he taught current constitutional issues and civil procedure.
Starr has argued 36 cases before the U.S. Supreme Court, including 25 cases during his tenure as solicitor general of the United States from 1989-93. He also served as U.S. judge for the District of Columbia Circuit from 1983 to 1989, as law clerk to Chief Justice Warren Burger from 1975-77 and as law clerk to U.S. Fifth Circuit Court of Appeals Judge David W. Dyer from 1973 to 1974.
Starr has taught constitutional law as an adjunct professor at the New York University School of Law and was a distinguished visiting professor at the George Mason University School of Law and Chapman Law School.
ABOUT THIS EVENT
Several times a month, The Texas Tribune hosts a series of conversations featuring prominent elected officials and other newsmakers at the historic Austin Club in downtown Austin. These in-depth discussions are moderated by the Tribune's CEO and editor-in-chief, Evan Smith. Coffee is served before the conversation begins, allowing time for our attendees to mingle. A question-and-answer session afterward offers a chance for the audience to interact with our honored guest.
This series of conversations is generously sponsored by AT&T, BP, Raise Your Hand Texas, Christus Health, the Texas Coalition of Dental Service Organizations, Texas A&M University and 83rd legislative session sponsor My Plates. Special thanks to our promotional sponsor, Deborah Ingersoll of Legislative Solutions.
Disclosure: though donors and corporate sponsors underwrite our events, they play no role in determining the content, panelists or line of questioning.