The Hot Seat in Georgetown: Rep. Marsha Farney and Sen. Charles Schwertner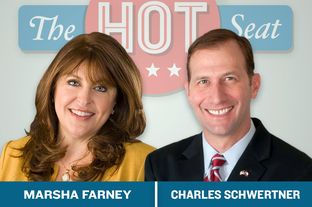 Join us for a light lunch and discussion about the 83rd legislative session with state Rep. Marsha Farney, R-Georgetown, and state Sen. Charles Schwertner, R-Georgetown.
Schwertner represents Texas Senate District 5, a Central Texas district that serves 10 counties including Brazos and Williamson counties. Schwertner is a managing partner and practicing physician at Georgetown Orthopedics, which employs 40 people and provides annual care for 20,000 patients. He has a pharmacy degree from the University of Texas and a medical degree from the University of Texas Medical Branch. Before joining the Senate this year, Schwertner represented Texas House District 20 for one term.
Farney represents Texas House District 20, which consists of Burnet and Milam counties and the northern portion of Williamson County, including Georgetown and Sun City. Farney earned her bachelor's and master's degrees in education from Texas A&M University, Commerce, and her Ph.D in curriculum and instruction from the University of Texas at Austin. Before joining the House this year, Farney served a two-year term on the State Board of Education, representing District 10.
ABOUT THIS EVENT
The Hot Seat conversation series is hosted by universities across the state. This event will take place at Southwestern University at the Red & Charline McCombs Campus Center, in the second floor ballroom.
The Hot Seat is underwritten by the KDK-Harman Foundation, with additional support from AT&T, BP, Raise Your Hand Texas, Christus Health, the Texas Coalition of Dental Service Organizations, Texas A&M University and 83rd legislative session sponsor My Plates. Tribune events are also supported through contributions from our founding investors and members.
Disclosure: though donors and corporate sponsors underwrite our events, they play no role in determining the content, panelists or line of questioning.