A Conversation About the Environment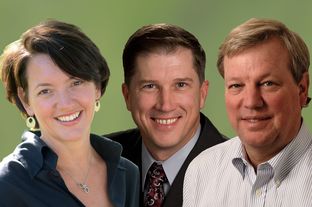 Join Laura Huffman of the Nature Conservancy, Bryan Shaw of the Texas Commission on Environmental Quality and James Marston of the Environmental Defense Fund for a special Earth Day conversation about the environment moderated by Tribune reporter Kate Galbraith.
Huffman is the state director of the Nature Conservancy of Texas, where she heads a team of more than 80 scientists, conservation experts and support staff. She served as deputy city manager for the city of San Marcos from 1994 to 2002 and as assistant city manager for the city of Austin from 2002 to 2008, leading watershed protection and economic development initiatives for both cities.
Shaw was appointed to the Texas Commission on Environmental Quality, the state's environmental agency, by Gov. Rick Perry in 2007 and named chairman in 2009. He is an associate professor in the Biological and Agricultural Engineering Department of Texas A&M University and teaches many courses focused on air pollution engineering. Shaw has served as a member of the U.S. Environmental Protection Agency Science Advisory Board on several subjects.
Marston is the founding director of the Texas office of the Environmental Defense Fund, located in Austin, where he has served since its inception in 1988. He is the head of EDF's national Energy Program and also serves as regional director of EDF's Texas office. Marston led a fight to stop TXU from building a dozen coal plants in Texas and negotiated a first-of-its-kind deal with private equity buyers involving more than a dozen commitments on climate change.
ABOUT THIS EVENT
Several times a month, The Texas Tribune hosts a series of conversations featuring prominent elected officials and other newsmakers at the historic Austin Club in downtown Austin. Coffee is served before the conversation begins, allowing time for our attendees to mingle. A question-and-answer session afterward offers a chance for the audience to interact with our honored guest.
This series of conversations is generously sponsored by AT&T, BP, Raise Your Hand Texas, Christus Health, the Texas Coalition of Dental Service Organizations, Texas A&M University and 83rd legislative session sponsor My Plates. Special thanks to our promotional sponsor, Deborah Ingersoll of Legislative Solutions.
Disclosure: though donors and corporate sponsors underwrite our events, they play no role in determining the content, panelists or line of questioning.