A Conversation About Transportation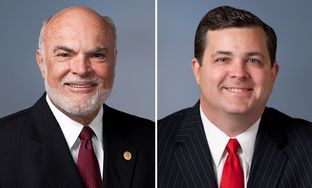 With the way Texas pays for its roads under the spotlight this session, Sen. Robert Nichols and state Rep. Larry Phillips will join Tribune reporter Aman Batheja for a conversation about transportation. The Texas Department of Transportation has said it needs $4 billion a year in extra revenue to maintain the current level of congestion around the state. Lawmakers are looking at multiple funding proposals while also tackling other transportation issues, including texting while driving, tolling and the impact of drilling activity on rural roads.
Nichols, R-Jacksonville, serves as chairman of the Senate Transportation Committee and sits on the Health and Human Services, Intergovernmental Relations, Natural Resources and State Affairs committees. Before running for Senate, Nichols served as transportation commissioner for eight years.
Phillips, R-Sherman, was first elected to represent House District 62 in 2003. He currently serves as chairman of the House Transportation Committee, and also sits on the General Investigating and Ethics Committee. He is a practicing lawyer with a law degree from the University of Houston.
ABOUT THIS EVENT
Several times a month, The Texas Tribune hosts a series of conversations featuring prominent elected officials and other newsmakers at the historic Austin Club in downtown Austin. Coffee is served before the conversation begins, allowing time for our attendees to mingle. A question-and-answer session afterward offers a chance for the audience to interact with our honored guest.
This event is sponsored by CH2M Hill and Plug In Texas, and this series of conversations is generously sponsored by AT&T, BP, Christus Health, the Texas Coalition of Dental Service Organizations, Raise Your Hand Texas, Texas A&M University and 83rd legislative session sponsor My Plates. Special thanks to our promotional sponsor, Deborah Ingersoll of Legislative Solutions. Tribune events are also supported through contributions from our founding investors and members.
Disclosure: though donors and corporate sponsors underwrite our events, they play no role in determining the content, panelists or line of questioning.