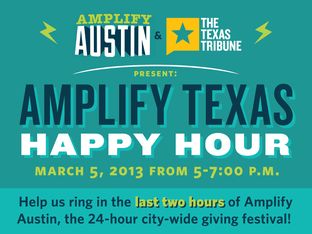 Help us ring in the last two hours of Amplify Austin, the 24-hour citywide giving festival!

Bring friends, coworkers, family members and neighbors to help us cross the finish line. Make a 100% tax-deductible contribution to The Texas Tribune through Amplify Austin at the happy hour and enjoy a cocktail on us!

For more information on Amplify Austin, visit their page here. We hope to see you there!
Disclosure: though donors and corporate sponsors underwrite our events, they play no role in determining the content, panelists or line of questioning.