A Conversation about Health Care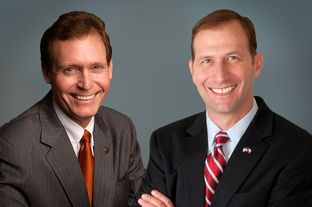 As budget decisions loom for the state Legislature, join Texas Tribune Editor Emily Ramshaw for a discussion with state Rep. John Zerwas and state Sen. Charles Schwertner on the state of health care in Texas. The Republican lawmakers — both doctors — will discuss the state's spiraling medical costs and the future of Texas' Medicaid program, in light of directives from federal health reform.
Zerwas, of Simonton, an anesthesiologist, has represented Texas House District 28 since 2006. He earned his medical degree from the Baylor College of Medicine in 1980 and started a full-time private practice in 1985. He is president-elect of the American Society of Anesthesiology and practices anesthesiology at Greater Houston Anesthesiology, a group practice he helped start more than 10 years ago. He previously served as the President of the Memorial Hermann Health Network Providers and chief medical officer of the Memorial Hermann Hospital System.
Schwertner, of Georgetown, an orthopedic surgeon, is serving his first term in the Texas Senate representing District 5, which includes Brazos County. Schwertner is a managing partner and practicing physician at Georgetown Orthopedics PLLC, which employs 40 people and provides annual care for 20,000 patients. He has a pharmacy degree from the University of Texas and a medical degree from the University of Texas Medical Branch.
ABOUT THIS EVENT
Several times a month, The Texas Tribune hosts a series of conversations featuring prominent elected officials and other newsmakers at the historic Austin Club in downtown Austin. Coffee is served before the conversation begins, allowing time for our attendees to mingle. A question-and-answer session afterward offers a chance for the audience to interact with our honored guest.
This event is underwritten by St. David's HealthCare, the Texas Medical Association, the American Heart Association and Methodist Healthcare Ministries. This series of conversations is generously sponsored by AT&T, BP, Raise Your Hand Texas, Christus Health, the Texas Coalition of Dental Service Organizations, Texas A&M University and 83rd legislative session sponsor My Plates. Special thanks to our promotional sponsor, Deborah Ingersoll of Legislative Solutions. Tribune events are also supported through contributions from our founding investors and members.
Disclosure: though donors and corporate sponsors underwrite our events, they play no role in determining the content, panelists or line of questioning.