A Conversation with Jerry Patterson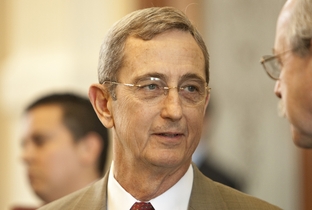 The Texas Tribune invites you to join us for coffee and conversation with Texas Land Commissioner Jerry Patterson.
From 1993 to 1999, Patterson served as state senator for District 11, which included Harris, Galveston and Brazoria counties. Patterson's most significant legislative successes include passage of the state's concealed handgun law, a constitutional amendment allowing home equity lending, the Texas coastal management plan and the creation of the Texas State Veterans Home Program. An advocate for fellow veterans, he chaired the first veterans affairs committee in the Texas Senate.
In November 2002, Patterson was elected as the 27th Texas land commissioner. He was re-elected to a third term in 2010.
ABOUT THIS EVENT
Several times a month, The Texas Tribune hosts a series of conversations featuring prominent elected officials and other newsmakers at the historic Austin Club in downtown Austin. These in-depth discussions are moderated by the Tribune's CEO and editor-in-chief, Evan Smith. Coffee is served before the conversation begins, allowing time for our attendees to mingle. A question-and-answer session afterward offers a chance for the audience to interact with our honored guest.
This series of conversations is generously sponsored by AT&T, BP, Raise Your Hand Texas, Christus Health, the Texas Coalition of Dental Service Organizations, Texas A&M University and 83rd legislative session sponsor My Plates. Special thanks to our promotional sponsor, Deborah Ingersoll of Legislative Solutions. Tribune events are also supported through contributions from our founding investors and members.
Disclosure: though donors and corporate sponsors underwrite our events, they play no role in determining the content, panelists or line of questioning.