A Conversation with Barry Smitherman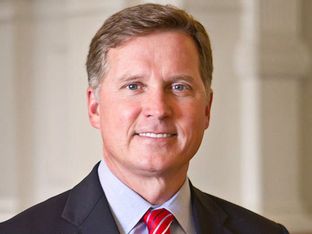 The Texas Tribune invites you to join us for coffee and conversation with Texas Railroad Commissioner Barry Smitherman.
Barry Smitherman was appointed to the Railroad Commission of Texas in July 2011, and was elected Chairman by his colleagues in February 2012. In July 2012, Smitherman won a Republican primary runoff to continue serving the remainder of his term with 62 percent of the vote, a higher percentage than any other statewide official.
Smitherman currently serves as Texas' representative on both the Interstate Oil and Gas Compact Commissionand is the Vice Chairman of the National Association of Regulatory Utility Commissioners' Gas Committee. He is also and on the Coastal Land Advisory Board. He is on the visiting committee of the Bureau of Economic Geology with the Jackson School of Geosciences at The University of Texas at Austin, and The University of Texas School of Law Center for Global Energy, International Arbitration and Environmental Law. Smitherman has previously served two terms on the Department of Energy's Electricity Advisory Committee and as an Adjunct Professor of Public Administration at St. Thomas University.
ABOUT THIS EVENT
Several times a month, The Texas Tribune hosts a series of conversations featuring prominent elected officials and other newsmakers at the historic Austin Club in downtown Austin. These in-depth discussions are moderated by the Tribune's CEO and editor-in-chief, Evan Smith. Coffee is served before the conversation begins, allowing time for our attendees to mingle. A question-and-answer session afterward offers a chance for the audience to interact with our honored guest.
This series of conversations is generously sponsored by AT&T, BP, Raise Your Hand Texas, Christus Health and the Texas Coalition of Dental Service Organizations, and it is supported through contributions from our founding investors and members. Special thanks to our promotional sponsor, Deborah Ingersoll of Legislative Solutions.
Disclosure: though donors and corporate sponsors underwrite our events, they play no role in determining the content, panelists or line of questioning.