The Hot Seat in San Antonio: Sen. Donna Campbell and Rep. Mike Villarreal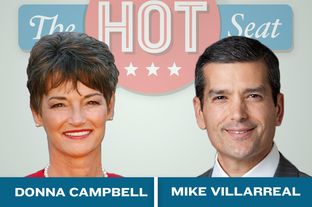 Join us for a light lunch and discussion about the 83rd Legislative Session with State Sen.-elect Donna Campbell (R-New Braunfels) and Rep. Mike Villarreal (D-San Antonio)
State Sen.-elect Donna Campbell, R-New Braunfels, won the SD-25 seat previously held by Jeff Wentworth. She earned her master's of nursing degree from Texas Women's University, specializing in cardiovascular clinical nursing and nursing administration. She received her M.D. from Texas Tech University and completed her residency at the University of Texas Health Sciences Center in Houston. Campbell has served as the medical director for several hospitals, including the third largest emergency medicine group in the country.
State Rep. Mike Villarreal, D-San Antonio, launched a grassroots campaign in 1999 for the Texas House of Representatives. He is now in in his seventh term. Villarreal earned an economics degree at Texas A&M University and later a master's degree in public policy from Harvard's Kennedy School of Government. He has worked at the Federal Reserve Board of Governors, and JP Morgan Securities. His last job in public finance was directing the San Antonio office for Public Financial Management, the nation's leading public finance advisory firm.
ABOUT THIS EVENT
This series of conversations is generously sponsored by AT&T, BP, Christus Health, Texas Coalition of Dental Service Organizations and Raise Your Hand Texas and is supported through contributions from our founding investors and members. The Hot Seat is underwritten by the KDK-Harman Foundation.
Disclosure: though donors and corporate sponsors underwrite our events, they play no role in determining the content, panelists or line of questioning.