MEET THE NEW GUYS: Giovanni Capriglione, Mary E. González, Cecil Bell Jr.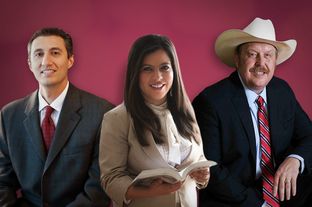 Giovanni Capriglione is the Republican representative elect for House District 98, which includes part of Tarrant County. This seat is currently held by Vicki Truitt.
Capriglione received a bachelor's degree in physics and a master's degree in finance from Santa Clara University. Capriglione then went on to work for a Dallas-based venture capital/private equity firm. He is now the owner and president of his own small business, Texas Adventure Capital, LLC., where he provides business services to investment fund managers and business owners. His focus is investing in Texas-based small businesses.
Capriglione previously served as senior vice president at an investment firm and in various positions at computer engineering companies centered on semiconductor design and internet products.
Mary E. González is the Democratic representative elect for House District 75, which includes parts of El Paso County. This seat is currently held by Chente Quintanilla.
González was born and raised in Clint. She served as president of the local 4-H Club and founded the Far East El Paso County Partnership to empower young leaders in colonias. She received her bachelor's degrees in history and Mexican American studies from the University of Texas at Austin. In 2009, she received her master of liberal arts degree with a concentration in social justice from St. Edward's University.
During the early stages of her professional career, González worked for state Reps. Paul Moreno and Richard Raymond. Previously, she served as assistant director in the Office of Research and Demonstration at the National Hispanic Institute, as program coordinator in the Multicultural Engagement Center at UT and as the assistant dean for student multicultural affairs at Southwestern University.
Cecil Bell Jr. is the Republican representative elect for House District 3, which comprises parts of Montgomery County and all of Waller County. This is a new seat as a result of redistricting.
Bell is a sixth-generation Texan whose family has lived in Texas since 1852. The oldest of three siblings, Bell was born in Rosenberg and raised all over Texas before graduating from Oakwood High School in 1980. Bell has been self employed at B-5 Construction Co. Inc. since 1983 in the business of constructing water and wastewater treatment facilities.
ABOUT THIS EVENT
Several times a month, The Texas Tribune hosts a series of conversations featuring prominent elected officials and other newsmakers at the historic Austin Club in downtown Austin. These in-depth discussions are moderated by the Tribune's CEO and editor-in-chief, Evan Smith. Coffee and beverages are served before the conversation begins, allowing time for our attendees to mingle. A question-and-answer session afterward offers a chance for the audience to interact with our honored guests.
This series of conversations is generously sponsored by AT&T, BP, Raise Your Hand Texas and Christus Health and is supported through contributions from our founding investors and members. Special thanks to our promotional sponsor, Deborah Ingersoll of Legislative Solutions.
Disclosure: though donors and corporate sponsors underwrite our events, they play no role in determining the content, panelists or line of questioning.