On The Road: The Future of Water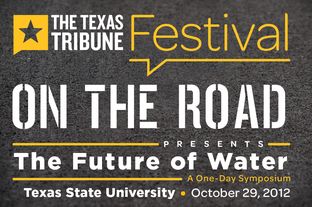 The Texas Tribune Festival: On The Road is a series of one-day symposiums around the state.
This day-long symposium, set against the backdrop of the worst one-year drought in Texas history, will consider the economics and politics of the state water plan and address the various legal and environmental obstacles to confronting the crisis.
SCHEDULE:
8 AM: Complimentary Breakfast
8:30 AM: Welcome — Evan Smith with BRIAN MCCALL, chancellor of The Texas State University System and DENISE M. TRAUTH, president of Texas State University
8:45 AM: "How We Got Here" — ANDREW SANSOM, executive director of The Meadows Center for Water and the Environment
9:05 AM: "Presenting the Texas Water Plan" — CAROLYN BRITTIN, deputy executive administrator of the Texas Water Development Board
9:45 AM: "Why Water Matters" — Texas House Speaker JOE STRAUS
9:55 AM: "Can the Legislature Solve the Problem?" — state Rep. ALAN RITTER, R-Nederland, chairman of House Natural Resources Committee; and state Sen. GLENN HEGAR, R-Katy, vice chairman of the Senate Government Organization Committee
11:05 AM: "Water and the Environment" — MYRON HESS, manager and legal counsel at Texas Water Programs; BOB HUSTON, former chairman of the Texas Commission on Environmental Quality; KIP AVERITT, former state senator

12:05 PM: Complimentary Lunch is served.
12:30 PM: A Conversation —Evan Smith and DENISE M. TRAUTH, president of Texas State University
1:30 PM: "Water and the Land" — DAVID K. LANGFORD, vice president emeritus of the Texas Wildlife Association; LAURA HUFFMAN, executive director of the Nature Conservancy of Texas; TODD STAPLES, Texas agriculture commissioner
2:40 PM: "Water and the Law" — MARY KELLY, environmental lawyer and consultant at Parula, LLC; BILLY HOWE, state legislative director at the Texas Farm Bureau; JOE BEAL, former manager of the Lower Colorado River Authority; ROBERT PUENTE, president and CEO of the San Antonio Water System
THIS SERIES IS FREE AND OPEN TO THE PUBLIC.
Presented by The Cynthia and George Mitchell Foundation, Texas Natural Gas Now, San Antonio Water System,Texas State University, SeaWorld, Texas Travel Industry Association, Texas Farm Bureau, Greater Texas Water Company and South West Water Company.
Disclosure: though donors and corporate sponsors underwrite our events, they play no role in determining the content, panelists or line of questioning.