THE HOT SEAT IN HUNTSVILLE: A Conversation with Rep. John Otto and Rep. Charles Schwertner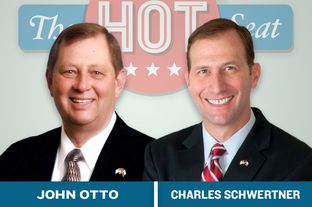 PLEASE NOTE: This event will take place at Sam Houston State University in Huntsville.
Rep. John Otto, R-Dayton, was first elected in 2005. He currently sits on the House Appropriations Committee and served as chairman of the General Government and Criminal Justice Subcommittees, Conference Committee for the state budget and as vice chairman of the House Committee on Ways and Means. Otto serves as vice chairman of the Budget and Revenue Committee for the National Conference of State Legislators and is a member of the Energy Council.
Rep. Charles Schwertner, R-Georgetown, is the Republican candidate for Texas Senate District 5, which includes Brazos County. This seat is currently held by retiring Sen. Steve Ogden. Schwertner is a managing partner and practicing physician at Georgetown Orthopedics PLLC, which employs 40 people and provides annual care for 20,000 patients. He has a pharmacy degree from the University of Texas and a medical degree from the University of Texas Medical Branch.
ABOUT THIS EVENT
This series of conversations is generously underwritten by the KDK-Harman Foundation and is sponsored by AT&T, BP, Christus Health and Raise Your Hand Texas.

Disclosure: though donors and corporate sponsors underwrite our events, they play no role in determining the content, panelists or line of questioning.