THE HOT SEAT IN SAN ANGELO: A Conversation with Rep. Drew Darby & Sen. Robert Duncan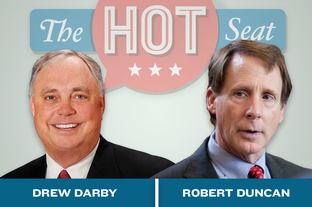 State Rep. Drew Darby,

R-San Angelo, was first elected to represent House District 72 in 2007. Darby is the founder of W. Drew Darby and Associates Law Firm and the owner of Surety Title Company and Double D Title Inc. He served as chairman of a House appropriations subcommittee and vice chairman of the Transportation Committee during the 82nd legislative session. He has previously served on the Business and Industry and House Administration committees and the Select Committee on Property Tax Relief and Appraisal Reform.
State Sen. Robert Duncan, R-Lubbock, is a practicing attorney who was first elected to represent Senate District 28 in 1996. He previously served four years as a Texas House member and currently sits on the Senate Finance Committee, an assignment he has held since 2001. Duncan has also served on the Finance Conference Committee, which finalizes the final appropriations bill and establishes the state budget, and chairs the Senate State Affairs Committee. His additional assignments include seats on the Senate Higher Education, Jurisprudence and Natural Resources committees. He is also the chairman of the Subcommittee on Fiscal Matters and a member of both the Subcommittee on Public Education Funding and the Subcommittee on Higher Education Funding.

The Hot Seat: A Conversation with Darby and Duncan from texastribune on Vimeo.
ABOUT THIS EVENT
This series of conversations is generously sponsored by AT&T, BP and Christus Health and is supported through contributions from our founding investors and members.
Disclosure: though donors and corporate sponsors underwrite our events, they play no role in determining the content, panelists or line of questioning.