The Good, the Bad and the Ugly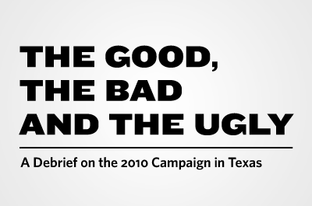 The 2010 Election and Its Implications for the 2011 Legislative Session
After the polls close on Nov. 2, the political community will be trying to make sense of what happened and what the results portend for the 82nd session of the Texas Legislature. Join us for post-game analysis of the election results.
10 a.m. - 11:30 a.m.
WHAT JUST HAPPENED? A Debrief on the 2010 Campaign in Texas, moderated by Evan Smith, CEO and editor-in-chief of The Texas Tribune
with
The honorable Pete Laney, former speaker of the House of Representatives
Corbin Casteel, partner at Casteel, Erwin & Associates

Jim Dow, executive director of Texas 20/20
Arlene Wohlgemuth, executive director, and director of the Center for Health Care Policy Studies, Texas Public Policy Foundation
2 p.m. - 3:30 p.m.
Reporting on the 2010 Election and Expectations for the Legislative Session, moderated by Jim Henson, director of the Texas Politics Project at the University of Texas
with
Elise Hu-Stiles, The Texas Tribune
Gromer Jeffers Jr., The Dallas Morning News
Harvey Kronberg, Quorum Report
Ross Ramsey, The Texas Tribune
Jay Root, The Associated Press
This event — free and open to the public — is a production of The Texas Tribune and the Texas Politics Project. The panelists have agreed to field questions from the audience after the moderated discussion.
Special thanks to our promotional sponsor, Deborah Ingersoll of Legislative Solutions.
Disclosure: though donors and corporate sponsors underwrite our events, they play no role in determining the content, panelists or line of questioning.