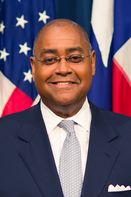 Industry

Finance
Education

B.A., Texas Southern University; M.P.A., University of Texas at Austin; J.D., University of Texas at Austin
Spouse

Licia Green Ellis
Committees

State Affairs (Vice-Chair)
Transportation
Business & Commerce
Financial Statements
Sources of Income
Ellis is a financial adviser and partner at Rice Financial Products Company, a public finance firm.

He is a shareholder in the Tagos Group, which is his personal holding company.

He is also involved with RGE Investments, which is where he puts Tago Group shares.

His wife, Licia Green Ellis, is a consultant at Waterman Steele.

He has $10,000 or more stock in New York-based Election.com Inc., which provides software and services for elections to governments, associations, nonprofit organizations, labor unions, school districts, credit unions, pension funds and corporations. It offers services such as list management, ballot preparation, printing, mailing, tabulation and reporting. Election.com, Inc. was formerly known as Votation.com Inc. Ellis said it is a company that state Rep. Mark Strama started.
Property
Residential property in Houston valued at $1,385,000

Rental condo in Houston that is valued at $27,557
Analysis
Ellis pays bonuses to his state staff from his campaign account, including two individuals who in April each received $4,125 for a "fundraising fee." He uses his campaign account to pay $656.28 a month to lease a campaign vehicle, and $2,659.00 monthly for rent in Austin. All of these expenses are permitted by state law.

In a 2010 story, Texas Watchdog alleged that Ellis profited from doing business with government entities that would turn to him for legislation and funding at the Capitol. He said the story was "totally unfounded." He said he had no control over business done by the company involved, Apex Securities, which he sold to Rice Financial products 13 years ago. "There's no conflict with my firm doing business with the city of Houston. I'm in government financing. That's part of my life. It's the same as doing legal work or selling computers or widgets."

One of Ellis' wife's clients is KIPP Academy, the Houston public charter school.