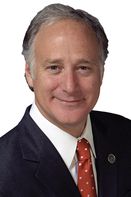 Industry

Lawyer
Education

B.A., Baylor University; J.D., Baylor University
Spouse

Liz
Committees

Higher Education
Select Committee on Government Facilities
Finance
Nominations
Business & Commerce
Select Committee on State Real Property Data Collection, Reporting,
Financial Statements
Sources of Income
Watson is a partner at Brown McCarroll, where he specializes in commercial litigation.

Watson has an interest in Watson Partners, Ltd., which has an interest in Old Posse, Ltd., in Austin, and Frontier Bank of Texas, which is based in Elgin.

He also has an interest Rust Oil Co. 1 (Elwanda) Partnership, in Fort Worth.
Property
Residential property in Austin valued at $809,813

Residential property in Pitkin, Colo., valued at $194,820 (Watson and his wife own this property along with her family)

341 acres in Woodward County, Okla.

Residential property in Taos, N.M. valued at $189,180

Ranch property in Gillespie County valued at $288,750
Analysis
In past personal financial statements, Watson has not disclosed that he shares a business interest with a lobbyist, Curtis Fuelberg, in Frontier Bank. Watson told the Tribune that, under his interpretation of state disclosure rules, he was not required to report it.

Watson has been leading a campaign to build a medical school in Austin along with Central Health, which has paid Brown McCarroll more than $260,000 since May for legal work on the plan, according to the Austin American-Statesman. Watson has rejected the idea that the relationship could present a conflict, and ethics experts contacted by the newspaper found no wrongdoing.

He has received vacation-related gifts from Ben Barnes, the former Texas House speaker and lieutenant governor turned lobbyist, and Steve Hicks, a University of Texas regent, according to filings.