As Texas bans diversity and equity offices at public colleges, Rice University's inclusion efforts march on
DEI efforts have become a lightning rod for debate in American higher education. At the private Houston university, officials admit impact is hard to measure — but they also see progress from their work.
Sign up for The Brief, The Texas Tribune's daily newsletter that keeps readers up to speed on the most essential Texas news.
---
HOUSTON — It's 10 a.m. on a Tuesday morning in September and Alexander X. Byrd's daylong, meeting-packed marathon across Rice University's lush grounds is just ramping up.
He's having his team in the diversity, equity and inclusion office discuss a divisive debate that erupted at Yale University after a professor portrayed administrators' guidance against racially offensive Halloween costumes as an affront to free speech.
But Byrd didn't want to debate costume etiquette. He focused on a larger, admittedly abstract and difficult goal: How to confront conflicting opinions while fostering a campus culture where everyone feels heard and respected.
For Byrd, this kind of conversation lies at the heart of his goals as vice provost for the Rice's DEI office.
"You don't have to make people all of the sudden agree with each other," Byrd said. "That can't happen. It doesn't have to happen."
Over the past year, the term diversity, equity and inclusion has become a lightning rod for debate in American higher education. In Texas, Republican lawmakers banned DEI offices at public colleges and universities starting next year, arguing they emphasize divisions between different racial or ethnic groups and force liberal ideology onto students.
State Sen. Brandon Creighton, a Conroe Republican who authored the new law, said Texas' diversity should still be reflected at its universities.
"However, the elevation of DEI offices, mandatory diversity statements, political litmus tests, and diversity training have the opposite effect and only further divides," he said in a statement when the bill passed out of the Senate. "DEI programs have become a million-dollar industry at taxpayer-funded institutions–yet they have made no progress advancing or increasing diversity."
The legislation came two years after state lawmakers targeted the academic discipline known as "critical race theory" and limited how topics like race and racism can be discussed in K-12 public schools. And shortly after the new DEI law passed, the U.S. Supreme Court struck down the use of race in college admissions, eliminating a longstanding tool universities used to increase diversity and address the historical exclusion of students from certain backgrounds.
The DEI office ban is forcing public universities to tamp down efforts that highlight diversity or end targeted support for underrepresented groups. Many spent the summer figuring out how to comply with the new requirements. It's also already hindered hiring, public university officials say.
But Rice, located in Texas' largest city that is celebrated for its diversity, is moving in the opposite direction. The prestigious private research institution is doubling down on its support of equity for all students regardless of their background or lived experience.
"Truly creative, innovative thinking and research does not happen in a vacuum or in monolithic environments," university administrators told students in a letter months before the Supreme Court banned affirmative action in college admissions. "It happens when there are many voices and perspectives at the table and when the people speaking feel they are heard and that they belong."
Over the past few years, Rice's DEI office has created new required courses on diversity and tailored freshmen orientation to students from underrepresented backgrounds. It has enhanced efforts to boost faculty diversity through fellowship programs. This month, a university task force recommended the school add dozens of Black faculty and create a new space on campus for Black students as part of a four-year examination of the university's racist history. Rice has also funded research on diversity and equity in Houston and across the country. Leaders hope these efforts will create a campus culture of belonging that becomes second nature to students.
Provost Amy Dittmar, who oversees university academics and whose office hosts the DEI department, compares the school's DEI efforts to the goals of a study abroad program.
"We want students to have international experiences … not because we are trying to make them citizens of another country, but because we want them to have those experiences to understand," she said. "Can you walk in somebody else's shoes?"
• • •
In September, The Texas Tribune spent a day with Byrd and his team as they continue their DEI work without restraint, a stark contrast to what's unfurling at public universities where administrators are dismantling such offices and rethinking how to serve students from all backgrounds without breaking the new state law.
Despite Rice's commitment, people of color in the department are also still working through questions of inadequacy and finding their place, the exact issues the DEI office is trying to help everyone on campus overcome.
Around 11 a.m. on that recent Tuesday, Byrd wrapped up his weekly staff meeting and headed upstairs to meet with one of the new members of his team, Brandy Edmondson.
She came to Rice in August through a fellowship that supports aspiring professors and researchers interested in promoting equity in their research and teaching. Edmondson, who is Black, is one of the first fellows partially funded by the DEI office.
Rice is actively trying to diversify its teaching ranks. The fellowship is one way to achieve that. Last year, 68% of faculty were white, 9% were Hispanic and 4% were Black, according to university data.
When Edmondson first met with a group of new fellows this fall, she immediately noticed she was the only Black program participant in the room. She was already grappling with some anxiety about how she'd be perceived when she told others she was partially funded by the DEI office.
"You wonder how people are taking in that information, like, 'Oh, she's just here because it's the DEI office or whatever,'" she told the Tribune.
That's despite an impressive resume. Edmondson got her undergraduate degree from Spelman College, a historically Black university, and her Ph.D. from the University of Minnesota. She then spent a year on a Massachusetts Institute of Technology fellowship.
Edmonson is still finding her way on Rice's campus, forcing herself to overcome the early awkwardness of showing up to events alone and meeting new people.
"I do sometimes feel like, OK, let me prove myself right now," she said. "Let me throw out that I also went to MIT to make them think that [I belong]."
She wants to secure a tenure-track position at the best university possible. She is aware of the national pushback against DEI efforts, which, for now, have largely fizzled in most states where legislation was proposed. But the success of anti-DEI legislation in Texas and Florida gives her pause about whether she wants to build her career in this state.
"Am I who they even really want?" she wondered. "Because yes, they're seeing my resume and accepting me for my qualifications, but you know, my culture, the way I speak, the way I dress, is that also OK and encouraged and accepted?"
• • •
Rice employees often joke that they work in a bubble, referring to the outside world as "beyond the hedges," a reference to the well-manicured shrubbery that lines the campus. But the university isn't immune from the political conversations emanating from the Texas Capitol 165 miles away.
At Rice, Luziris Pineda Turi, an associate vice provost of DEI, helps teach a required, five-week series for freshmen called "critical dialogues on diversity."
It's an introductory course intended to teach students how to have conversations — rather than debate — about diversity. Some sessions focus on how identity is a lens through which to view the world. Another talks about how seemingly small comments about someone's race, gender or socioeconomic class can make them less comfortable sharing their perspectives or lived experiences. Students also learn how to respond when they witness racist or homophobic comments.
The university made the series mandatory in 2021. But this year, Turi said, they added an educational open house to clarify and explain the program's intent given the current national rhetoric around diversity, equity and inclusion.
"Students are a little bit suspicious of [it]. 'Are you going to try to like, shove down certain messaging?" Turi said. "So we want to demystify that."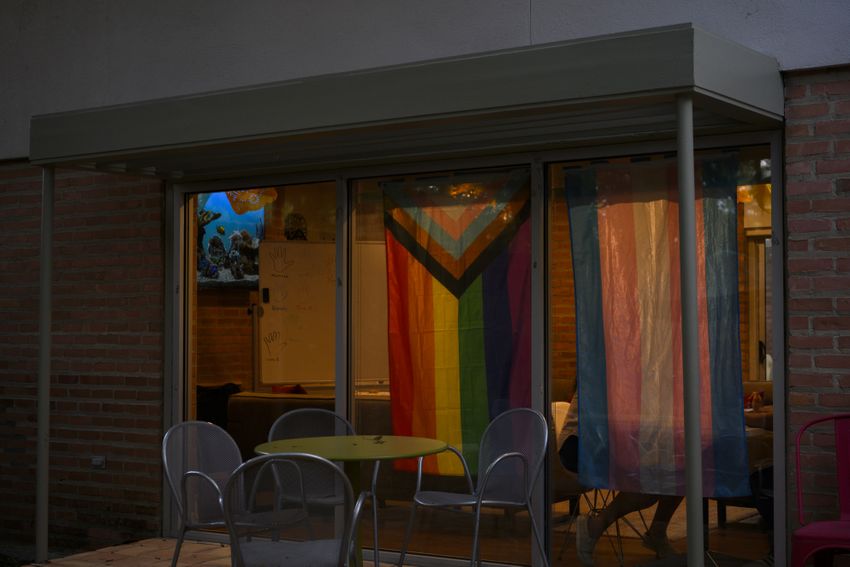 The national discourse on race and diversity has always been divisive, but a new chapter opened — culturally and politically — in the aftermath of the murder of George Floyd, who grew up in Houston and was killed by a Minneapolis police officer in 2020.
But there's also been fierce and organized pushback against the notion that American institutions are inherently racist. Some lawmakers and conservatives consider DEI programs and affirmative action to be racist against white Americans.
Texas' top officials — and far-right Republicans nationwide — have portrayed any number of local, state or federal attempts to foster inclusivity as indoctrination. When Texas lawmakers this year targeted DEI programs at universities, Black and Latino legislators criticized Texas leaders' priorities, saying they were using people of color as pawns in an appeal to the far-right GOP base.
Catherine Clack, an associate vice provost of DEI and director of the multicultural center, said that when people claim that DEI initiatives are divisive or indoctrinating students, they are trying to disenfranchise underrepresented groups for the sake of upholding existing political and economic power.
"The actions in Texas are rooted — soundly rooted, deeply ingrained — in white supremacy," she said.
Still, linking the opposition to DEI offices to white supremacy is exactly the kind of comment that critics latch onto as evidence that diversity and inclusion work equates to liberal indoctrination.
Byrd, a history professor whose area of study focuses on the history of Black America and the Jim Crow South, said he believes much of the national conversation about DEI in higher education stems from a fear of hard conversations and a lack of trust in teachers and students to navigate those complicated waters. But based on his research, he doesn't reject the idea that it is possible white supremacy is a factor, too.
"If it does play a role, then the way to work through questions like this is in conversation with people who hold different ideas about the purpose of DEI work," he said.
Still, others are disappointed that the national conversation about DEI has largely homed in on the work these offices do to build and support racial diversity, ignoring other work done to include groups such as students with disabilities or military veterans.
Alan Russell is the executive director of Rice's Disability Resource Center, where he works to make sure students receive appropriate accommodations for any physical needs. His office is not part of the DEI office, but the team has welcomed him to attend their weekly staff meetings.
"It's not always obvious to a lot of people that DEI encompasses disability issues," said Russell, who uses a wheelchair. "We can have access without inclusion, but you can't have inclusion without access."
• • •
Around 1:30 p.m., Byrd headed back to his office to meet with a different staffer in the DEI office, Brooke Johnson, to discuss her proposal to teach a diversity course in the chemistry department next semester.
Two years ago, Rice announced that all students must take a course in an area called "analyzing diversity" as a way to infuse more conversations about diversity into the curriculum. These courses prepare students to evaluate differences and address inequities.
Last fall, 28% of undergraduate students at Rice were white, a large decline from 16 years ago when white undergraduate enrollment was 52% Meanwhile last fall, 30% of undergraduates were Asian and 15% were Hispanic. Black undergraduate enrollment was 8%.
Johnson, who recently earned her Ph.D. in chemistry from Princeton University, remembers often being the only Black student in her classes when she was pursuing her bachelor's degree at Rice. She credits her time as a sprinter on the university track team, which was more racially diverse, as a respite from her largely racially homogenous classes.
"I would question myself in terms of like, do I belong?" Johnson remembered. "Am I actually interested in chemistry? I don't know anybody in my family who studied chemistry. There's no other Black people in my year studying chemistry. I don't have professors that look like me that are studying chemistry. Not even knowing how to, if I wanted to be a professor, what is the path to that?"
At Princeton, she took some African American studies courses and was interested in how the predominance of white men in the chemistry field directed the path of scientific discovery and scholarship. Now, she's at Rice to combine those two interests in a new course.
​​As Johnson and Byrd discussed her proposal, Johnson appeared apprehensive and nervous about the prospect of developing a brand new course.
"I want to do this correctly because I am teaching people and I am, in some ways, setting a precedent," she said.
Byrd said he appreciated that her standards were high, but cautioned against letting that get in the way of her confidence.
"This course is going to be amazing," Byrd told her. "It'd be easier to do in the humanities. … For people to be able to approach racial and social equity work, science education, and important topics in chemistry is going to excite a large number of students."
But Byrd remembers that apprehension well. A native of Houston, he attended public schools across the city before attending Rice himself. Its tree lined campus with its sweeping Mediterranean-style buildings were a stark difference from the neighborhoods in which he grew up.
When Byrd was a student, much of the efforts to build and support a diverse student body at Rice were led by Clack. At the time, she was one of few people on campus charged with recruiting and retaining students of color.
After Byrd graduated and became a professor, he and Clack became friends. Eventually, she served as a groomswoman in Byrd's wedding.
Clack said measuring the impact of DEI offices can be difficult, given how change can be incremental, slow and often intangible.
But Clack notices the progress.
These days, she consistently hears from students who want to bring conversations about diversity and inclusion into their work.
"It's not just the students of color who are saying, 'I need this,'" she said. "There are other students on campus who are saying, 'we need to do this,' or 'I need to be better at that,' or 'how can we improve this because this happened to my friend?' It's becoming a community value."
• • •
At 7 p.m., Byrd popped over to another campus building for an evening class for low-income and first-generation freshmen. Rice pays to bring them to campus for 10 days over the summer to get acclimated to the campus and surrounding city. When the fall semester started, the same group of students are placed in a class together called Race, Place and Power in Houston.
DEI administrators hope the summer seminar will help these students avoid pitfalls that can trip up those whose parents can't lean on their own experiences to give guidance on navigating new classes, developing study habits or troubleshooting where to go for academic support. During the training, administrators encouraged students to stop by office hours if anything's on their mind.
The class primarily consists of students of color, a dynamic that freshman Aniyah Johnson said is different from her other courses at Rice, where she is one of a few Black students. In her other classes, Johnson said it quickly became clear that she grew up with fewer resources than other students when her classmates discussed various internships they'd had. She said she relies on the community of the race and power class because it's a place where she doesn't have to worry about how she is being perceived.
"I'm me and they're them. And we have different experiences, but it doesn't make one [superior] over the other," she said.
To Byrd, these are the kinds of realizations he hopes his office helps manifest without political distractions.
"I'm reticent to contribute to the theater," he said. "I think the public discourse has unfolded in such a way that it is difficult to have those conversations."
The class ended with cookies. As students chatted with one another, Byrd dipped out for the evening. He had another busy day tomorrow.
Disclosure: Rice University has been a financial supporter of The Texas Tribune, a nonprofit, nonpartisan news organization that is funded in part by donations from members, foundations and corporate sponsors. Financial supporters play no role in the Tribune's journalism. Find a complete list of them here.
---
The Texas Tribune partners with Open Campus on higher education coverage.
Texans need truth. Help us report it.
Independent Texas reporting needs your support. The Texas Tribune delivers fact-based journalism for Texans, by Texans — and our community of members, the readers who donate, make our work possible. Help us bring you and millions of others in-depth news and information. Will you support our nonprofit newsroom with a donation of any amount?
Yes, I'll donate today
---
Information about the authors
Explore related story topics