How San Antonio ISD is paying for its largest teacher pay raise in years
The district is eliminating dozens of unfilled jobs and might need to make other cuts as soon as next school year as enrollment continues to decline.
Sign up for The Brief, The Texas Tribune's daily newsletter that keeps readers up to speed on the most essential Texas news.
---
The San Antonio Independent School District gave teachers and other staff the largest raise in 25 years last week, despite facing declining enrollment and the end of COVID-19 aid, setting up the district for a financial shortfall.
So how is the district going to pay for it?
The district is paying for the historic move by eliminating scores of jobs, worth $22.5 million, from the Central Office and other departments, aiming to cushion the classroom from any budget cuts. Another $1.2 million will come from campus-level budget cuts to fund the $19.9 million in pay increases approved by trustees.
But with a trend of declining enrollments expected to continue, district leaders warn that more severe cost-saving measures will have to be considered as soon as the next school year.
Documents obtained by the San Antonio Report through open-records requests, as well as interviews with top district officials, reveal that more than 70 jobs were eliminated from the Central Office over the last school year — and dozens more are being eliminated in the next year in order to pay for the raises. The eliminations are expected to help sustain the raises in the future.
Central Office budget reductions equaled $16 million in 2022-23, and an additional $6.5 million will be made in 2023-24, according to the district. The Central Office includes administrators and support staff above the campus level, such as human resources, academic support and assistant superintendents overseeing various departments.
Those eliminations are not a reduction in force or a layoff, like the one the district underwent in 2018. Unlike that situation, many of the positions eliminated were already vacant, and some affected by the cuts were offered other open positions. Officials say the cuts are just the first step, with other strategies required in the near future to remain financially viable.
Other cuts will likely come from a reduction in campuses and other facilities. After years of declining enrollment, only 48% of facilities across the district are being utilized, with millions of dollars going toward maintenance and operation of the half-empty buildings.
Among the positions eliminated this year are more than two dozen bus driver positions and a police officer, as well as key executive posts like the assistant superintendent of bilingual instruction and a director of special education.
Toni Thompson, the chief of staff for the district, told the Report that the reductions overall have not had an impact on the operations of the district.
"We really didn't scale back on operations per se," she said. "Some folks ended up doing more than perhaps they were, some folks ended up having revised job descriptions, but any critical and important business operations, really, were not compromised, we just started to scale back."
Nathan Graf, the senior executive director of transportation, said the district reviews bus routes on an annual basis to gauge the number of positions necessary, while maintaining extra staff to cover absences and rotate routes.
"Because we did not need that many … positions, we were able to cut those without impacting service," he said.
An additional 15 driver positions are being cut next year, in part by adjusting the bell schedule to allow drivers to cover routes for both middle and high school.
"It allows us a greater cushion between our middle and high school time … whereas before it was too tight to have one driver service a middle and … a high school," he said. "It would have required us to do two drivers."
Each bus driver position eliminated saves about $40,000, Graf said.
Other positions, like the assistant superintendent of bilingual instruction, have remained vacant for the last year, said Superintendent Jaime Aquino.
"That assistant superintendent had retired," he said. "So it's been the … senior executive director of the office of multilingual and dual language who has been leading … that. She has a very large office [and] team."
That senior executive director position has been elevated and expanded to add the roles previously included in the assistant superintendent position, Aquino said.
Thompson said each department had the ability to make decisions about the cuts within its ranks, with the goal of cutting 10% to 15% across the board.
"At the superintendents' level, it was just, this is what we need to do, and this is why, and at the department level, it was more a matter of how it was going to be implemented," she said.
Thompson was previously overseeing human capital management, where several of the impacted roles were on the COVID response team, which was responsible for tracking COVID rates in the school and managing contact tracing and other related duties.
"By this time last year, that need had diminished," she said. "So I knew, OK, this is a position that I'm not going to have to continue to carry forward."
Those employees were offered other jobs in the department that were vacant, Thompson said.
District officials stressed that the Central Office cuts, which have been in the works since Aquino joined the district a year ago, prioritized staff in the classroom and aimed to cushion them from any impacts of budget cuts.
"We knew that we needed to determine pretty quickly what we needed to do to address the deficit," Thompson said. "And that's how we ended up determining that we were going to make some pretty huge cuts at the Central Office level … and the interest now has been to protect the classroom as much as we can."
The San Antonio Alliance Union lauded the massive raise, which was given early in the budget season, giving San Antonio ISD an edge when hiring teachers — a high need for districts across the city.
In a statement released after the proposal was presented, alliance President Alejandra Lopez commended the board.
"Our members have spoken passionately about the importance of a pay raise to attract and retain high-quality staff in every role," she said. "This compensation package represents a significant investment in the people who educate, feed, transport, and support our students, and demonstrates SAISD leadership's commitment to school workers — the heart of the SAISD familia."
The raise gives the district an edge in recruiting teachers, something other districts have noted.
At a recent Judson Independent School District meeting, a community member asked the board to give its staff a substantial raise, citing the San Antonio ISD increase as the reason it was needed.
Staff cuts required to pay for raise
In addition to the Central Office cuts, the raise package comes at other costs.
Another $1.2 million in cuts, making up 2% of the overall budget, are being made to campus allocations, which pay for librarians, counselors, assistant principals and other non-classroom staff. Board president Christina Martinez said those decisions were left to campus leaders.
"This was a way of giving principals autonomy over the allocations that they have, knowing that allocations were changing," she said. "We were having to right-size, we're having to make sure that we're not funding campuses exactly the same way, regardless of the number of the students they have."
Those shifts were required to reach a more equitable budget, she said, adding that any people with eliminated positions could find alternatives throughout the district.
"If you want to stay in education right now, there is a job for you," she said. "And we want those people that are committed to the district that have a love for SAISD to still stay with us, to find a place and stay with us."
Positions eliminated as part of the campus level cuts include dozens of librarians, family engagement specialists and more. Those cuts are reverberating through the community. On the night raises were being considered, much of the public comment called for the board to intervene to save the jobs of beloved librarians.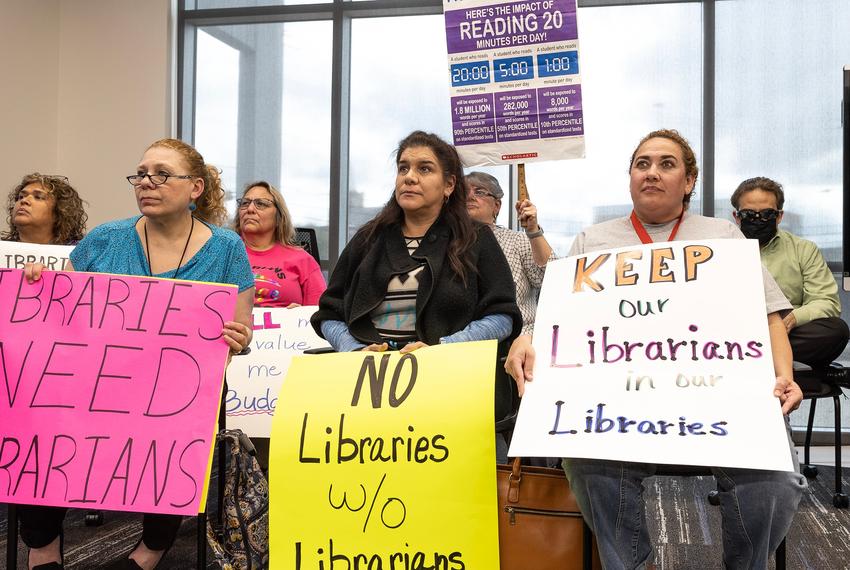 Multiple families implored the board to intervene in the decision to eliminate the job of Bonnye Cavazos, a librarian at Hawthorne Academy.
"She has inspired her kids to be not just good readers, but good citizens," Bill Aylor said.
One Hawthorne student called Cavazos "the heart of the school."
"When we don't have the heart, the body does not run correctly," she said. "Please reconsider letting … her go, because we love her."
But Aquino and board members stressed that the process allowed the autonomy of campus officials to make the decisions on what priorities worked for the campus.
The cuts come as school districts across Texas lobby for more funding from the state, which is considering a number of laws that could provide modest increases in school funding. The state has a budget surplus that advocates hope will be used to give the struggling sector a reprieve.
Without substantial funding, more painful decisions will have to be made. San Antonio ISD trustee Patti Radle said those decisions wouldn't be necessary if the state were to adequately fund the districts.
"It's been difficult for people to understand," Radle said, referring to the campus allocation cuts. "The librarian is somebody who's just, you know, fantastic and has nurtured parents and children in wonderful ways. But, you know, the principal decided that the way they could get things done, the way they need to get them done, that was something they could do."
"The state needs to give us the money so we can keep that wonderful librarian," she added.
More cuts forecast in the next year
Despite the millions of dollars in cuts, the board is still facing a projected deficit of as much as $40 million — one mostly covered by the remainder of COVID relief dollars from the Elementary and Secondary School Emergency Relief Fund. At the end of the next year, those funds will expire, and the pinch of declining enrollment will set in. But the district has been planning for the fall by creating a "soft landing."
"During 2022, the district utilized our ESSER grant funding to strategically reserve $27 million of general fund balance to be spent in years after ESSER expires to create a 'soft landing' post-covid," San Antonio ISD spokesperson Laura Short said. "Our long-term sustainability plan calls for us building reserves during the three years that we have ESSER and utilizing the reserves in the three years post-ESSER."
That soft landing should keep the district from having to dip into the general fund balance, which is like a savings account for school districts, in the immediate future.
But the financial outlook will necessitate more sensitive discussions about how to cut back spending, district officials warn.
Facilities costs will be at the top of that list.
Across the district, only 48% of facilities are in use — a number similar to the facility usage of the Harlandale and South San Antonio Independent School Districts, both of which voted in recent months to close schools.
Trustee Ed Garza has been needling district staff about the need to right-size for months.
Those conversations will begin in earnest next year, Thompson said.
"I can tell you that it's going to be top of mind as we go to open the new school year," she said. "Right now we are focused on finalizing the budget, getting the budget approved, preparing for the new school year, but it will be at the top of the agenda for review and assessment and discussion certainly when the school year starts."
Thompson stressed that any potential decisions "would be made after fully engaging all of the major stakeholders and taking things out to the community for discussion."
Recent conversations in Harlandale and South San Antonio have demonstrated the difficult and emotional process school closures could present. Aquino said he was watching those conversations and recently took Central Office staff, parents, union members and principals to visit Jefferson County in Colorado, where 16 schools are closing in response to declining enrollment. The visit was to learn how they are navigating the process as the district starts to formulate a plan, he said.
"I hope you know that I lead from a spirit of transparency," Aquino said, adding that there are multiple committees that will be giving input on these matters.
"One is the growth and development committee," he said. "They've been talking about the right-sizing, and there are different stakeholders, from developers to parents; every single member district is there."
In Colorado, he said, he learned about how to communicate through the process of school closures, how to broach the conversation with principals and teachers, and how to support schools that will be receiving students in the event of consolidation.
Aquino also stressed the integral role community engagement will play moving forward.
Without changes, Aquino said, the quality of education being provided at some schools will continue to suffer.
"In very small schools, we're not able to keep our promise of providing a high-quality education that [students] deserve," he said. "What I mean by that is … many of these schools, we aren't able to offer extracurricular activities such as music or fine arts."
The district's efforts are not only about costs, but also about implementing the district's five-year strategic plan.
"We are in the middle of a restructuring our academics and school leadership teams, not only for addressing a cost saving, but also making sure that the structure … is aligned to be always learning and how we can support our schools in implementing our new plan," he said.
---
We can't wait to welcome you Sept. 21-23 to the 2023 Texas Tribune Festival, our multiday celebration of big, bold ideas about politics, public policy and the day's news — all taking place just steps away from the Texas Capitol. When tickets go on sale in May, Tribune members will save big. Donate to join or renew today.
Quality journalism doesn't come free
Perhaps it goes without saying — but producing quality journalism isn't cheap. At a time when newsroom resources and revenue across the country are declining, The Texas Tribune remains committed to sustaining our mission: creating a more engaged and informed Texas with every story we cover, every event we convene and every newsletter we send. As a nonprofit newsroom, we rely on members to help keep our stories free and our events open to the public. Do you value our journalism? Show us with your support.
Yes, I'll donate today
---
Information about the authors