LGBTQ+ Texans
Two Texas bills would restrict lessons about sexual orientation and gender identity in public schools
The legislation closely mirrors a Florida bill passed last year, dubbed by critics as the "Don't Say Gay" law, which detractors say would further isolate LGBTQ students and open teachers and school districts to legal risks.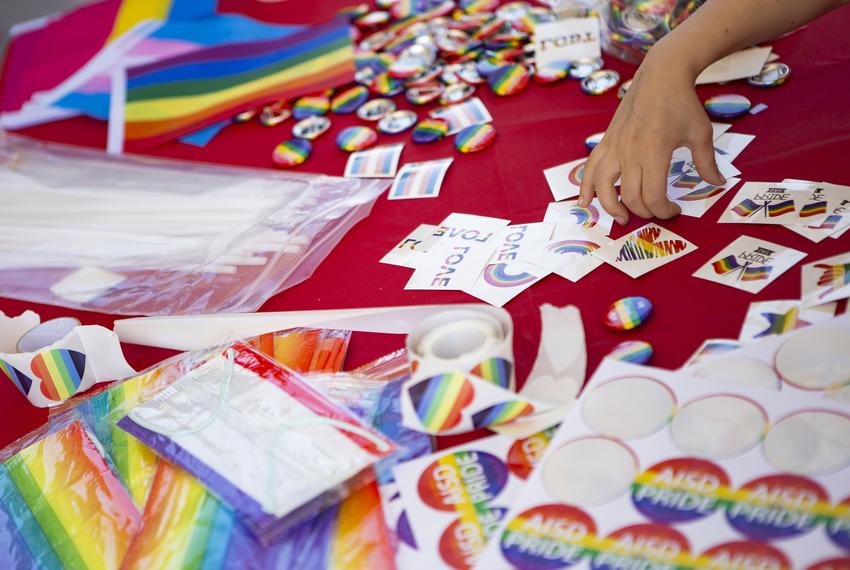 Sign up for The Brief, The Texas Tribune's daily newsletter that keeps readers up to speed on the most essential Texas news.
Two bills that would ban classroom instruction about sexual orientation and gender identity in Texas public schools before certain grade levels are poised to receive top Republican backing in this year's legislative session. But critics warn that the legislation could further marginalize LGBTQ students and families while exposing teachers to potential legal threats.
The two bills — authored by Reps. Steve Toth, R-The Woodlands, and Jared Patterson, R-Frisco — closely resemble legislation out of Florida that critics dubbed the "Don't Say Gay" law. House Bill 631 and House Bill 1155 are among a flurry of anti-LGBTQ legislation awaiting lawmakers when they return to the Capitol on Tuesday.
Florida's law prohibits schools from teaching about sexual orientation or gender identity from kindergarten through third grade. Both Texas bills mirror such a ban. Toth's HB 631 would expand the restriction until fifth grade. Patterson's HB 1155 would extend it to eighth grade.
Their proposals would also prohibit lessons on sexuality and gender identity at any grade level if they are "not age appropriate or developmentally appropriate." Patterson's bill doesn't define what is appropriate for various age groups. Toth's bill requires the lessons to align with state standards but doesn't specify which standards.
Like Florida's law, the two Texas bills don't explicitly ban the use of the word "gay" in schools. The bills' authors also maintain that the legislation would protect "parental rights" by allowing parents to more directly control what their children learn in school, including the existence of different sexual orientations and gender identities.
"Parental rights are paramount to the safety and well-being of a child," Patterson said in a Jan. 3 tweet introducing his bill. "Therefore, I filed HB 1155 to ensure no school teaches radical gender ideology to any child from K-8th grade, and where parents must review and sign off on any health-related services."
Lt. Gov. Dan Patrick has signaled that he would support passing a Texas version of the Florida law — even before these bills were filed.
"I will make this law a top priority in the next session," he said in a campaign email last April.
Critics of the legislation argue that the bills' vague nature would suppress discussion related to LGBTQ issues and representation.
"The reality is that everybody has a gender identity and sexual orientation; avoiding those conversations is incredibly difficult," Adri Pérez, an organizing director with Texas Freedom Network, told The Texas Tribune. "What it becomes is a tool to be leveraged specifically against LGBTQIA+ people, because what stands out is not the people who fit in but the people who are being specifically targeted and attacked as being different."
The bills come amid a political environment in which LGBTQ people are seeing increased hostility. Texas Republican lawmakers this session are backing legislation targeting gender-affirming care for trans youth and drag shows. The state GOP's official party platform explicitly opposes "efforts to validate transgender identity." It also labels homosexuality as "an abnormal lifestyle choice," even though most people have "little or no sense of choice about their sexual orientation," according to the American Psychological Association.
Toth's office told the Tribune that he was not able to respond to questions for this story. Patterson did not respond to requests for comment.
Ricardo Martinez, CEO of Equality Texas, an LGBTQ organization, worries that one aspect of the bills could result in some students being prematurely outed, or forced to reveal their sexual orientation or gender identity to their parents before they're ready to share that personal information.
Both bills would require school districts to notify parents if there are changes to how campus officials provide services to or monitor a "student's mental, emotional, or physical health or well-being."
"This divisive and dehumanizing roster of bills has the government interfering into our most personal decisions and seeks to ban any honest conversations about race, gender identity and sexual orientation," Martinez said.
Both bills also propose that the Texas Education Agency "review and revise" various frameworks for school counseling and educator practices before the new school year in 2024.
Patrick's and House Speaker Dade Phelan's offices did not respond to the Tribune's requests for comment.
Since last year, Texas educators have pointed out that elementary schools in the state already have little formal instruction on gender identity or sexuality.
Patty Quinzi, the director of public affairs and legislative counsel for the Texas American Federation of Teachers, said the content of sex education in public schools is determined by local school boards. These governing bodies typically appoint parents and administrators to school health advisory councils that help ensure the community's values are included in health education.
Quinzi said no one has brought forward substantive examples of schools teaching elementary or middle school students about sexual orientation and gender identity.
"This is like a bad solution in search of a problem because I haven't heard this as being a problem at all," she said.
The only substantive issue parents have raised is the presence of books with LGBTQ characters in school libraries, which has led to demands to remove certain books from school shelves. A September report from PEN America, a nonprofit organization advocating for free speech, found that Texas had banned more books centering around race and LGBTQ issues than any other state in the country.
"We wonder how this is gonna affect LGBTQIA teachers, and does this mean that someone can't put up a picture of their family?" Quinzi said. "What kind of fear is this going to instill in teachers and being allowed to be themselves?"
Quinzi worried about the consequences of stifling teachers' identities on LGBTQ students who may not have a safe home environment where they can be themselves.
"It's so important for children to see themselves in their teachers," she said.
These proposed bans on classroom instruction of sexual orientation and gender identity could limit or ban discussion of many issues, ranging from marriage equality to adoption to the AIDS epidemic. They could also cover smaller topics such as gendered dress codes and questionnaires that ask students whether they are a boy or girl, Pérez said.
And as is the case in Florida, there is fear that these Texas bills could restrict freedom of speech.
"It creates a scary environment wherein a teacher could be criminalized or attacked or removed from their job that they love," Pérez said.
For teachers, the legal gray area of avoiding these topics — if either bill becomes law — could be messy.
Chloe Kempf and Brian Klosterboer, attorneys with the American Civil Liberties Union of Texas, said the bills could pose explicit risks to teachers and school districts in the form of lawsuits from parents who believe they're not following the law.
Toth's bill outlines a mechanism for parents to sue school districts for violating his proposals, which includes the parental notification portion of that bill. Experts say that part of these bills could require teachers to potentially out their students, and parents could sue districts if teachers don't comply. School districts would be saddled with the cost of those lawsuits, experts say.
More broadly, Kempf said, the bills would pose risks to schools and educators in the form of potential ultra vires claims, which enable citizens to sue public officials who violate state laws. Although it's not clear if these types of lawsuits would be successful, Klosterboer said, the larger impact is more confusion and headaches for schools.
"When a law is vague, it allows for discriminatory and targeted enforcement. And it also creates a very hostile and chilling atmosphere where people … go out of their way to self-censor," Kempf said.
The bills' vague language could also present challenges for schools trying to protect teachers from potential lawsuits.
"[Schools] might not even know what to tell teachers and staff how to actually protect themselves and protect the school district," Klosterboer said.
Klosterboer added that it seems "very likely" that if Gov. Greg Abbott signs one of the bills into law, it would invite legal challenges.
Last month, a coalition of 18 Democratic attorneys general from across the country submitted an amicus brief in support of a lawsuit filed by Florida families and LGBTQ advocacy groups against the state's law. The lawsuit, filed shortly after Florida Gov. Ron DeSantis signed the bill, argues the law violates freedom of speech as well as rights to due process and equal protection.
On the other hand, Florida has received support from 14 Republican-led states. "The law does not violate anyone's right to expression or receive information, does not discriminate, and is not unconstitutionally vague," read the amicus brief filed Dec. 7 by Attorney General Ken Paxton on behalf of Texas and 13 other states.
Even before these bills, trans people in Texas have already faced a significant amount of negative attention from top Republicans.
Following a nonbinding legal opinion from Paxton last February, Abbott directed the Department of Family and Protective Services to investigate parents who facilitated gender-affirming care for their kids for child abuse. In the weeks after his directive, hospitals and health care providers across Texas restricted critical treatment, fearing legal consequences if they provided gender-affirming treatment endorsed by all major medical associations. But Abbott's decision has also faced significant legal challenges.
The Washington Post also reported last month that Paxton requested data on trans Texans from the Texas Department of Public Safety. Officials would not say why the information was requested.
Ultimately, LGBTQ advocates argue that these legislative actions are just another attack on an already marginalized population. As of last week, Texas Republican lawmakers have already filed 35 anti-LGBTQ bills for the 2023 session, far outnumbering the number of such bills that were filed ahead of the 2021 session, according to Martinez.
"The legislation is meant to stigmatize LGBTQ people, isolate LGBTQ kids, and make teachers fearful of providing safe and inclusive classrooms," he said.
Disclosure: ACLU of Texas, Equality Texas, Texas AFT and Texas Freedom Network have been financial supporters of The Texas Tribune, a nonprofit, nonpartisan news organization that is funded in part by donations from members, foundations and corporate sponsors. Financial supporters play no role in the Tribune's journalism. Find a complete list of them here.
Texans need truth. Help us report it.
Independent Texas reporting needs your support. The Texas Tribune delivers fact-based journalism for Texans, by Texans — and our community of members, the readers who donate, make our work possible. Help us bring you and millions of others in-depth news and information. Will you support our nonprofit newsroom with a donation of any amount?
Yes, I'll donate today
---
Information about the authors
Explore related story topics