Texas 2022: Year in Photos
Texas Tribune photographers captured a historic year of challenges and resilience.
Sign up for The Brief, our daily newsletter that keeps readers up to speed on the most essential Texas news.
The population of Texas, which had roughly 125,000 people when it entered the Union in 1845, surpassed 30 million in 2022. This year, Hispanics became the largest racial or ethnic group, outnumbering non-Hispanic whites for the first time.
These seismic changes unfolded in the background, during a year in which Texas Tribune photographers had the privilege of bearing witness to major news events across the state, chronicling the highs and the lows, moments of tragedy and triumph.
This was the third year in which Texas, and the world, grappled with COVID-19. In hospitals and clinics, at testing sites and in drugstores, Texans received treatment, medicine and vaccines. Living in the state with the highest rate of uninsured children and adults, low-income Texans remained particularly at risk of serious illness and death.
Even for a land accustomed to booms and busts, 2022 was a tough year for Texans. Inflation peaked in June at 9.1%. As politicians bickered over whom to blame — the Federal Reserve, President Joe Biden, Congress — millions of Texans simply struggled to make the rent, pay their mortgages, buy gas, put food on the table and keep their kids clothed and ready for school.
A half-century-long struggle over the right of American women to terminate pregnancies reached a climax in June, when the U.S. Supreme Court voided the constitutional right to abortion that the court had enshrined in 1973. Texans who believe that life begins at conception and that abortion is murder rejoiced. Texans who believe that the right of women to control their own bodies is paramount despaired — as seen in Kaylee Greenlee Beal's photo of a nurse reacting to the Supreme Court's decision overturning Roe v. Wade. Most Americans, polls showed, support a right to abortion, with restrictions after around 15 weeks of pregnancy.
Jordan Vonderhaar's photos of the Crawford family illustrated the challenges facing families with transgender kids in Texas. Some have left the state, which has restricted participation in school sports by trans students and directed child-abuse investigators to scrutinize families that have sought gender-affirming care. Conservatives asserted that flamboyant flouting of gender norms was a form of deviancy and perversion to which young people should not be exposed. On the far right, activists seized on drag performances, particularly those with young children in the audience. Liberals argued that cross-dressing and experimentation with gender are not only harmless, but also a healthy part of growing up.
Around one-third of Texans considers security along the U.S.-Mexico border to be the most important problem facing Americans, and these Texans gave Gov. Greg Abbott a decisive victory in his quest for a third term in office. Ivan Pierre Aguirre captured scenes at the border, where Abbott tried all kinds of measures to draw attention to the migration crisis — from blocking inbound commercial trucking to deploying National Guard members to busing migrants to liberal cities like New York and Washington, D.C. And yet, countless people fleeing war and violence, from Central America to Venezuela to Afghanistan to Ukraine, continued to show up at the border, hoping to get in.
On May 24, 19 schoolchildren and two educators were killed when a teenage gunman fired hundreds of rounds from an AR-15-style rifle. The lengthy delay in confronting the gunman and getting care to the victims yielded countless investigations and recriminations. It was the deadliest school shooting in Texas history, and it prompted Congress to pass the first significant federal gun legislation since 1994. The law made it easier to screen the mental health of gun buyers under the age of 21 and poured money into programs to keep guns out of the hands of emotionally disturbed individuals, but did not prohibit the sales of high-powered guns to juveniles, as reformers had sought. Evan L'Roy, the Tribune photo department's first yearlong fellow, has spent months returning to Uvalde documenting the grief and healing of a community shattered by gun violence.
From wildfires in Bastrop and on the King Ranch, to a drought that devastated cotton production in the South Plains, to a water main breakage in Odessa, Texans continued to confront disasters, natural and otherwise. Austin recorded its second-hottest summer on record.
In politics, Democrats held off a feared "red wave" nationwide, although they extended a Texas losing streak that began in 1994, the last time a Democrat won office statewide. The seven Texans who were newly elected to the U.S. House and will take office next month include young progressives, like Democrats Greg Casar of Austin and Jazmine Crockett of Dallas, as well conservatives viewed as rising stars in the GOP such as Monica de la Cruz, one of the first Latina Republicans to represent South Texas, and Wesley Hunt, a Black former helicopter pilot.
In 2022, Tribune photographers filed over 13,000 images. Our contributing photographers roamed the state to cover its diversity, immensity, beauty, challenges and resilience. We're proud to share this small sample of work by these talented journalists.
---
January
Houston, Jan. 14
Tears flow down through the mask of ICU nurse Mary Patton as Houston Methodist The Woodlands Hospital battles staffing shortages and a surge of the omicron variant.
McAllen, Jan. 8
Supporters of Gov. Greg Abbott wait in line at the Hispanic Leadership Summit to take a photo with the governor.
Midland, Jan. 28
Catherine Allen poses for a photo in her home. The artist said she has considered leaving town because of earthquakes, which doubled in Texas in 2021 compared to the previous year. "It seems like disaster is getting closer," she said.
El Paso, Jan. 31
Michelle Tennen holds a photograph of herself and her daughter Charley, who died by suicide in 2020. Hospital admissions for teenage girls who may have attempted suicide have increased 50% nationwide.
Bastrop, Jan. 19
Bastrop resident Marla Ferris was unable to return to her home after work on due to the Rolling Pines Fire and and was forced to sleep in her car in a gas station parking lot outside of Bastrop State Park.
---
February
Rio Grande Valley, Feb. 27
Adelyn Vigil, left, and her family pass their time at her grandma's home. Adelyn has had panic attacks since Gov. Greg Abbott ordered state child welfare officials to launch child abuse investigations into reports of transgender kids receiving gender-affirming care. "The thought of me being separated makes me cry — and to think that my mom could go to jail for it and not being able to see her anymore," Adelyn said.
Dallas, Feb. 3
Ruby Wilkinson and Maya Madabhushi are pulled on a sled in a storm that brought freezing temperatures and snow.
Kingwood, Feb. 7
Diana Crouch chats with her son, Cain, about his upcoming birthday party about six weeks after being back in their Kingwood home. She had spent about five months being hospitalized for a pregnancy severely complicated by COVID-19.
Brownsville, Feb. 16
High school junior Iryanna Rodriguez, 18, plays with her 9-month-old daughter, Ariyanna Juliett Fuentes, at Lincoln Park High School. The school enrolls teens who are pregnant or parenting and offers a host of resources, including child care.
---
March
Austin, March 1
Ashley (middle) chants, "God made trans kids! God loves trans kids!" with her children during a protest at the Texas Capitol.
Dallas, March 10
Laurena Ellis stands in front of her home with old photos of her family and her granddaughter, Sha'Niyah McGee, who died from COVID-19 in September 2021, when she was 16 years old. Ellis described her as a go-getter and caretaker for the entire family, emotionally supporting her three younger siblings as well as her mother. "She always wanted to make sure everyone was happy. Whenever anyone was sad, she could always make us laugh," Ellis said.
Granbury, March 21
Granbury ISD Superintendent Dr. Jeremy K. Glenn discusses agenda items with school board trustees at a GISD school board meeting. Glenn ordered librarians to remove books from schools, targeting titles about transgender people.
Austin, March 26
Rae Fenton, 12, hugs his brother Eli, 7, as he joins him on the stage during Diamond Dior Davenport's performance at Austin ISD's "Pride Out!" event. "I love drag queens," Rae said. "They're the biggest idols of my life."
Austin, March 11
Attendees of a Texas Department of Family and Protective Services Committee meeting cry while listening to public testimony on gender-affirming care for trans youth.
Laredo, March 3
Victor Treviño Jr. administers a vaccine against COVID-19 to Yaidra Lucas inside a bus. Workers from Nuevo Laredo were transported to the international crossing point to receive vaccines as part of a program to put leftover doses from the U.S. to use instead of letting them expire or go to waste.
Brooks/Kleberg County, March 31
A firefighter with Forest Bend Fire Department extinguishes flames at the site of the Borrega wildfire. The wildfire burned through a large part of the King Ranch and surrounding areas in Brooks, Jim Wells and Kleberg counties.
---
April
Ciudad Juárez, Mexico, April 12
Hundreds of semi trucks headed southbound into Mexico are seen at a standstill at the Ysleta Port of Entry. Truck drivers protested Gov. Greg Abbott's decision to have state troopers inspect northbound commercial vehicles one at a time. At this port, trucks were not flowing into Mexico to pick up more products and also not flowing into the U.S. to deliver those products.
Brownsville, April 12
A Texas Department of Public Safety trooper inspects a commercial truck at an inspection station near the Veterans International Bridge.
McAllen, April 14
Employees at the McAllen Produce Terminal Market took a blow to their business after shipping delays caused by Gov. Greg Abbott's border inspections.
Gatesville, April 25
John Lucio and his wife Michelle embrace Leno Rose-Avila at a press conference about the case of Melissa Lucio. The Texas Court of Criminal Appeals halted the execution of Lucio amid a strong public push for reevaluation of her case.
Washington, D.C., April 21
Two buses transporting migrants from Texas arrive at Union Station. Gov. Greg Abbott's plan to bus migrants to the nation's capital was in response to the expected end of Title 42, a pandemic-era emergency health order allowing immigration authorities at the border to expel asylum-seeking migrants as a way to contain the coronavirus.
San Antonio, April 4
Marleny, a migrant from Guatemala who fled her country in 2021, stands outside of the trailer home where she lives with her son. She was initially denied refuge due to Title 42, then U.S. immigration officials agreed to give her son a medical exemption and let both of them into the U.S.
---
May
Nuevo Progreso, Mexico, May 4
Pharmacy manager Victor Olvera puts boxes of drugs back on the shelf at the Uncle Sam Pharmacy. South Texas residents have long traveled south the border to obtain medications, including abortion-inducing drugs.
Uvalde, May 24
Students flee and authorities help others evacuate after a gunman entered Robb Elementary School.
Uvalde, May 25
Democratic gubernatorial candidate Beto O'Rourke confronts Gov. Greg Abbott at a press conference the day after a gunman killed 19 children and two teachers at Robb Elementary School.
Uvalde, May 29
Several law enforcement agencies were present ahead of President Joe Biden's arrival days after Texas' deadliest school shooting.
Baytown, May 12
A Walmart Supercenter aisle is still mostly empty during a shortage of baby formula after Abbott Nutrition, one of the four major U.S. manufacturers of baby formula, issued a February recall due to bacterial contamination.
Dallas, May 24
Congresswoman Eddie Bernice Johnson talks to District 30 Democratic candidate Jasmine Crockett at Crockett's election night watch party.
Del Valle, May 24
Michelle Cardenas works on scrapbooks for her students at home while spending time with her daughters. "They've made comments to me before like, 'I wish you didn't have to work today," Cardenas said. "Your students at school end up becoming like your own kids."
Uvalde, May 29
Thousands of roses and handwritten notes, hundreds of candles and dozens of stuffed animals surround a fountain in the center of the City of Uvalde Town Square.
---
June
San Antonio, June 24
The moment Roe v. Wade was overturned, nurse Kristina Hernandez becomes emotional as she recalls stories of previous patients she helped at the Alamo Women's Reproductive Services abortion clinic.
San Antonio, June 27
A tractor-trailer found near Lackland Air Force Base in San Antonio contained the bodies of 46 dead people, along with 16 others who have been taken to hospitals, local officials in San Antonio said. All told, there were 53 deaths.
Odessa, June 14
Lightning from a passing storm strikes in the vicinity as City of Odessa Water Distribution employees work through the night to repair a broken water main.
Dallas, June 24
Demonstration attendees hold up their fists in protest of the Supreme Court overturning Roe v. Wade, ending a guaranteed constitutional right to abortion.
Clockwise: Austin, Austin, Houston, San Antonio, June 24
Scenes from protests from various cities in Texas after the U.S. Supreme Court overturned Roe v. Wade.
Paris, Texas, June 17
Amnisty sits in front of a table with pictures of her son, Keith, whose mental health problems have been strained under the Texas Juvenile Justice Department's care.
Uvalde, June 24
Graduates throw their caps into the air in celebration at the Uvalde High School graduation ceremony.
Mexico City, June 29
Alessandra Flores, passing by a protest during her quinceañera photo shoot, stopped to pose holding a green bandana in support of reproductive rights near the U.S. Embassy after Roe v. Wade was overturned. Behind Alessandra is a banner that reads in Spanish, "Alive and free in Mexico."
Las Cruces, New Mexico, June 27
Shannon Brewer, the clinic director at Jackson Women's Health Organization — which was at the heart of the U.S. Supreme Court's landmark decision to revoke the right to abortion — stands in her new clinic that would soon be home to the Las Cruces Women's Health in New Mexico. Brewer began to ready her new clinic in April in anticipation of the overturning of Roe v. Wade, so she could continue to provide women with access to safe abortion options.
---
July
San Antonio, July 1
Gloria Quezada, right, holds on to a cross bearing the name of her daughter, Adela Betulia Ramírez Quezada, at a memorial for dozens of migrants who died in an overheated trailer in June.
Mineola, July 7
Linda Coffee is one of two lawyers who represented "Jane Roe" in the landmark Roe v. Wade case decided in 1973. "It's a bittersweet thing for me," Coffee said. "Because I'm glad I got to do what I did, but it bothers me, really, to see how it's ending up."
Red River County, July 26
Eddie Belcher outside the home he built himself near Bogata. He fears losing the house and the land that has been in his family for generations if the Marvin Nichols Reservoir moves forward with construction.
Round Rock, July 11
Texas Commission on Law Enforcement (TCOLE) demonstrates a school shooting scenario at Walsh Middle School for members of the media.
Uvalde, July 17
Family members and friends of Uziyah Garcia view a freshly completed mural in his memory. Each of the 21 victims of the Robb Elementary shooting received a mural painted by artists from across Texas.
Houston, July 31
Professor Karen Kossie-Chernyshev in front of a mural celebrating Black leaders at the Fifth Ward, a historic neighborhood in Houston. In 2021, Texas lawmakers redrew political maps that weakened the impact of voters of color and secured the GOP's majority in the state Legislature.
McAllen, July 9
Volunteers for South Texans for Reproductive Justice assemble safe sex kits that include emergency contraceptives at the McAllen Creative Incubator. The volunteer-based organization that supports abortion rights hosts monthly packing parties for the kits.
Dallas, July 21
A man rests in the pavilion at The Bridge Homeless Recovery Center. Extreme temperatures this year have increased health hazards for people experiencing homelessness, who have few options to escape the heat.
---
August
Austin, Aug. 29
Sisters Edith, Carolina and Maribel Velarde watch as workers from Magnolia Movers struggle to fit their fridge through the front door of their home at Congress Mobile Home Park. The park had been purchased by a commercial real estate investor from California, who began notifying tenants in June that they had to move out.
Austin, Aug. 19
Heather Crawford embraces Cass Crawford as they struggle through a panic attack in August while packing to move to Minnesota. The family decided to leave Texas after state policies started targeting access to health care for transgender youth.
Terry County, Aug. 29
A late summer thunderstorm forms over the remnants of the 2021 cotton crop. Cotton production has been decimated by drought and extreme heat this year, costing Texas High Plains farmers and other agricultural industries at least $2 billion, according to one estimate.
Houston, Aug. 1
Dana Jones pauses for a moment, as she retells her experiences with past floods in Houston. Hurricane Harvey in 2017, Tropical Storm Imelda in 2019 and Winter Storm Uri in 2021 each damaged her home.
Austin, Aug. 4
Paola Valdez Lopez looks through messages from potential buyers for her home as her husband and children gather with her in the kitchen. The family had to leave Austin after their mobile home park sent nonrenewal notices to its tenants, who can own their homes but rent the land.
Arlington, Aug. 31
A photo of Cassandra Saldivar hangs in living room of her mother, Patricia Hammad, as Hammad talks to her grandson Ace at their home. Saldivar died at the age of 22 from taking anti-anxiety medication laced with deadly fentanyl.
Fredericksburg, Aug. 17
Gubernatorial candidate Beto O'Rourke speaks to Dan Solomon of Texas Monthly after a campaign event.
---
September 
Waxahachie, Sept. 10
Lauren Hall stands in the room that she and her husband had prepared as a nursery. Hall had to travel to Washington state for an abortion after receiving a lethal fetal diagnosis, for which Texas' abortion laws make no exception.
Uvalde, Sept. 6
Felix Coronado listens to his son, Ariel, 4, while his other children pose for a photo by their mother, Aiko, before the first day of classes. This is Ariel's first day of school ever, and he is a little anxious to leave his parents.
McAdoo, Sept. 15
The McAdoo wind farm provides power to Argo Blockchain's cryptocurrency facility. Eager to bring new jobs to their towns and boost their tax base, rural Texas counties are courting companies that produce cryptocurrencies.
San Marcos, Sept. 21
A bipartisan testing crew uses voting machines and tabulators during a state-mandated logic and accuracy test at the Hays County government building. Texas law requires public testing of the voting machines before and after every election to ensure the machines are counting votes correctly.
---
October
Nacogdoches, Oct. 3
Nacogdoches County elections administrator Todd Stallings looks through curbside voting information. Since 2020, the scrutiny elections administrators face has grown — even in small Republican-controlled counties that former President Donald Trump carried.
Ciudad Juárez, Mexico, Oct. 15
Luz María Martínez Castro and Napoleón Sepúlveda Moreno cry while holding a photo of their son, Jesús Iván Sepúlveda Martínez, who was shot and killed near Sierra Blanca as he and other migrants stopped for water.
Uvalde, Oct. 22
A mural in memory of Makenna Lee Elrod, one of the 21 Robb Elementary School shooting victims.
El Paso, Oct. 6
A family from Venezuela crosses the Rio Grande near a temporary border patrol processing center. Record numbers of migrants, mostly from Venezuela, began arriving at the U.S.-Mexico border that month.
Washington, D.C., Oct. 11
Sandra Reed, mother of Rodney Reed, cries during a vigil while the U.S. Supreme Court justices heard oral arguments of Rodney Reed vs. Bryan Goertz. The case examined the statute of limitations for a claim seeking DNA testing of crime-scene evidence after Reed was sentenced to death for the 1996 murder of Stacey Stites.
San Marcos, Oct. 2
From left, Aztecan dancers Azucena Flores, Amelia Morales and Destiny Flores talk with each other as they wait to enter the arena tent for an exhibition on the second day of the Sacred Springs Powwow.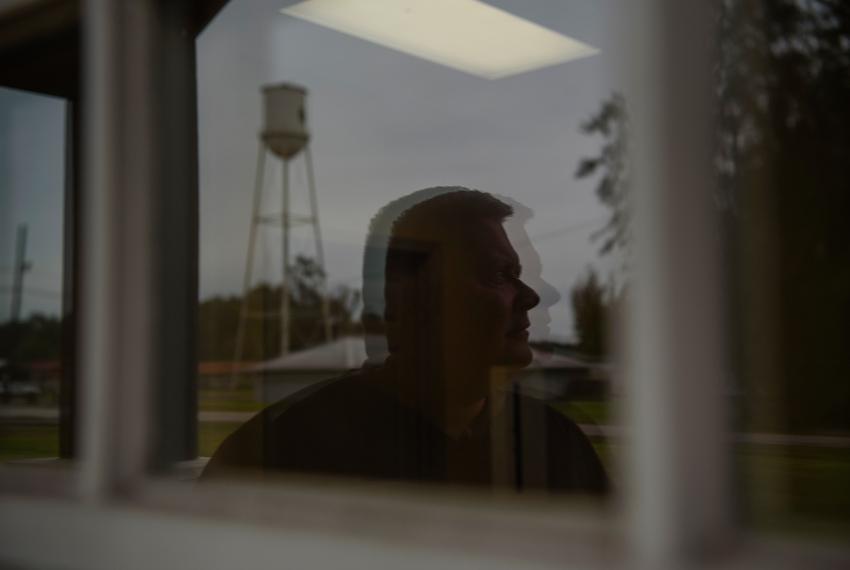 Kirbyville, Oct. 17
After visiting TAN Healthcare as a patient, Lyndon Hallmark started working the mobile health clinic's front desk and more recently took over its mobile unit.
Austin, Oct. 27
Texas Department of Public Safety Director Steve McCraw sits at a table at a Public Safety Commission meeting. The public meeting saw comments from families of the victims of the Robb Elementary shooting in Uvalde, calling for McCraw to resign in response to what McCraw himself called an "abject failure," referring to the response by his department as well as other law enforcement agencies the day of the shooting.
Austin, Oct. 11
Lily Trieu, interim executive director of Asian Texans for Justice, which produced a report researching Asian voters, said Asian communities are growing rapidly in Texas but they are still feeling left out of the political process.
---
November
Uvalde, Nov. 8
Residents watch Uvalde Leader-News reporters update results from local races on a white board on Election Day.
Uvalde, Nov. 2
Relatives of Arnulfo Reyes, a teacher who was injured during the shooting at Robb Elementary, release paper lanterns to celebrate Dia de los Muertos in the Hillcrest Memorial Cemetery.
Austin, Nov. 13
Brigette Bandit reads to children during a local literacy event at the Contemporary Austin - Laguna Gloria.
Denton, Nov. 19
Counterprotesters form a barricade outside of a transgender storytelling event as Sara Gonzales of Defend Our Kids: Texas chants, "There are only two genders."
Washington, D.C., Nov. 9
A flag flies outside the U.S. Supreme Court as arguments were heard challenging the constitutionality of the Indian Child Welfare Act, which prioritizes the placement of Native American children in foster care or adoption with relatives, other tribal members or in other Native homes.
San Antonio, Nov. 10
Billy Peck, 34, and his daughter look through donated clothing at the Haven for Hope shelter. Peck and the other residents of Haven for Hope are welcome to take anything they need or want from the warehouse with donations, as one of the services that the shelter offers.
Ciudad Juárez, Mexico, Nov. 22
Alex Bowen hugs his girlfriend and his friends as he says goodbye moments before crossing the border and heading into El Paso.
McAllen, Nov. 8
U.S. Rep.-elect Monica De La Cruz on an Instagram Live video at the Lark Community Center on Election Day.
Fort Worth, Nov. 8
A poll watcher examines bags of ballots as they are received at the Tarrant County Election Administration building.
---
December
El Paso, Dec. 20
Migrants speak past barbed wire to Texas National Guard and Texas Department of Public Safety officers along the banks of the Rio Grande. After El Paso city officials declared a state of emergency due to the number of migrants at the border, Gov. Greg Abbott sent over 400 personnel to this border sector.
Matamoros, Mexico, Dec. 21
A large crowd of migrants near an encampment listens to instructions for how to sign up to be included in a census of the encampment. The asylum-seekers hope that by having their names recorded, legal aid would be available to them.
San Leon, Dec. 15
An employee of Misho's Oyster Company uses a backhoe loader to move oyster shells after the Texas Department of State Health Services ordered a recall for oysters harvested in the area of southeastern Galveston Bay.
Groveton, Dec. 16
Ronnie Robison calls the Woodland Heights Medical Center to tell workers at the Lufkin facility to prepare for a patient. Robison has to call before reaching an area with no cell service to be able to warn the trauma team.
Arlington, Dec. 7
Jo Ann Johnson sits for a portrait on the bed that once belonged to her grandson, Bishop Evans, who drowned after jumping into the Rio Grande to save two migrants being swept away by the current.
Texans need truth. Help us report it.
Independent Texas reporting needs your support. The Texas Tribune delivers fact-based journalism for Texans, by Texans — and our community of members, the readers who donate, make our work possible. Help us bring you and millions of others in-depth news and information. Will you support our nonprofit newsroom with a donation of any amount?
Yes, I'll donate today
---
Information about the authors
Explore related story topics