Texas 2020 Elections
Texas Republicans avoid criticizing Donald Trump for his electoral integrity comments
Many Republicans in Congress called for a peaceful transition of power if Trump loses, but did not engage directly with the president's comments suggesting he might not accept the election results.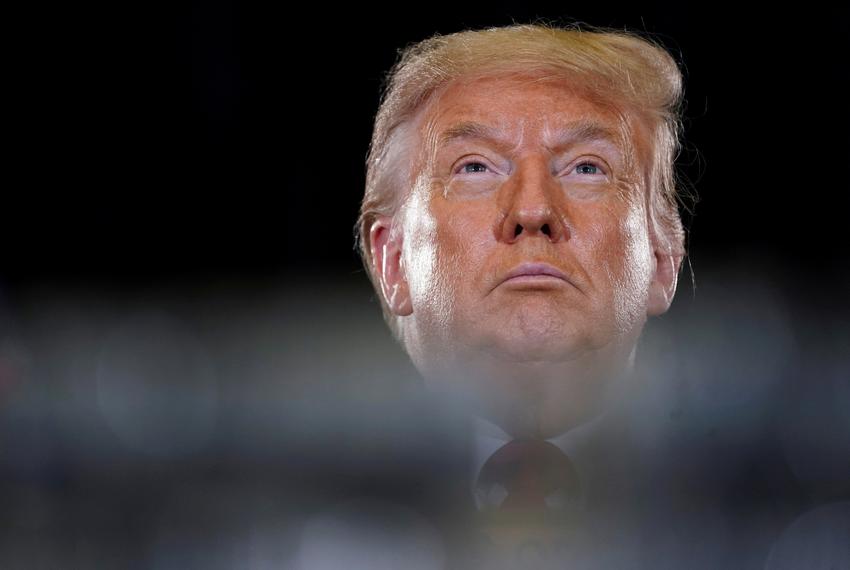 WASHINGTON — With President Donald Trump continuing Thursday to call into question the integrity of the upcoming election, many Texas Republicans in Congress insisted that there would be a peaceful transition of power if Trump loses this November.
But most delivered their statements without mentioning or engaging with the president's comments.
Trump shocked many in the nation's capital on Wednesday when he declined to commit to a peaceful transition in the event his Democratic rival, former Vice President Joe Biden, defeats him in November. He said he was worried about mail-in voting, repeating his oft-stated concern that it could lead to fraud. Multiple states have used mail-in voting for years without any sign of widespread fraud.
"We're going to have to see what happens," Trump said at a Wednesday press briefing. "You know that I've been complaining very strongly about the ballots. And the ballots are a disaster."
Voting in Texas
When was the last day to register to vote?

The deadline to register to vote in the 2020 general election was Oct. 5. Check if you're registered to vote here. If not, you'll need to fill out and submit an application, which you can request here or download here.

When can I vote early?

Early voting for the 2020 general election runs from Oct. 13 to Oct. 30. Voters can cast ballots at any polling location in the county where they are registered to vote during early voting. Election Day is Nov. 3.

How will voting be different because of the pandemic?

In general, polling locations will have guidelines in place for social distancing and regular cleaning. Several counties will offer ballot marking devices so voters avoid contact with election equipment. Poll workers will likely be wearing face masks and other protective equipment, but masks will not be required for voters.

How do I know if I qualify to vote by mail?

Texas is one of just a few states that hasn't opened up mail-in voting to any voter concerned about getting COVID-19 at a polling place. You can find eligibility requirements and review other questions about voting by mail here.

Are polling locations the same on Election Day as they are during early voting?

Not always. You'll want to check for open polling locations with your local elections office before you head out to vote. Additionally, you can confirm with your county elections office whether Election Day voting is restricted to locations in your designated precinct or if you can cast a ballot at any polling place.

Can I still vote if I have COVID-19?

Yes. If you have been diagnosed with COVID-19 or are exhibiting symptoms, consider requesting an emergency mail-in ballot or using curbside voting. Contact your county elections office for more details about both options.
Have you run into hurdles or problems while trying to vote in Texas? We want your help in reporting on those challenges. Tell The Texas Tribune your voting story.
Supported By:

"We want to have … get rid of the ballots and we'll have a very peaceful … there won't be a transfer frankly, there'll be a continuation," he said to a reporter's follow up question. "The ballots are out of control. You know it, and you know who knows it better than anybody else? The Democrats know it better than anybody else."
On Thursday, Trump repeated his concerns about mail-in ballots.
"We want to make sure the election is honest and I'm not sure that it can be," he said. "I don't know that it can be, with this whole situation, unsolicited ballots."
While Texas' Republican leadership has resisted the idea of expanding mail-in voting this year, many states across the country have done so during the coronavirus pandemic. Supporters of the expansion call it a safe way to allow people to vote in a time of social distancing. But Trump has argued that it promotes fraud and has repeatedly called into question the integrity of the voting process. Cases of voter fraud are exceedingly rare, and multiple states have offered the method of voting for years without major problems.
Trump's latest focus is on unsolicited ballots. Only a handful of states mail ballots to qualified voters without needing them request it. In June, The Washington Post analyzed data collected over five elections in three states, including Colorado, that proactively sent ballots to voters in 2016 and 2018. Just 372 possible cases of double voting or voting on behalf of dead people were identified, the Post reported. That amounted to 0.0025% of votes cast.
The Texas Tribune asked every member of Congress from Texas for a response to the matter. As expected, Democrats responded with blanket fury at Trump. Eleven out of the state's 24 Republicans in Congress responded. All called for a peaceful transition, though some were less animated and cast blame elsewhere.
Appearing on CNN on Thursday, U.S. Sen. John Cornyn, R-Texas, answered with a simple "no" when asked whether Trump's refusal to commit to a peaceful transition of power was appropriate. On what the GOP would do if Trump will not leave office, Cornyn said: "I'm not going to answer a hypothetical."
U.S. Sen. Ted Cruz, R-Texas, also committed to a peaceful transition, while blaming Democrats for the controversy.
"It has become a popular Democratic talking point, it has become a popular media talking point, that it has become Trump who is going to dispute the election. Let me say clearly, unequivocally: There'll be a peaceful transition of power," he said at a Senate Judiciary hearing on Thursday. "I believe there will be a peaceful transition of power if Joe Biden wins the election, Joe Biden'll be sworn in as president. But what I fear is the reaction of the extreme left if Joe Biden loses the election."
The current session of Congress will end on Jan. 3, 2021, which will encompass much of the transition period, if there is a change of power.
Here is how the Texans responded:
As of late Thursday afternoon, several members had not responded to the Tribune's query.
They were: Republican U.S. Reps. Louie Gohmert of Tyler, Lance Gooden of Terrell, Ron Wright of Arlington, Kevin Brady of the Woodlands, Mike Conaway of Midland, Kay Granger of Fort Worth, Mac Thornberry of Clarendon, Randy Weber of Friendswood, Jodey Arrington of Lubbock, Will Hurd of Helotes, Kenny Marchant of Coppell and Michael Burgess of Lewisville; and Democratic U.S. Rep. Lizzie Pannill Fletcher of Houston.
The story will be updated as more members weigh in.
Correction: This story misquoted U.S. Rep. Michael Cloud. He said that the "extreme left" wants to "burn down the system," not "burn down the house."
---
Information about the authors
Quality journalism doesn't come free
Perhaps it goes without saying — but producing quality journalism isn't cheap. At a time when newsroom resources and revenue across the country are declining, The Texas Tribune remains committed to sustaining our mission: creating a more engaged and informed Texas with every story we cover, every event we convene and every newsletter we send. As a nonprofit newsroom, we rely on members to help keep our stories free and our events open to the public. Do you value our journalism? Show us with your support.
Yes, I'll donate today