In Poland, midwives play a significant role in childbirth. In Texas? Not so much.
Poland and Texas have comparable populations, conservative governments and stringent anti-abortion policies. But they differ significantly in how health care is delivered for women — and in the role they allow midwives to play in the childbirth process.
WARSAW, Poland — Grażyna Bączek can remember "a relic of Communist time" when men weren't allowed in hospital maternity wards and women could only see their husbands through a tiny window after giving birth.
She can remember the time she was removed from the delivery ward of a hospital where she worked after immediately placing a baby on its mother's chest. At that time, newborns were immediately taken from their mothers, who had to wait hours to see their babies.
But Bączek, who has been a midwife since 1989 and is the director of midwifery at St. Sophia Hospital in Warsaw, says she can't remember a recent case in Poland where a mother died after childbirth.
Poland's maternal mortality rate — when a mother dies from pregnancy-related complications while pregnant or within 42 days of giving birth — declined between 1990 and 2015 from 17 deaths per 100,000 births to three deaths, according to the World Health Organization. The country has one of the lowest maternal mortality rates in the world, which experts have attributed to the general healthiness of Polish women and national guidelines for how to care for pregnant women.
The number of Texas mothers dying during and after childbirth generated national headlines in recent years when deaths seemed to skyrocket; since then, state officials have cast doubt on those statistics by recalculating the maternal mortality rate for 2012 — the year when deaths seemed to spike — and concluding the rate was much lower. Experts continue to debate which number is the most accurate and how to best count the deaths.
Poland and Texas are similar in several ways: They have comparable populations, conservative governments and stringent anti-abortion policies. But they differ significantly in how health care is delivered for women — and in the role they allow midwives to play in the childbirth process.
Bączek said through a translator that national guidelines for how to care for pregnant women — and putting midwives in hospitals — have helped Polish women stay alive during and after childbirth. She also said midwives at St. Sophia play a "huge independent role," where they're the first to see pregnant women when they walk in, run maternity wards overnight and report to doctors in the morning.
"Whenever you remember that the patient is in the center and is the most important person in this situation, then midwives and doctors will strive to establish this common ground, this cooperation, because her health is the most important thing," Bączek said.
The Texas Tribune's reporting on this story is supported by the Pulitzer Center.
In Europe, it's common for midwives to care for pregnant women. Polish midwives can practice independently without a doctor overseeing them, prescribe medication and act on their own if a woman has a medical emergency.
In Texas, midwives must have oversight from a doctor before they can see patients, and physician groups around the country have lobbied state legislatures to block bills that would give midwives more autonomy, claiming they don't have the required skills to handle high-risk pregnancy complications like postpartum preeclampsia or hemorrhaging.
In the United States, midwives can provide women with services such as contraceptive and nutrition counseling, prescriptions and labor and delivery care. They try to help women have low-risk pregnancies by assessing their health and making sure they can safely give birth outside of the hospital. They also help women prepare for natural births — giving birth without being induced or needing a cesarean section.
The American College of Nurse-Midwives has touted the benefits of midwifery, including reduced rates of labor induction, reduced use of anesthesia, lower costs for both clients and insurers and increased satisfaction with quality of care.
But few private insurance plans cover midwifery care, meaning most women who want one have to pay out of pocket — anywhere from $2,500 to $6,000 through their pregnancy, delivery and postpartum period. Birthing centers often offer a sliding fee scale where clients pay what they can based on income.
Medicaid, the joint federal-state health insurance program for the poor, isn't much help either. More than half of the births in Texas are covered by the program, according to the Texas Health and Human Services Commission. But the number of certified nurse midwives — the only type of midwives eligible to be Medicaid providers — is tiny compared to the number of births the program covers. Between fiscal years 2007 and 2017, the number of nurse midwives accepting Medicaid has risen minimally, from 263 to just 290, according to data from the Texas Health and Human Services Commission.
In Texas, the Healthy Texas Women program, the Family Planning Program and Medicaid are the main programs offering services for low-income women, including birth control, pregnancy tests and help for chronic health issues such as high cholesterol and high blood pressure. The state has the highest uninsured rate for women ages 19-64 in the United States at 19 percent, according to the Kaiser Family Foundation, a nonprofit health policy group based in Washington, D.C.
Lack of insurance makes it harder for women to access prenatal care and control chronic health issues such as diabetes and high blood pressure, increasing the risk of pregnancy complications and death.
Meanwhile, Polish citizens pay into the country's National Health Fund, which provides nearly universal public health care — 91 percent of Poles are insured, according to a 2017 report on European health policies. The government also provides coverage for uninsured women during pregnancy, childbirth and the postpartum period. It gives parents of two or more children about $130 per month per child, and low-income parents receive an allowance for their first child.
After 21 weeks of pregnancy, women can have access to a midwife without paying out of pocket. In addition, every woman — regardless of insurance status — gets a home visit from a midwife within days of giving birth to check on her and her newborn.
Midwives declining in Texas
Poland has 22,000 active midwives in a nation of 37 million people. Texas, meanwhile, has just 711 registered midwives in a state with 28 million residents, including 276 licensed midwives and 435 certified nurse midwives, according to the Texas Department of Licensing and Regulation and the Texas Board of Nursing.
Certified nurse midwives are registered nurses who can offer pregnant women prenatal care, labor and delivery services, postpartum care and prescribe drugs under a doctor's supervision.
According to Texas Department of State Health Services data, the number of licensed midwives attending births dropped 36 percent in the 25 years prior to 2015, while the number of certified nurse midwives dropped by 30 percent between 2005 and 2015. The dramatic drop, according to midwifery advocates in Texas, has been attributed to a combination of factors, including lack of independence and lack of awareness about midwifery as a career option.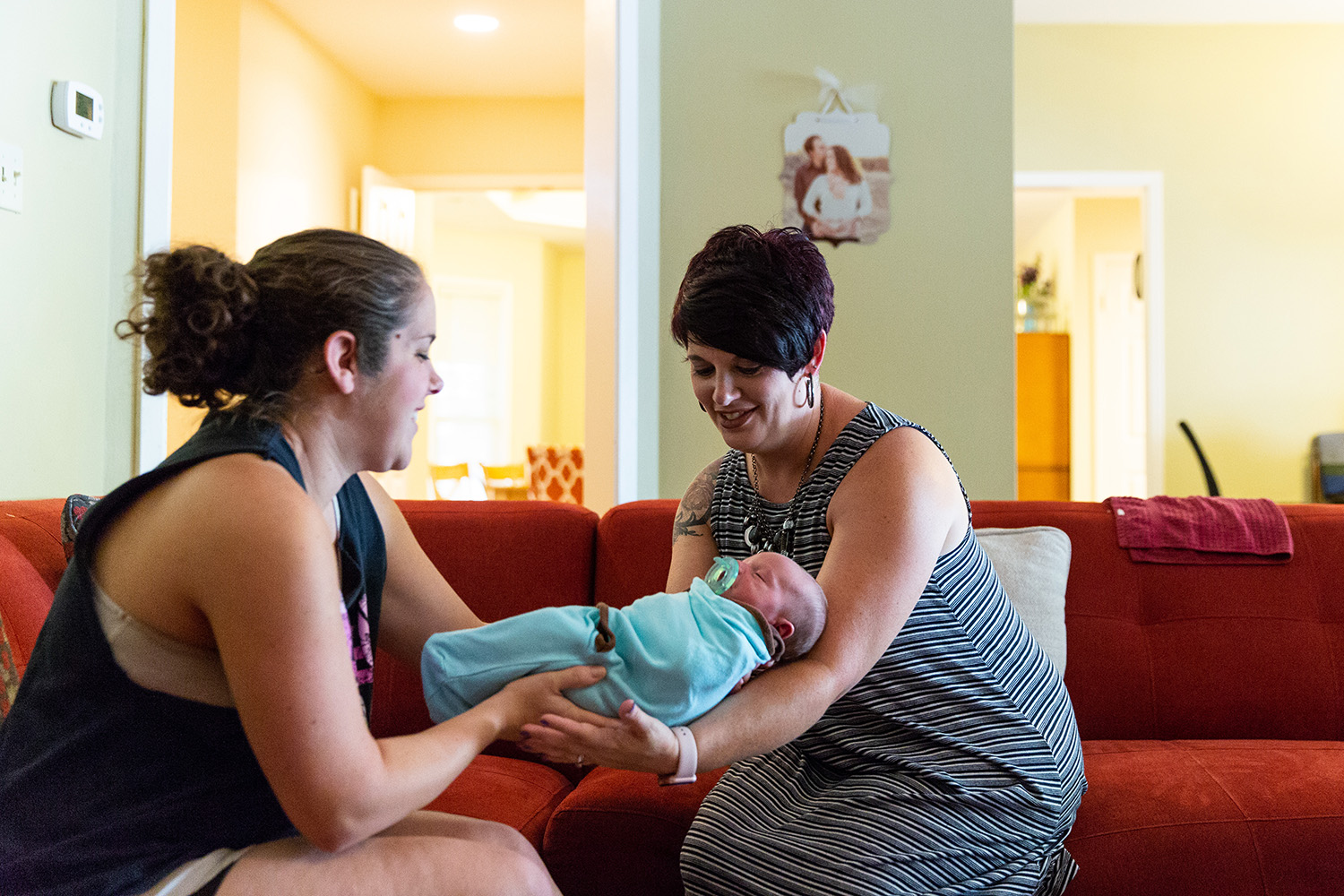 In Abilene, Sabrina Elliott is one of seven doulas trained to provide advice, information and emotional and physical support for women during their pregnancy and after childbirth. Elliott, who has been a doula for nine years, said women typically come to her because they've had a bad delivery experience and want to explore other childbirth options with her.
But after a midwife in the community died and Elliott lost a teenage client, who died from a pregnancy complication last year, she decided midwifery would be an important next step. She makes the 180-mile drive from Abilene to apprentice at a birth center in Dallas.
"I thought, 'I can't make it any worse, nothing I can do can make it worse than what I just saw,'" Elliott said. "I wanted that community with women that is different in midwifery practice — of listening to moms and putting them in charge of their care instead of just telling them what they're going to do ... that's the huge difference between [obstetrics-gynecology] and midwifery care."
"Not a lot of mutual respect"
In Weslaco, it's a quiet afternoon at the Holy Family Birthing Center, just miles from the Mexico border. The waiting room walls have photos of babies, and side tables have copies of Fit Pregnancy and Baby magazine, Ser Padres magazine, brochures on childbirth, business cards for local pediatricians and fliers for prenatal yoga in the area.
In a patient room, Vanna Waldron pushes and prods a patient's pregnant belly as she checks for where the baby's head is. The patient is 41 weeks along and looks like she's ready to deliver.
Waldron, a certified nurse midwife at the center, sees pregnant women every day. During these prenatal visits, she checks the baby's heartbeat and the patient's blood pressure and asks them if they're getting enough rest. She said pregnancy and childbirth are vulnerable but empowering times for expectant moms.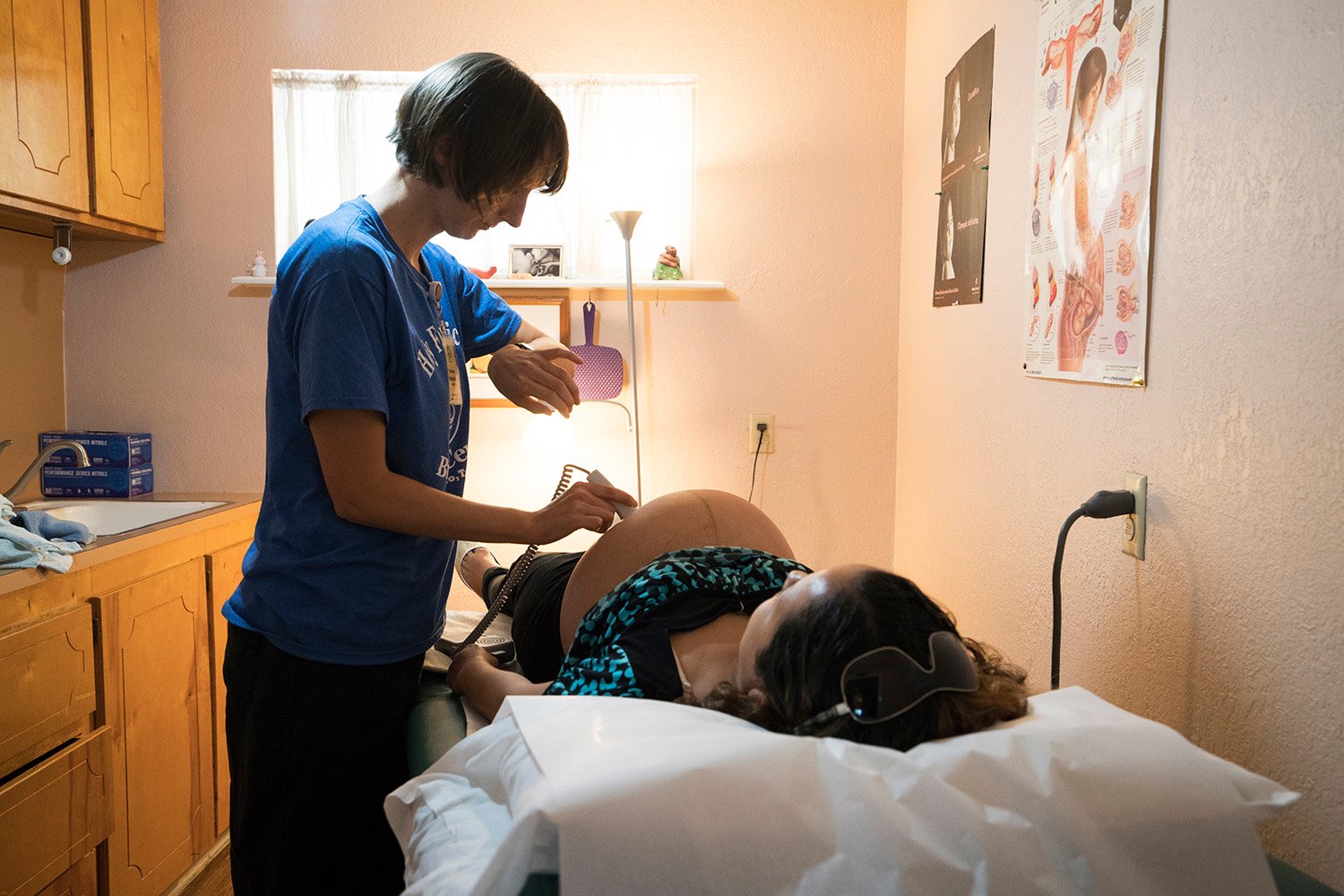 "There's so much that you can't control about your birth and your pregnancy," Waldron said. "But the things you can control — your relaxation, your diet, your exercise and how you feel cared for ... I like to work that line of what we can control to make it a really positive experience."
The center has been in the community for 35 years, helping prepare women for natural childbirth: no cesarean sections, no inducing, just pushing and waiting and letting the birthing process take its course. After the birth, midwives from the center go for two home visits to check on the mother and baby, one at the three-day mark and another at the nine-day mark.
But they don't take high-risk pregnancies.
Women who come to the center are typically healthier and not as likely to have complications, but if they show signs of diabetes, high blood pressure or obesity, they are referred to another doctor at a nearby hospital. Most of the time, clients had chaotic or stressful first delivery experiences and want a different option that's more natural.
Waldron, who was a doula in Washington state before arriving in Texas, said there's a stark contrast between what each state pays for when helping women access care. She pointed out that Washington offers universal prenatal care plus a postpartum visit to help mothers choose any birth control they want. The state also doesn't ask about immigration papers.
"That's something that we face here that in Washington state I never even had to think about it," Waldron said. "If I was providing care for someone, I didn't have to worry that they wouldn't be cared for."
In February, researchers from the United States and Canada published a study in the peer-reviewed journal PLOS ONE, analyzing five years of laws and regulations in 50 states and the District of Columbia related to midwives. They found that states including Washington, New Mexico, Oregon, New Jersey and New York have some of the best outcomes for mothers and babies thanks to how they integrate midwives into their health care systems.
Researchers wrote in the study that midwives can help increase the rate of breastfeeding and lower the number of preterm births, low-birth-weight infants and neonatal deaths.
The study used a scoring system based on where midwives are allowed to work, whether they can provide the full scope of pregnancy- and childbirth-related care, whether they can practice independently without a doctor's supervision and whether they can prescribe medication, receive reimbursement through Medicaid or obtain hospital privileges. Out of a possible 100 points, Texas ranked 17th in the nation with 43 points.
Kelli Beaty, executive director for the Association of Texas Midwives and a midwife in Midland, said most midwives believe Texas is a good place to practice but "there's not a lot of mutual respect" between doctors and midwives. Building relationships with doctors can be difficult since many are not homebirth friendly, are wary of midwifery in general and territorial about the type of care they should be allowed to provide patients.
"There's not a lot of integration," Beaty said. "There's a lot of areas in Texas that have populations that exceed the physician availability, so people are beginning their pregnancy care later and later ... there could be midwives who could fill in the gap."
Licensed midwives in the state have also expressed exasperation about a 2015 legislative change that moved them from being regulated by the Texas Department of State Health Services to the Texas Department of Licensing and Regulation — the same agency that oversees laser hair removal businesses, electricians, podiatrists and tow truck operators. Midwives complain that the agency doesn't have the expertise to properly oversee them, particularly when it comes to understanding various medical terminology. Certified nurse midwives are overseen by the state's Board of Nursing.
Beaty said the Texas Department of Licensing and Regulation and midwives are beginning to work together to address some of those concerns. The agency held a series of listening sessions for midwives in recent months and is working on changes to licensing and the complaint review process.
Texas midwives' wish list includes more inclusion in the state's maternal health programs, allowing all midwives to accept Medicaid — not just certified nurse midwives — and the ability to prescribe medication without a doctor's approval. Beaty said she and other members of her organization are working to educate legislators and the public about what midwives do and how they can help.
"It's one of those things where when you do seek that type of legislation, then everything is open," Beaty said. "Then the thing will become a trade off of, 'We'll [let midwives] give this medication, if you stop doing [vaginal births after cesarean],' and that's not always beneficial to midwifery clients."
Moss Hampton, chair of the Department of Obstetrics and Gynecology at Texas Tech University Health Sciences Center in Odessa, said he doesn't "want to sound like I'm bashing midwives" because he believes they have a place in maternal health care.
But he said midwives don't have the same level of training for independent practice as doctors and should have more clinical training. Licensed midwives must have at least a high school diploma or GED, take midwifery courses and complete a clinical apprenticeship. They then have to pass the North American Registry of Midwives exam to be licensed in Texas.
"There's just situations where the midwife maybe thinks it's better to do it one way than the obstetrician," Hampton said, adding that doctors are typically the caregiver that gets sued if something goes wrong with a birth. "If the liability was spread equally, I don't think people would be quite as concerned, but the obstetrician is responsible for the situation if something bad happens ... I think that's where people get concerned."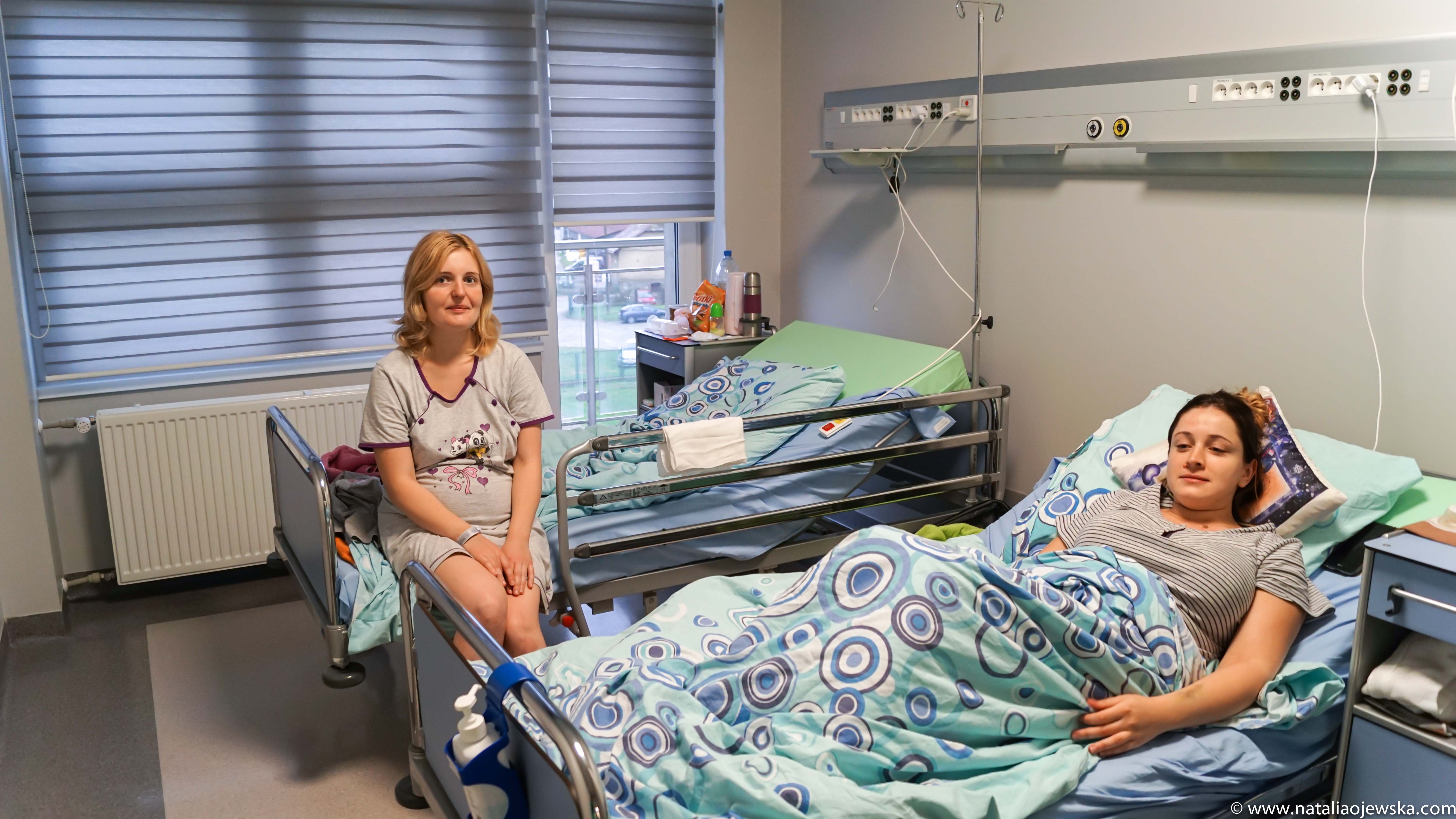 "Time to rest"
South of Krakow, in Myślenice, it's a sleepy fall morning at the Independent Public Health Care Center, and it's time for the morning check-up.
Tiny newborn feet and fingers stretch and wriggle as the midwives unswaddle babies to check their weight and feed them. The rural hospital is 21 miles from Krakow, the second-largest city in Poland, and sees about 1,100 births per year.
Down the hall, mothers who recently gave birth stay in the same room while they recover.
Maja Suder and Paulina Ślifierz are recovering in the days after delivering their babies by cesarean section. For both, it was their first time delivering at the center, and they said through a translator they didn't have to worry about their babies down the hall thanks to the midwives.
"I can have some time to rest," Ślifierz said.
"Especially after a C-section, when you really need to rest," Suder said.
Natalia Ojewska provided translations during the reporting of this story.
Texans need truth. Help us report it.
Independent Texas reporting needs your support. The Texas Tribune delivers fact-based journalism for Texans, by Texans — and our community of members, the readers who donate, make our work possible. Help us bring you and millions of others in-depth news and information. Will you support our nonprofit newsroom with a donation of any amount?
Yes, I'll donate today
---
Information about the authors
Explore related story topics