U.S. Rep. Joaquin Castro wants to guarantee members of Congress access to immigrant detention centers
Castro said he plans to file legislation after U.S. Sen. Jeff Merkley on Sunday was denied access to a Brownsville facility that is housing unaccompanied immigrant children.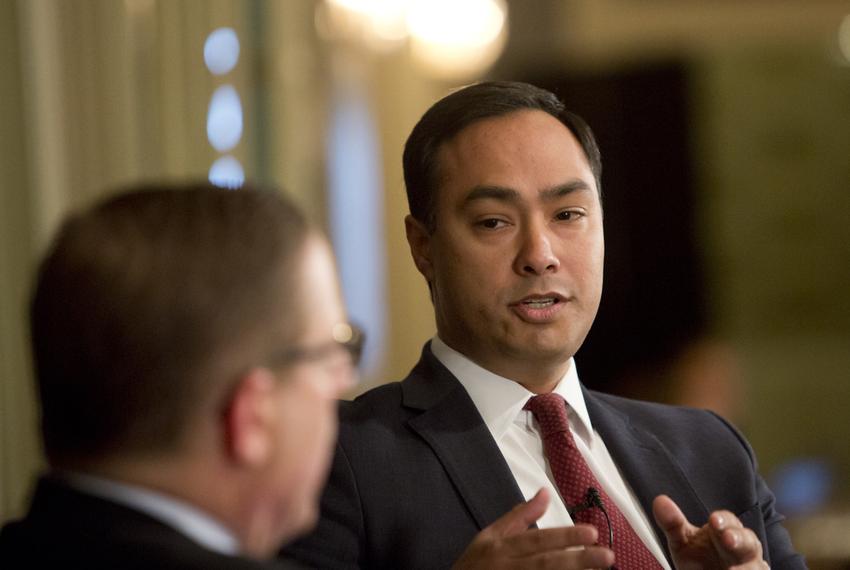 After an Oregon senator was denied access to a detention center in Brownsville, U.S. Rep. Joaquin Castro said he's planning to draft a bill that would guarantee access to federal lawmakers visiting such facilities.
"It's important because they're housing vulnerable people, particularly minors," Castro, a San Antonio Democrat, said at a Wednesday afternoon news conference. He added that it's crucial for members of Congress, who are charged with overseeing the function of government agencies, to "have the ability to inspect these facilities."
Castro's announcement comes after U.S. Sen. Jeff Merkley, D-Oregon, planned to visit unaccompanied immigrant children at a detention facility in Brownsville on Sunday. Minutes after he arrived, officials from the center called the police and told him to leave the property. After a brief interaction with Brownsville police officers, the senator was asked to leave by police, and he complied.
During the incident, which was recorded on Facebook Live, Merkley said it was "unacceptable" that a member of Congress was barred from the center. Earlier in the day, Merkley had visited unaccompanied children at a Border Patrol processing station in McAllen and asylum seekers at the Sacred Heart Church Humanitarian Respite Center.
Castro said he understood that the administrators of detention facilities need notice prior to visits, but he argued that members of Congress, especially those who are high ranking or lead committees, should have the ability to make unannounced visits in order to inspect facilities.
A staffer with Merkley's office told The Texas Tribune that they attempted to get into the facility through the proper channels several times and were rejected.
Castro and other Democrats criticized President Donald Trump and Attorney General Jeff Sessions on Wednesday over the recently implemented "zero tolerance" policy, wherein parents illegally entering the United States to seek asylum are separated from their children while being prosecuted.
After Merkley's visit, the White House said the senator was "irresponsibly spreading blatant lies about routine immigration enforcement," adding that Merkley's "policies endanger children, empower human smugglers and drug cartels, and allow violent criminal aliens to flood into American communities."
Support public-service journalism that's always free to read.
It's been a busy year. Through it all, The Texas Tribune's journalists have not missed a beat. And with redistricting starting in earnest next week and the 2022 elections on the horizon, we know our journalism will continue to be fundamental for Texans everywhere. Support our work today so we can be there for you in 2022 and for whatever else 2021 might throw at us.
Yes, I'll donate today