Thousands of Texans protest for gun control across state in March for Our Lives rallies
"This is a defining moment for our city, our state and our country," Houston Mayor Sylvester Turner said at the city's Tranquility Park Saturday morning, speaking at one of several rallies in Texas that collectively drew tens of thousands of attendees.
Tens of thousands of Texans poured out onto streets and gathered in parks Saturday to rally for stricter gun laws about a month after a mass shooting at a Parkland, Florida, high school claimed 17 lives.
In more than 800 planned "March for Our Lives" events across the country – including in Austin, Houston, Dallas and other Texas cities – students and families protested against gun violence and called on lawmakers to take decisive action.
Thousands clogged Austin's Congress Ave and gathered outside the pink-domed Capitol building, chanting and applauding as speakers – including Mayor Steve Adler, actor Matthew McConaughey and the local high school students who organized the event – took their turns rallying the crowd.
"We cannot allow one more child to be shot at school. We cannot allow one more teacher to make the choice to jump in front of an assault rifle," said state Sen. Kirk Watson, D-Austin. "Not one more." The crowd broke into chants of "Not one more!" as he spoke.
Many of the speakers at the Austin event pointedly described state lawmakers' dithering on gun-control laws and called for reforms, like a ban on assault-style weapons and bolstering the background-check process.
"Now there is not one solution that will prevent mass shootings," Adler said at one point, "but there are common sense solutions most people can agree upon." He suggested people on airlines' "no-fly" lists should be banned from purchasing guns and said, "if you can't buy a gun in a gun store, you shouldn't be able to buy a gun at a gun show."
Watson dismissed a push to arm school staff and educators with weapons by saying teachers in the state are already overburdened. "Adding sharpshooter to their list of obligations is ridiculous," he said.
Local politicians made a point of noting a series of bombs that rattled Austin over the past month, thanking law enforcement officers for their work in identifying the bomber and touting the importance of community. Adler said people's fear of being out on the street after the explosions was comparable to "how a lot of kids feel going to school after a school shooting."
From the stage and from the crowd, speakers and rally-attendees praised the resiliency and drive of the student organizers. "Thank you kids!" a person in the crowd crowed as one of the students who spearheaded the Austin event, Kari Siegethaler, took the stage.

Two of the most emotional speeches came from a student who'd survived the shooting in Florida — and who called for change and "national unity" in its wake — and from a fifth-grade student who'd gone to school near Sandy Hook and recounted hearing siren after siren the day of the massacre there. She stood on top of a cooler to reach the podium's microphone, and specifically called out U.S. Sen. Ted Cruz's inaction on the reforms she sought.
Protesters carried signs reading "My Kids TRUMP your AR-15" and "ARMS are for HUGGING."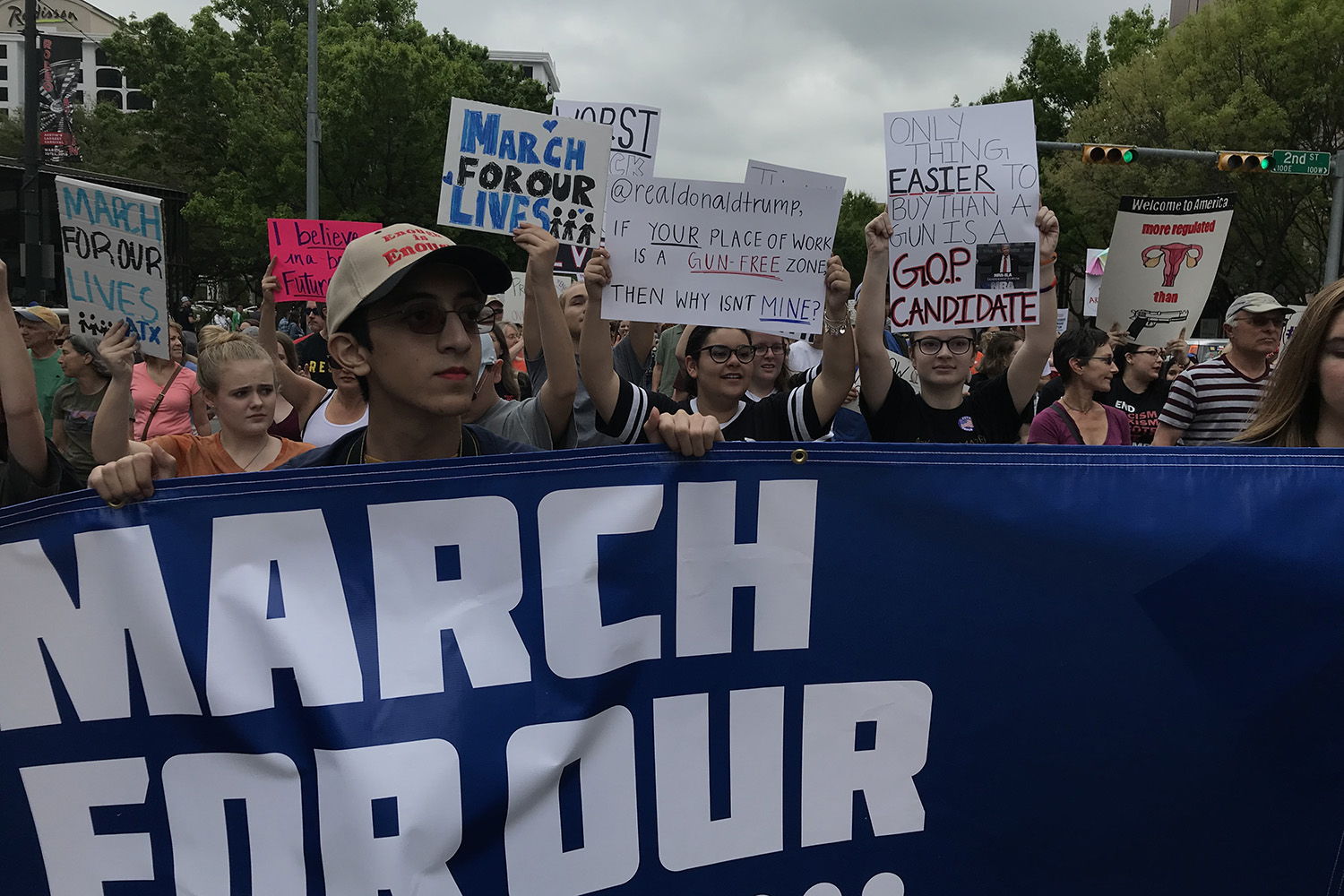 Earlier Saturday, a morning rally in Houston brought throngs of protesters to the city's Tranquility Park. Houston Police Chief Art Acevedo estimated the crowd peaked at 15,000, according to the Houston Chronicle.
"This is a defining moment for our city, our state and our country," Houston Mayor Sylvester Turner told rally attendees. He said he was creating a Commission to End Gun Violence, and would release details about its goals and appointees in the coming weeks.
"Books not bullets," a sign in Houston read. Another: "Am I next?"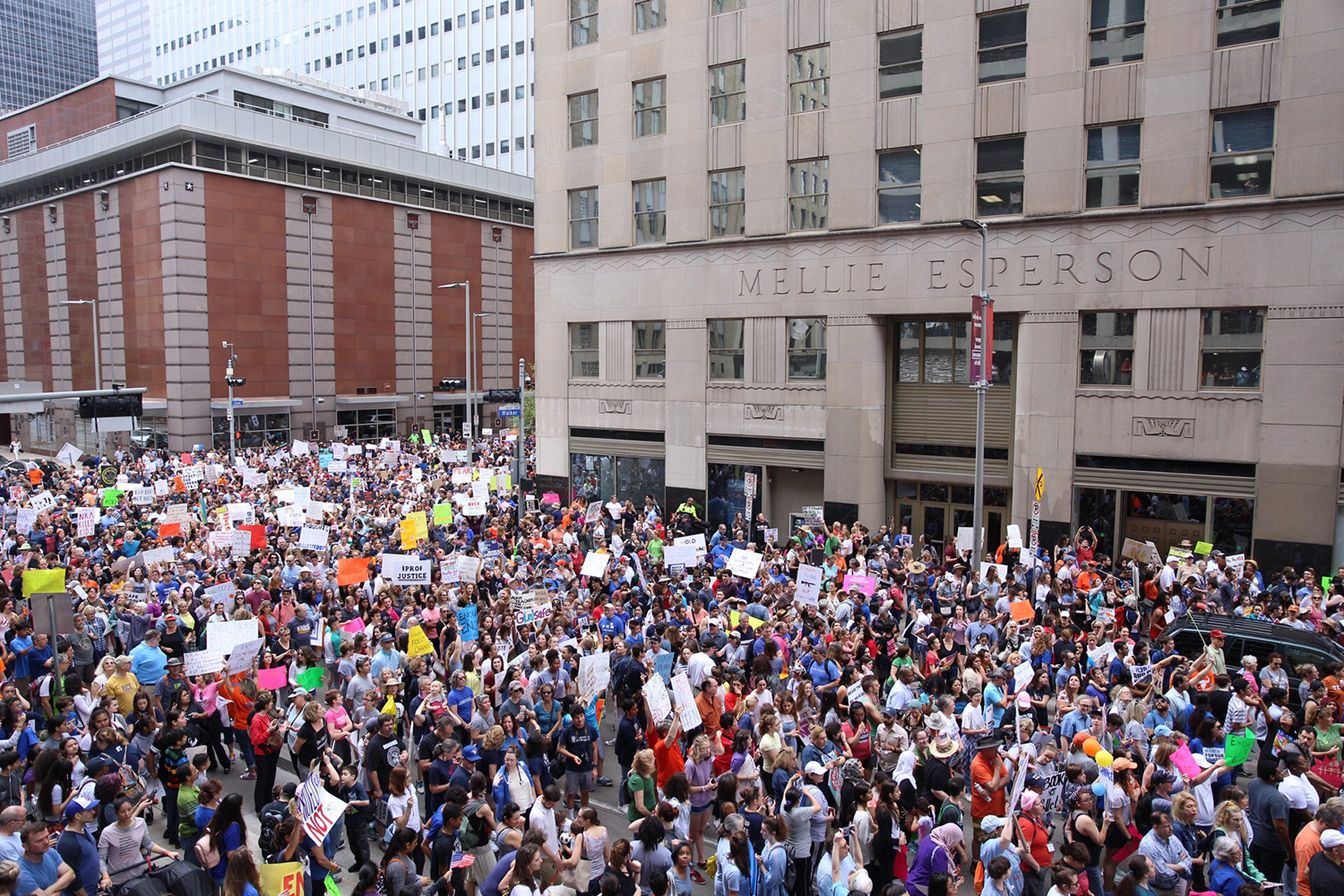 A rally in Dallas similarly drew thousands, with attendees at one point chanting "Vote them out," according to The Dallas Morning News.
#marchforourlives rally in Dallas calling for sensible gun control pic.twitter.com/D8gL4BNmc6

— Eva-Marie Ayala (@EvaMarieAyala) March 24, 2018
Local police estimated another 7,000 to 8,000 gathered at a rally in downtown Fort Worth, according to the Star-Telegram.
The scene in D.C.
Holding a sign reading "Common Sense Texans for Common Sense Gun Laws," retired teacher Susan Parker of Houston was among tens of thousands of marchers from across the country gathered in front of the U.S. Capitol Saturday to rally for gun control. Speakers included survivors of the Parkland shooting as well as other young people impacted by gun violence from Chicago, Los Angeles, New York and other cities.
Parker said she came to Washington because she is "sick of all this mess."
"I understand people's needs for guns rights, I don't have a problem with that," Parker said. "But automatic assault weapons, they're just not right. We just don't need them."
Parker said she is hopeful that the renewed movement for gun reform will produce results, but is unsure how much change can be achieved.
"I don't know how much they can actually change because crazy people already have AR-15s, and I don't think we can actually go and get them from them," Parker said. "But there's always hope."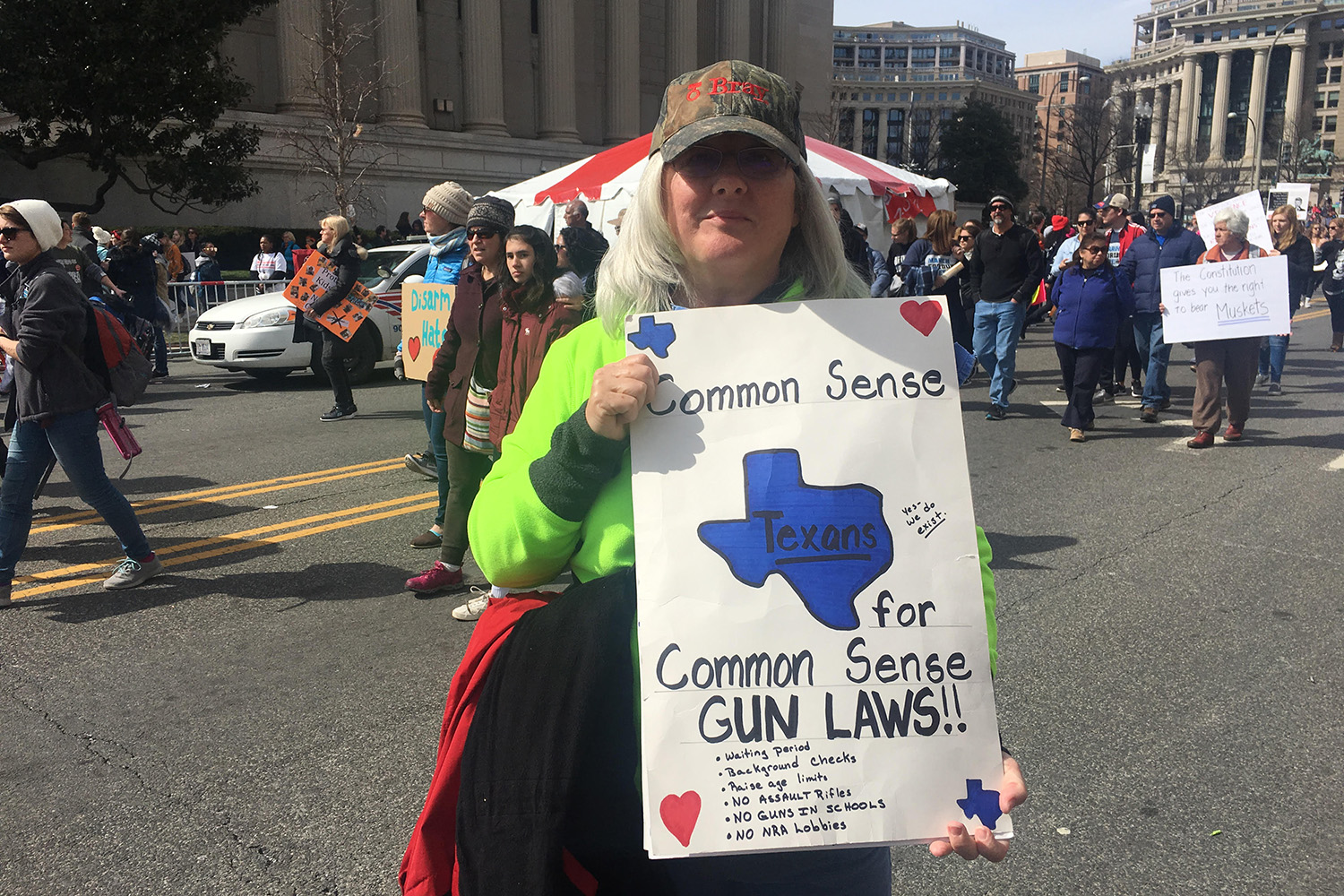 Rally organizers, galvanized by the Florida mass shooting, are calling on politicians in the U.S. Capitol and statehouses to advance gun control measures, including banning assault-style weapons.
"Our fear was that Parkland would be another community left to be permanently damaged. Eventually forgotten," said survivors of the Florida school shooting, who organized the D.C. event, on a website for that rally. "We have seen enough senseless gun violence; we have lived in fear too long. We have buried too many heroes. We demand better."
The anti-gun-violence rallies are the latest — and largest — effort of student activists spurred to action after a 19-year-old opened fire at Marjory Stoneman Douglas High School in mid-February, leaving 17 people dead. Weeks later, Florida lawmakers raised the minimum wage for gun purchases from 18 to 21 and authorized school employees and some teachers to carry handguns if certain conditions are met.
In the wake of the Florida shooting, Texas leaders including Gov. Greg Abbott have called for revamping the national background check system for purchasing firearms. U.S. Rep. Kay Granger, R-Fort Worth, wants more funding for metal detectors in schools. A bill from U.S. Sen. John Cornyn, signed into law Friday, will hold government agencies accountable for failing to properly document individuals' criminal histories in the FBI's National Instant Criminal Background Check System.
Cornyn had been pushing for that measure since November, two days after the state's deadliest shooting and the nation's deadliest church massacre in Sutherland Springs, Texas.
"After the tragedy in Sutherland Springs, I vowed to that community to do what I could so no family, school, or congregation would have to go through that again," Cornyn said in a statement Friday. "While it's not the only solution, I'm confident this bill will save lives."
But most of the 38 Texans in Congress have been non-committal or opposed to stronger measures advocated by many of those attending Saturday's rallies.
"The only effective way to stop these mass shootings is by targeting those who violate our laws, not by taking away the rights of law-abiding citizens," said Catherine Frazier, a spokesperson for U.S. Sen. Ted Cruz, R-Texas, in a statement ahead of Saturday's rallies. She added that Cruz supports combating school shootings by "targeting violent criminals, putting more resources into school safety, and directing the Department of Justice to ensure that all federal agencies report convictions to the National Background Check Database."
Counter-protesters in support of gun rights also planned events in several cities Saturday and waged a social media campaign around the hashtag #WhyICarry.
Haley Samsel contributed to this report.
Disclosure: Steve Adler, a former Texas Tribune board chairman, has been a financial supporter of The Texas Tribune, a nonprofit, nonpartisan news organization that is funded in part by donations from members, foundations and corporate sponsors. Financial supporters play no role in the Tribune's journalism. Find a complete list of them here.
Your New Year's resolution list isn't complete without …
… supporting the Tribune. This new year, resolve to do your part to sustain trusted journalism in Texas. Join thousands of readers who power The Texas Tribune's nonprofit newsroom.
Donate now