Reported explosion in South Austin unrelated to package bombs, police say
Austin police on Tuesday night said the incident involved a Goodwill employee sorting through recent donations to find two "artillery simulators," one of which "initiated" in the employee's hand.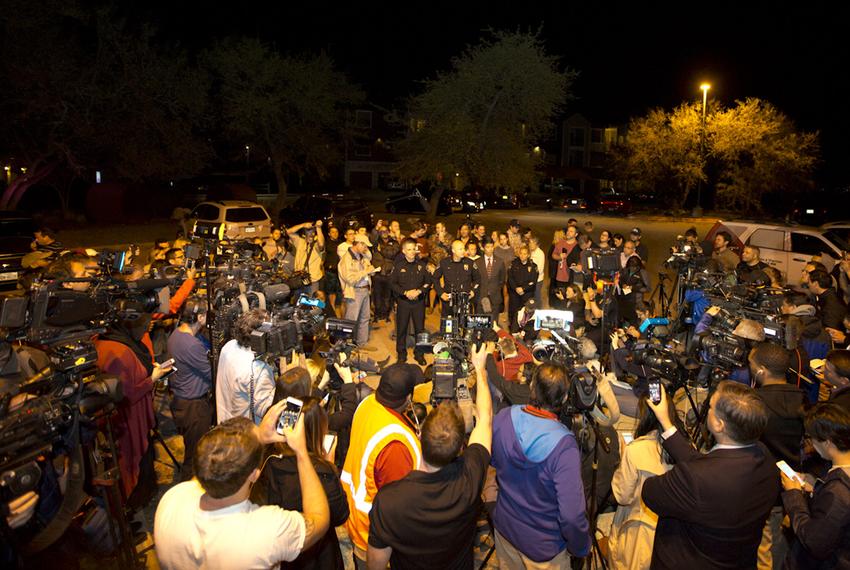 A reported explosion at a Goodwill in South Austin on Tuesday evening was eventually confirmed by police to be unrelated to the series of package bombings in the Austin area since early March.
In a press briefing Tuesday night, Austin Police Department Assistant Chief Ely Reyes said a Goodwill employee sorting through recent donations found two "artillery simulators," one of which "initiated" in the employee's hand, which caused his injuries. The employee was treated at St. David's South Austin Medical Center and has been released, Reyes said.
Reyes also said authorities have no reason to believe the incident is the work of a copycat of the perpetrator of a series of bombings in Central Texas.
Earlier Tuesday, a bomb exploded inside a package destined for Austin in a FedEx facility in Schertz, outside San Antonio, causing no injuries. Another bomb was found at a separate FedEx facility but didn't explode.
And on Tuesday afternoon in Sunset Valley — a town contained within Austin's city limits — authorities issued a public notice that the FBI was investigating "a confirmed link between packages involved in the Austin bombing investigation and a mail delivery office in Sunset Valley." FedEx said in a statement that it had turned over to authorities "extensive evidence" related to the packages and the person who mailed them.
In a statement Tuesday evening, Special Agent Michelle Lee with the FBI's San Antonio field office confirmed a connection between the two packages found at FedEx locations Tuesday and the four previous package explosions that occurred in Austin.
"We do believe that these incidents are all related. That is because of the specific contents of these devices," said Brian Manley, Austin's interim police chief, according to media accounts.
In all, the explosions have left two dead and several others injured.
Officials are offering a $115,000 award for information that leads to the arrest of the person or people responsible. Gov. Greg Abbott also released $265,500 in emergency funding on Monday for Austin police to buy seven bomb-detecting x-ray systems.
"I want to ensure everyone in the Austin region and the entire state that Texas is committed to providing every resource necessary to make sure these crimes are solved as quickly as possible," Abbott said in a statement.
Support public-service journalism that's always free to read.
It's been a busy year. Through it all, The Texas Tribune's journalists have not missed a beat. And with redistricting starting in earnest next week and the 2022 elections on the horizon, we know our journalism will continue to be fundamental for Texans everywhere. Support our work today so we can be there for you in 2022 and for whatever else 2021 might throw at us.
Yes, I'll donate today