Under new management, Texas Alcoholic Beverage Commission mends fences after scandal
Nearly a year after a series of self-inflicted wounds led to a purge of the agency's upper management, a new commissioner and new executive director have launched a series of reforms — and the businesses they regulate say they've seen a big change.
Five years ago the Texas Alcoholic Beverage Commission spent more than $10,000 in taxpayer money to send four employees to Honolulu to attend a national liquor conference — complete with open bar, golf tournament and a "luau under the stars."
This summer, the National Conference of State Liquor Administrators is again holding its annual meeting in Hawaii — Waikoloa Beach to be exact — but there won't be an official delegation from the TABC. In fact, the state's alcohol regulators won't be sending anyone to any liquor conferences outside Texas anytime soon.
The agency got its out-of-state travel privileges yanked last year by a Legislature angered over spending controversies and regulatory excesses, exposed in a series of investigative reports published by The Texas Tribune. When the smoke cleared, seven top agency honchos were gone and the TABC board had hired a retired Army general, Bentley Nettles, to clean up the mess.
Now, nearly a year later, even some of the TABC's most vociferous critics say a wholesale change in leadership has produced a reformed agency that no longer triggers fear and loathing at the very mention of its name.
"The transformation that has taken place already under General Nettles' leadership is hard to overstate," Texas Craft Brewers Guild Chairman Josh Hare said in a thank-you note to Gov. Greg Abbott. "We have seen nothing other than a hard shift toward a business and consumer-friendly approach to business."
The craft brewers (and others) still have their beef with laws they say protect beer distribution monopolies, but they are not alone in noticing the changes blowing through an agency that just a few months ago was the poster child for state government mismanagement and regulatory abuse.
Last year, Houston-based Spec's Wine, Spirits & Finer Foods, the largest chain of liquor stores in Texas, was facing the business equivalent of the death penalty after the TABC froze all new permits, threatened to jerk all existing permits and proposed to fine the company up to $713 million.
The enforcement action, hatched under the old regime, unraveled before a panel of administrative law judges amid the leadership changes at TABC. Instead of losing all its permits and being forced to pay hundreds of millions of dollars, the judges said the liquor store chain didn't owe a dime in fines and instead recommended Spec's get a single warning for making a late vendor payment under arcane prompt-pay rules for liquor retailers.
The rebuke, which the TABC's new leaders did not appeal, had the effect of ending one of the most notorious cases of regulatory overkill in state government history. Today, Spec's president John Rydman says he feels like a giant cloud has been lifted off his business since the changing of the guard.
"I think they sincerely want to turn this thing into a proper agency and not doing it through emotion and innuendo and jealousies and get to a point of fairness, openness," Rydman told the Tribune. "It sounds like they're going to go back to the way I grew up with the TABC."
Ex-general reaches out to industry
Last spring, the TABC leadership had a full-blown crisis on its hands. The Texas Tribune published a story detailing how the agency brass spent tens of thousands of dollars to travel to swanky resorts around the country, where liquor flowed and industry lobbyists rubbed shoulders with the very regulators that oversee their industry.
The trip was immortalized by an illustration depicting the boozy junket TABC officials took to San Diego in the summer of 2015. Created during work hours and overseen in part by former Executive Director Sherry Cook, the photo-shopped flyer portrayed Cook, then-Licensing Director Amy Harrison and other TABC staff riding in a plane guzzling Lone Star Beer.
"Here we come California!" the caption read. "Woo Hoo!!!"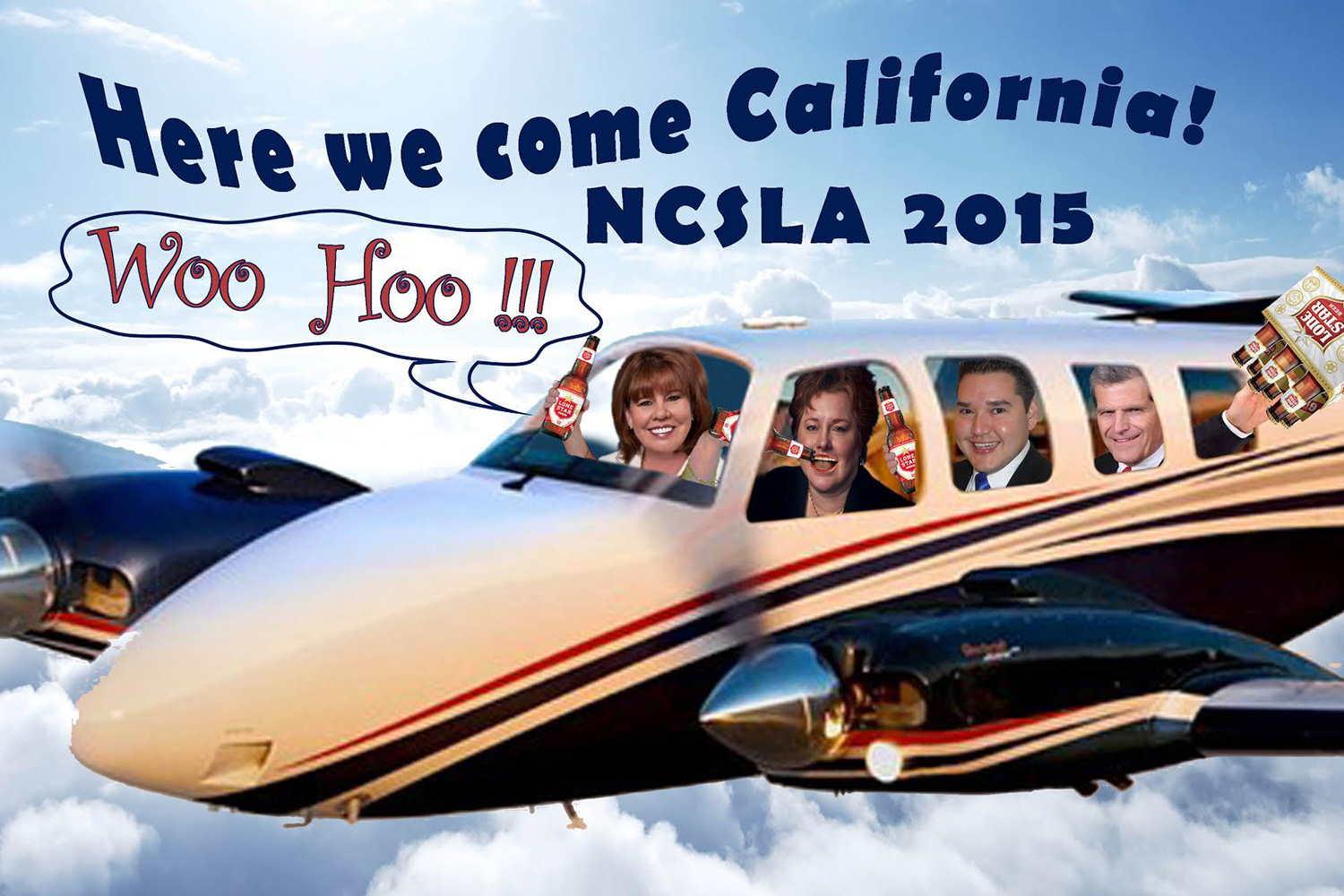 The flyer became emblematic of the problems at the agency. When TABC executives got called before the House General Investigating and Ethics Committee in mid-April, the committee's chair, Republican Rep. Sarah Davis of West University Place, instructed aides to place a copy of the flyer on the table above each seat at the witness table; at one point during the hearing she held it up in front of them like a bill of indictment as she pressed for answers.
Finally, Cook admitted under intense questioning that state resources were misused in the creation of the flyer.
"Yes. I'll just say yes," Cook answered.
It was too late to stop the bleeding by then. A week earlier, the Legislature had voted to ban out-of-state travel by TABC staff and lawmakers were livid about all the reports of misspending, the awarding of "hazardous duty pay" to Cook and others while staying at resorts and what Davis called a "culture at the TABC of pay-to-play" with members of the alcohol industry.
A few days after getting grilled at the hearing, Cook announced she was stepping down, and six top officials followed her out the door over several ensuing weeks of turmoil. The agency's woes prompted Gov. Greg Abbott to install Houston businessman Kevin Lilly, a former Army Captain who had served as a tank platoon commander, to restore order as the commission's presiding officer.
Lilly, in turn, tapped Nettles, the retired general and former Army lawyer, to run the day-to-day operations. Appointed in July, Nettles quickly began implementing reforms.
In a lengthy interview, both Lilly and Nettles said the first thing they noticed was that the agency, as Lilly put it, had developed an "acerbic relationship" with regulated entities and didn't have a "pro-business" approach.
"Even in my hometown in Bryan, I talked to people I've known for years that own restaurants that have [alcohol] permits, and they go, 'We don't really talk to TABC because we're worried when they come in, it increases our pucker factor even if we're doing everything right,'" Nettles said. "I think terror is not the role of government."
One of his first orders as the new agency head: the launch of a new "warning system" for regulatory enforcement actions, aimed at getting companies into compliance with the state's often confusing alcohol regulations rather than using hardball tactics likes fine and administrative sanctions that can cost companies thousands of dollars.
Nettles compared the effort to community policing, in which enforcers focus more on serial violators and true public safety threats while coaxing compliance from well-intentioned people who sometimes get tripped up on complex laws that originate from the post-Prohibition era.
"I think that alone has sent a message to industry that we're here to help you, not just to come in and slap you around," Nettles said.
He also launched a series of roundtables around the state to meet with industry folks like bar owners, retailers, producers and distributors. Recognizing that his fate ultimately rests with the lawmakers who draft liquor laws and oversee the TABC budget, Nettles invited area elected officials to provide lists of people who would be interested in meeting with the new alcohol regulators.
All the while, he undertook a major agency reorganization, filled key vacancies, announced legal education seminars for retailers and launched a veterans outreach program aimed at permit holders who previously served in uniform.
Nettles demonstrated that he has zero tolerance for racism: In February he fired an agent who had made a slur in front of his supervisor — saying that he liked to "plink cans: Mexicans and Africans." The phrase "plinking cans" generally refers to target practice using tin cans as the target.
"That's just not to be tolerated," Lilly said.
Major decisions loom for new leaders
But not everything is rosé and champagne.
The Texas alcoholic beverage code remains remarkably complicated, so its enforcement can seem overwrought in the minds of critics even when it's done properly.
For example, Dick Wills, executive director at Gerald Franklin Agency, just got word that the TABC would no longer allow consulting and licensing firms like his to pay for a client's application fees with a company check. TABC says it's returning to a strict interpretation of the law applied evenly across all regions in the state.
"This narrow interpretation ... would place an undue hardship on my company in both time and money," Wills complained in a letter to a state representative. "We deal in large volume of monies and having to stand in line each day at a bank to obtain cashiers checks or money orders would be time consuming, inefficient, and costly."
The law is riddled with such arcane provisions. But TABC spokesman Chris Porter says the agency must interpret and enforce the laws that are on the books — laws that the Legislature's Sunset Commission, which periodically evaluates all state agencies — will study in a top-down review of the TABC this year. The Legislature won't have a chance to make changes to the laws until its next regular session in 2019.
"We certainly regret any misunderstanding or inconvenience resulting from this situation, but as we've learned in our recent listening sessions with industry members, consistent application of the law on a statewide basis is key to ensuring a fair and lawful alcoholic beverage industry," Porter said.
And while Spec's is breathing a sigh of relief, Rydman, the company president, is still trying to figure out how to recoup the more than $1 million in legal fees he expended fighting what he considers to be a frivolous enforcement action. Nettles said he's talked to Rydman about "some creative ways to provide them with some kind of relief," but Spec's might end up suing anyway.
"I was like, well if I were in your position, I absolutely understand," Nettles says he told Rydman. "You have to do what you have to do."
Nettles and his nascent administration could soon be confronting the fallout from a much bigger regulatory dispute — one that could shake up the whole alcoholic beverage ecosystem and disrupt the businesses of powerful and politically-connected businessmen.
At issue: just how far the law must go in protecting the hallowed three-tier system that dates back to the end of Prohibition in the 1930s. The system is designed to separate producers, distributors and retailers into three independent silos and prohibit any financial cross-breeding.
The issue arose after McLane Company, a grocery supply chain company located in Temple, complained it was being unfairly excluded from the alcohol distribution business in Texas simply because its parent company, Berkshire Hathaway, had a tiny stake in Walmart, an alcohol retailer.
In a late 2017 ruling, an administrative judge found that Core-Mark, a company that McLane sees as a competitor, should be denied renewal of its permit because institutional investors that own a piece of Core-Mark have holdings in other sectors, or tiers, of the alcohol business. The message of the ruling: The Legislature didn't create an exemption for just a little bit of tier blending, so until lawmakers fix that, none is allowed.
Even the judge in the case wrote of the "absurdity'' of his finding that even minor cross-ownership from institutional investors violates the three-tier system, as the Austin American-Statesman reported in September. The ruling found no exception for institutional investors, including investment behemoths like Vanguard, which has shares in the holding company that owns Core-Mark.
Nettles and the TABC must now decide if it will adopt the judge's decision, which could wreak havoc in the $40 billion alcohol industry. If it stands, any publicly traded company in the alcohol business, including the makers of Budweiser and Coors, would be exposed to similar regulatory protests that could result in the loss of their permits to do business in Texas.
The TABC has wide discretion to affirm, tweak or wholly rewrite the administrative judge's ruling. But if the end result is that Core-Mark can keep distributing but McLane can't get a permit, the decision will surely spark more legal action from McLane and companies like it. McLane, which already distributes alcohol in five other states, has raised these same issues in a federal lawsuit.
A McLane lawyer said with new people in charge at TABC, the company is hopeful the issue can be resolved without further litigation.
The TABC said it expects a ruling within two weeks but otherwise would not comment due to the ongoing litigation.
"McLane expects a decision soon and is optimistic that the TABC will reach an unbiased decision that considers market realities and the Alcoholic Beverage Code," said McLane lawyer Brett Charhon. "Unlike the previous leaders of the agency, the current administration seems to be working to create a fair playing field for all participants."
Disclosure: Walmart Stores Inc. has been a financial supporter of The Texas Tribune, a nonprofit, nonpartisan news organization that is funded in part by donations from members, foundations and corporate sponsors. Financial supporters play no role in the Tribune's journalism. Find a complete list of them here.
---
Information about the authors
Quality journalism doesn't come free
Perhaps it goes without saying — but producing quality journalism isn't cheap. At a time when newsroom resources and revenue across the country are declining, The Texas Tribune remains committed to sustaining our mission: creating a more engaged and informed Texas with every story we cover, every event we convene and every newsletter we send. As a nonprofit newsroom, we rely on members to help keep our stories free and our events open to the public. Do you value our journalism? Show us with your support.
Yes, I'll donate today