Texas Elections 2018
Texas House candidate: Post about "bloody cops" was only targeting "bad cops"
CJ Grisham, a candidate challenging state Rep. Hugh Shine in the Republican primary, wrote Facebook posts suggesting violent responses to excessive force by police. But Grisham told The Texas Tribune he would "take a bullet for good cops."
A Republican candidate to represent the Temple area in the Texas House of Representatives appeared to advocate for violence against police who use excessive force and questioned whether "good cops" exist in a series of 2017 Facebook posts, according to screenshots obtained by The Texas Tribune.
CJ Grisham, a gun rights activist and one of two candidates challenging incumbent state Rep. Hugh Shine in the Republican primary, confirmed and stood by the posts in a recent phone call with the Tribune. A former first sergeant in the U.S. Army, Grisham said his posts targeted only those officers who use too much force.
He added that he would "take a bullet for good cops."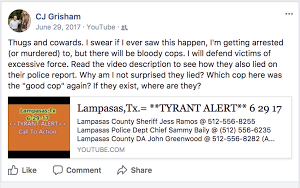 On June 28, Grisham shared an article about the indictment of an FBI agent in connection with the shooting death of anti-government activist Robert "LaVoy" Finicum. Grisham wrote in a comment below the post, "They should all be lined up and executed."
One day later, Grisham posted a video containing footage shot from an officer's dashboard camera during an arrest in Lampasas County. In the video, a man who is arguing with police is tackled and appears to be punched by an officer. Grisham wrote that if he witnessed a similar incident, he would "defend victims" and there would be "bloody cops."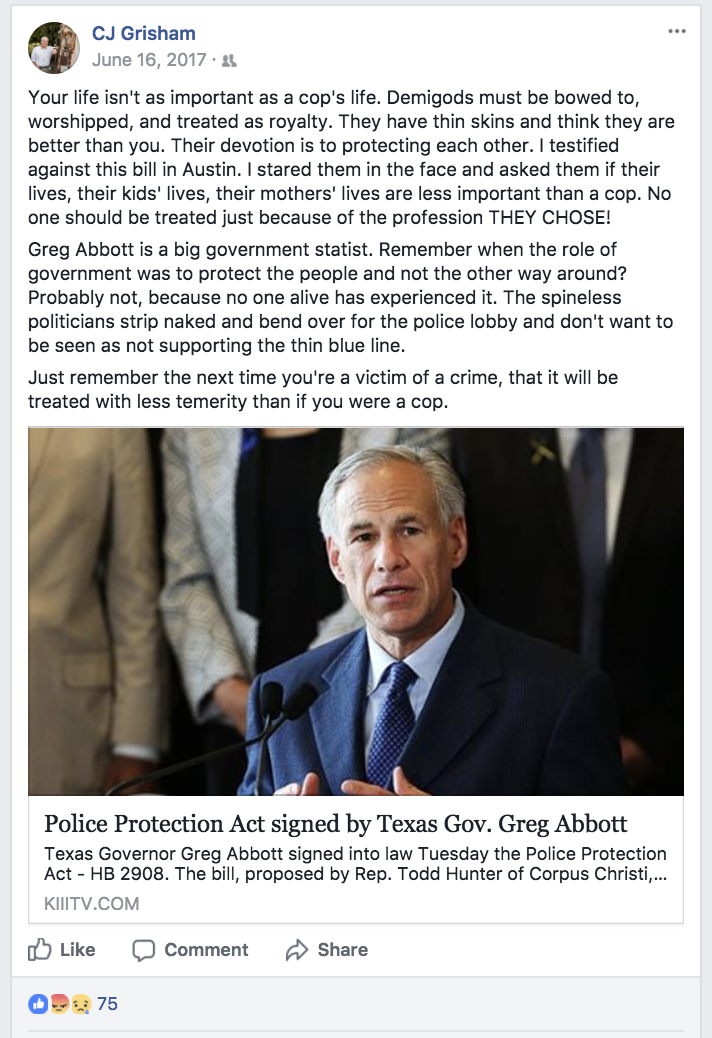 Grisham added, "Which cop here was the 'good cop' again? If they exist, where are they?"
That same month, Grisham used strong language to come out against a bill that aimed to make violence against police officers and judges a hate crime. In the June 16 post, he wrote, "Your life isn't as important as a cop's life. Demigods must be bowed to, worshipped and treated as royalty. They have thin skins and think they are better than you. Their devotion is to protecting each other."
Republican Gov. Greg Abbott signed the bill into law in June 2017.
Grisham is one of two Republican candidates challenging Shine in the House District 55 race. The winner will not face a Democratic opponent in the general election.
In a statement to the Tribune, Shine wrote that he denounces any threats of violence against law enforcement, no matter the context.
"As a National Guardsman, I have worked with countless law enforcement officials during my career and they are some of the finest people I know," he wrote. "To display that level of animosity towards law enforcement is truly disturbing and beyond reason."
The third candidate in the race, Temple pastor Brandon Hall, didn't address Grisham's social media posts in a statement to the Tribune, saying his campaign is focusing on Shine's voting record instead. Both Hall and Grisham have been challenging Shine from the right. All three candidates have claimed to be the "true conservative" in the race.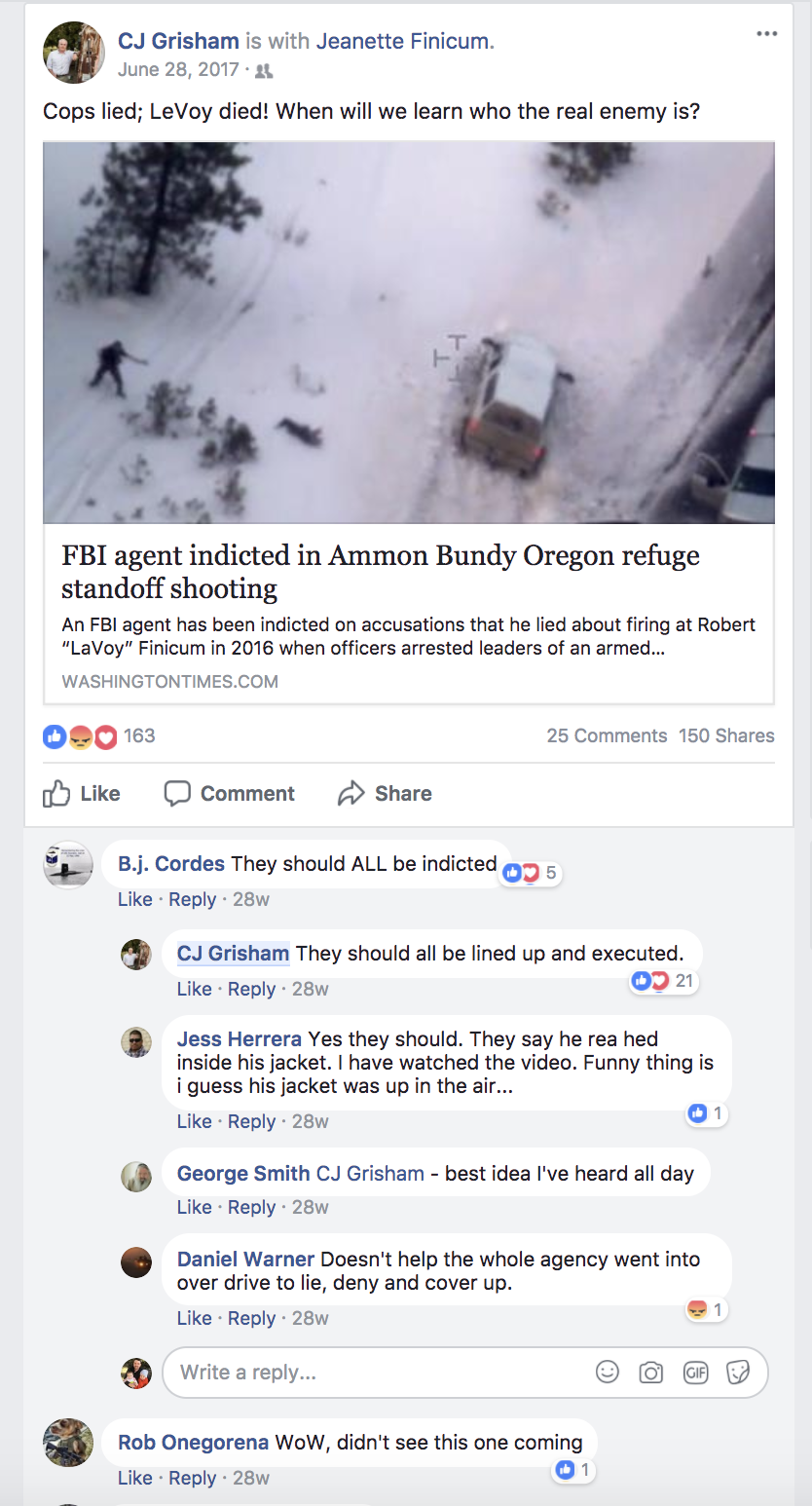 Charley Wilkison, the executive director of the Combined Law Enforcement Associations of Texas, said there is plenty of room for constructive criticism of police, but questioning if there are "good cops" and making general dismissive statements about officers only incites fear.
"Scores and scores of officers are doing what they do best: saving lives and protecting communities," Wilkison said. "To try to fan the flames of the tragedy of a shooting and create negative feelings toward officers, it's just very unfortunate. I hate that he did that."
Grisham said that some of his posts lack context and acknowledged that they can make him seem "anti-police." But he said he would not apologize for offending people with his "politically incorrect language."
The candidate said his views largely stem from personal encounters with officers. In March 2013, while on a hike with his son, he was arrested by the Temple Police Department, he said. He says he was lawfully carrying an AR-15 and a concealed handgun, but Grisham had both his weapons seized, was convicted of interference with a peace officer's duties and was fined $2,000. It took him four years to get those guns back, according to the Temple Daily Telegram.
Since then, Grisham founded Open Carry Texas — an advocacy group that fights for the right to carry firearms without a permit, he said. He said he was publicly endorsed by Frank Poole, the chief of police for Little River-Academy, a town inside House District 55.
When told about the posts recently, Poole said he stood by his endorsement of Grisham and called him "honorable."
Texans need truth. Help us report it.
Independent Texas reporting needs your support. The Texas Tribune delivers fact-based journalism for Texans, by Texans — and our community of members, the readers who donate, make our work possible. Help us bring you and millions of others in-depth news and information. Will you support our nonprofit newsroom with a donation of any amount?
Yes, I'll donate today
---
Information about the authors
Explore related story topics