The Brief: SCOTUS adds another twist to the long battle over Texas' political maps
Press pause. The long-winding battle over Texas' political maps was put on hold by the U.S. Supreme Court on Tuesday.
Thanks for reading The Brief, our daily newsletter informing you on politics, public policy and everything in between. Forward this email to friends who may want to join us. They can sign up here. — CP
What you need to know
Press pause. The long-winding battle over Texas' political maps was put on hold by the U.S. Supreme Court on Tuesday. Here's what you need to know:
• SCOTUS issued two orders on Tuesday, temporarily blocking both lower court rulings that invalidated parts of Texas' state House and congressional maps earlier this year. (Long story short, a panel of federal judges in San Antonio found that the maps discriminated against Latino and black voters in the state.) So the justices decided to stay the lower court's rulings — which would have required new maps — as they consider Texas Attorney General Ken Paxton's appeal, which asks that the current maps remain intact for the 2018 elections.
• Now let's lay this all out — It is increasingly looking like the state won't get new political maps ahead of the 2018 elections. Also, the 5-4 ruling, as Alexa Ura pointed out, shows the impact that the newest justice — Neil Gorsuch, picked by President Donald Trump this year to fill the vacancy left by Antonin Scalia's February 2016 death at a West Texas ranch — had on the case. Justices Ginsburg, Breyer, Sotomayor, and Kagan said they would have denied the stay.
• Since we're talking about SCOTUS, the justices also sided with the Trump administration by allowing the administration's travel ban — which targets certain refugees from some predominantly Muslim countries — to stay in place until the justices can hear arguments on its legality on Oct. 10. This issue first flared in January, when the president's new measure led to immigrant detainments at Texas airports and all over the nation.
Tribune today
• From Ross Ramsey: The races at the top of the 2018 GOP primary ticket probably won't get Republican voters that pumped. That's good news for people who like predictability.
• The new Harvey recovery czar already has a job at a university he loves. Now, he's heading efforts to restore the region where he first got his political start.
• A new state law means extra costs for large craft brewers. Unless they're owned by brewing giants.
• Christi Craddick, the head of the Texas Railroad Commission, is running for re-election in 2018.
• The "bathroom bill" made the news again on Tuesday, when House Speaker Joe Straus urged San Antonio business leaders to keep up the fight against it.
• Texas officials are considering another Mexican-American studies textbook, and it's coming almost a year after the State Board of Education rejected another one that opponents called racist.
• More Texans have health insurance now than four years ago. But there are still more than 4.5 million people statewide without health coverage, the largest share in the nation.
Pencil us in
Join us for a conversation on Sept. 14 with Phillip Huffines, chairman of the Dallas County Republican Party and candidate for Texas Senate District 8.
The full program for the 2017 Texas Tribune Festival is now available! Join us for three days of the best conversations in politics and public policy, Sept. 22-24. Check it out.
What we're reading
• Congress has passed a resolution condemning white supremacists, sending it to President Trump's desk. (The Washington Examiner)
• Several non-profit groups in Texas are bracing for the burden that's set to come after the Trump administration cut 90 percent of Obamacare's advertising budget. (KXAN)
• In Florida amid Hurricane Irma, an assisted care facility sheltered in place. But then the power went out for three days. (The Washington Post $)
• Meanwhile, the United Nations Security Council passed sanctions on North Korea after the nation carried out its sixth — and largest — nuclear test. Also, South Korea is planning a "decapitation unit" to scare North Korea's leaders. (CNN and The New York Times $)
Harvey today
• The mayor of Houston wants to construct a physical coastal barrier to protect the area. He and other local officials are hoping Congress will pay for it.
• Texans whose licenses to carry a handgun were lost or damaged as a result of Harvey can receive a free replacement.
• If your family was displaced by Harvey and is trying to get kids back in school, we want to hear from you.
• Eviction notices greeted evacuees who returned after leaving Beaumont because of flooding. (Beaumont Enterprise)
• Almost half a million gallons of gasoline spilled along the Houston Ship Channel. That's the largest spill reported to date from a storm that battered the state's petrochemical industry. (Associated Press)
• Customs and Border Protection has resumed routine immigration enforcement operations in areas affected by Harvey. (The Dallas Morning News $)
• The city of Houston — often lauded for its affordable housing — is set to see rising prices for new homes. (The Houston Chronicle $)
Photo of the day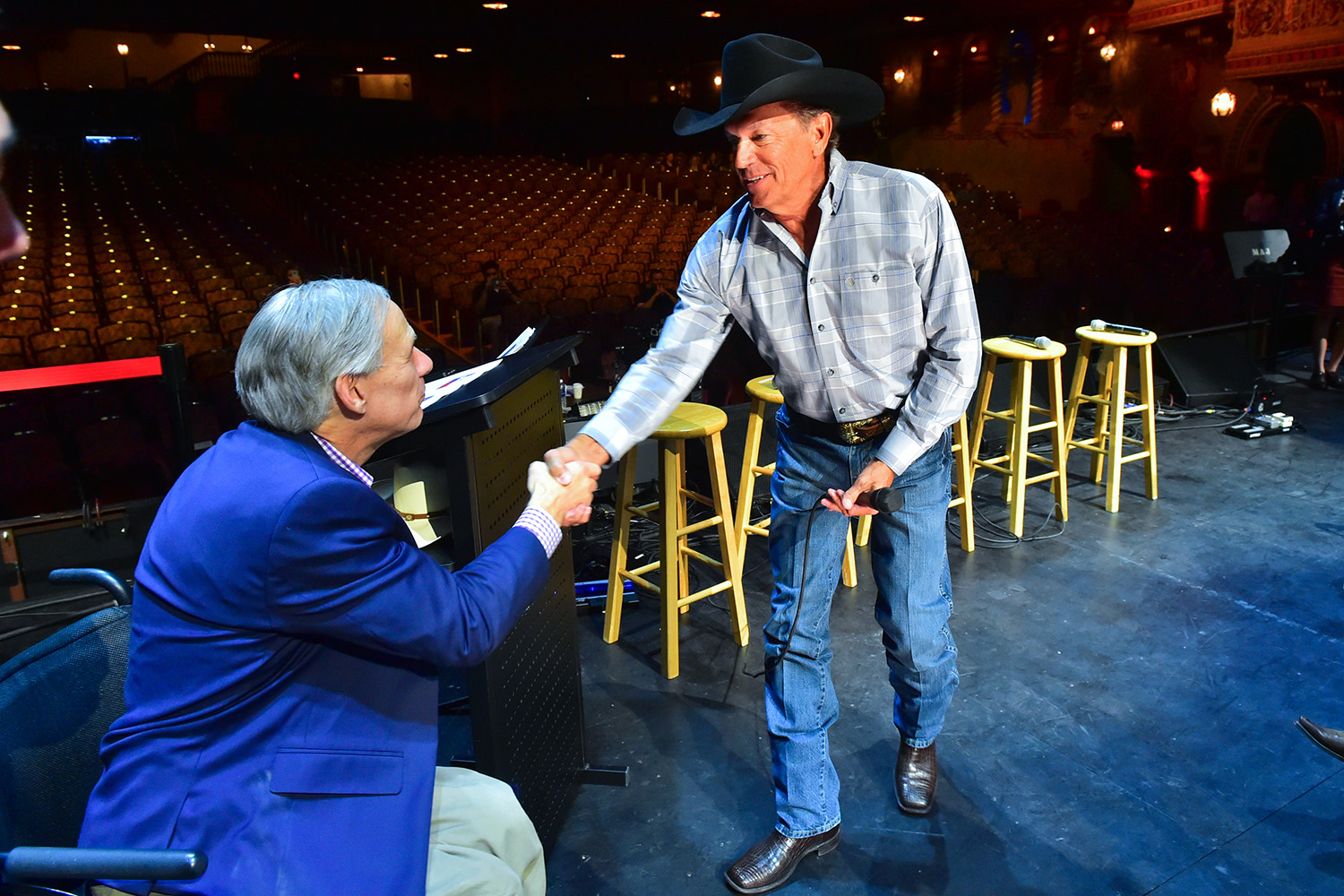 Musician George Strait greets Gov. Greg Abbott during a news conference at San Antonio's Majestic Theater prior to Strait's Hand In Hand Hurricane Harvey Benefit Concert. Photo by Robin Jerstad for The Texas Tribune. See more photos on our Instagram account.
Quote to note
"

Texans rejected name-calling and scare tactics, and as a result, we avoided a major mistake that would've cost our economy greatly and divided us unnecessarily."
— Texas House Speaker Joe Straus, R-San Antonio, on the "bathroom bill."
Feedback? Questions? Email us at thebrief@texastribune.org. As always, thanks for choosing The Brief — if you liked what you read today, become a member or make a donation here.
Texans need truth. Help us report it.
Our Fall Member Drive is underway, and we need your support. The Texas Tribune is a critical source of truth and information for Texans across the state and beyond — and our community of members, the readers who donate, make our work possible. Will you join as a member with a tax-deductible donation of any amount?
Yes, I'll donate today
---
Information about the authors
Explore related story topics